Big Ten
Cyclones, Hawkeyes & More With Iowa State Assistant Derek St. John
Cyclones, Hawkeyes & More With Iowa State Assistant Derek St. John
FloWrestling caught up with Iowa State assistant coach Derek St. John to talk about the former Hawkeye's past career, current journey, and future path.
Sep 17, 2020
by Anna Kayser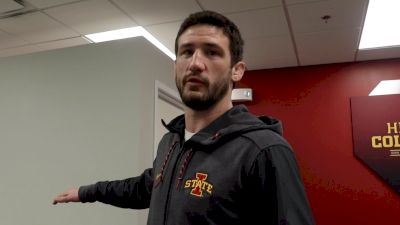 Unlock this video, live events, and more with a subscription!
Get Started
Already a subscriber? Log In
Unlock this article, live events, and more with a subscription!
Get Started
Already a subscriber? Log In
A four-time All-American and one of the most decorated wrestlers in Iowa history, Derek St. John has found a home coaching within the Iowa State wrestling program, but his journey isn't as clear-cut as just traveling west on Interstate 80.
He might have made a name for himself on the mat, but when all was said and done he took a chance opportunity at North Dakota State, and his career took a turn when he realized that helping others achieve their goals was his path forward in the sport.
I talked to St. John about what he thinks of when he looks back on his time as a Hawkeye and how it feels to be on the other side of a rivalry, what his first year of coaching at North Dakota State taught him, and what the future might hold.
FloWrestling: Starting off with your time at Iowa, what stands out to you the most about your career in four years there?
Derek St. John: Obviously I got to stick around my core area. I went to high school at Iowa City West there. My high school coach, Mark Riley, was a national champ for the University of Iowa so for me it was kind of an easy choice to stick around . . . the program was, I think, two or three-time defending national champs at that time. With that, I got to share that experience with four of my former high school teammates and we got to enjoy that process together. I got to stick around that area, meet a ton of people, and compete in front of a lot of the people I had prior relationships to, and it was close for my family, so it was great.
Growing up in that area, having all the relationships that you had there, and then leaving Iowa being one of the most decorated wrestlers in program history, what does that mean to you when you think back on what you were able to accomplish?
I'd never really sat down and thought about it. It was just something that kind of developed over time. When you look back now I guess when you're talking about such a powerful program, all the history there — you can think back all the way to the '70s when Gable started the program — that to be considered one of the best to come out of there, that's a pretty powerful thing. I guess it still doesn't resonate with me just because it was almost kind of an expectation that when you go there that that is what you strive to be. To me, it's just part of a normal experience for that program.
Following your college career was there any desire for you to continue wrestling or did you always know you wanted to go down the coaching path?
Actually, I didn't really want anything to do with coaching I didn't think. I was a little dinged up after my senior year — kind of throughout my whole career — but thought it'd be good to take some time away from the mat and explore an option that I had with North Dakota State, really wasn't crazy interested in it at first and then just decided I would give it a shot, see how it went. I went up there and I spent a full year at NDSU and I had a great experience, helped coach two All-Americans up there and it really, really helped me probably realize that I wanted to coach and I enjoyed coaching and I could actually be very successful.
Was there any specific moment of that first year of coaching where it just kind of clicked for you and you realized that that was what you were going to do?
When it probably clicked with me the most, kind of slapped me upside the head, was at the national tournament. That year we had Kurt Julson and Hayden Zillmer All-American for us, and I actually got to spend a lot of time with those kids and help develop their wrestling, get to know them as individuals too. When you spend so much time with someone like that, you see them do well, it's pretty powerful and exciting. I really enjoyed that, I'm sure they still remember that themselves, too. It's pretty cool to look back and know that you helped somebody get something that probably meant a whole lot.
After spending some time at Virginia Tech, what brought you back to Iowa?
Honestly, when you can get back home that's great. What brought me back was [former Virginia Tech head coach Kevin] Dresser and his opportunity at Iowa State and our relationship, we got along really great and obviously he brought me there from NDSU so we had a two-year relationship prior to going to Iowa State. His belief in me and trust in me is what ultimately drove me back to Iowa.
Is it weird kind of being on the other side of the aisle in Iowa after wrestling for the Hawkeyes and now being a Cyclone?
No, not really. I love it here, it's fantastic. I get that question a ton, but it's really not. I still have a ton of relationships with the people I did prior to taking these jobs, at least the people that are super important. I've been removed from that program since 2014, so six going on seven years now. The awkwardness and those ties are pretty well removed so it doesn't bother me one bit.
Being able to come back home and kind of give back to wrestling in your home state and the wrestlers that are grown here, what does that mean to you?
I guess it's just the cycle of wrestling life a little bit. You go through being raised and growing up around a ton of just great wrestling and great coaches from the smallest of schools and the smallest of programs to the most elite programs such as the Iowa States and the Iowas and the UNIs. I've been around the majority of everyone who has been involved in those programs, you're talking about All-Americans to Olympic champions to people that were just part of the programs. I'm still tied in with a lot of those people and a lot of my old teammates are still around the state of Iowa and you get to rub elbows with them and meet their young kids who look up to you. To be able to step back and realize that you're maybe an influence on those kids' lives is a pretty powerful thing.
What are the goals for the rest of your career?
Obviously, one day I'd like to become a head coach, I think that's something that everybody strives for that's in this career. I love Iowa State, I'd love to stay at Iowa State for a very long time, it's a very powerful program in the sport of wrestling so I'd love to continue to stay here. Outside of that, where it might take me is yet to be determined.
---
Anna attended the University of Iowa, where she covered multiple sports from volleyball to football to wrestling. She went to Pittsburgh in March 2019 for the NCAA DI Wrestling Championships and did live coverage of the entire event and Spencer Lee's second-straight NCAA title. Follow her on Twitter.