Lewis & Marinelli Lead The Best Weight Class You Aren't Thinking About
Lewis & Marinelli Lead The Best Weight Class You Aren't Thinking About
There are a lot of loaded weight classes in college wrestling, but this might be the least-discussed of them all.
Jul 2, 2020
by Hunter Sharpless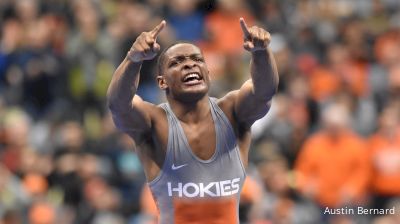 Unlock this video, live events, and more with a subscription!
Get Started
Already a subscriber? Log In
Unlock this article, live events, and more with a subscription!
Get Started
Already a subscriber? Log In
Even if you've already heard the news, this is still probably going to be the best sentence you read all day: live wrestling returns to Flo on July 25 when Kyle Dake and Frank Chamizo square off right here in Austin, Texas. The stacked card also features David Taylor vs Pat Downey and Anthony Ashnault vs Luke Pletcher.
As excited as I am to watch these guys hit the mat, I'm also already looking forward to the NCAA season. I can't help it. There are a bunch of loaded weight classes, and given the postponement of the Olympics and the cancellation of the 2020 NCAA Championships, this next season will be unlike anything we've seen before.
The lightweights look especially juicy. Spencer Lee rules 125, but if Daton Fix elects to bump down from 133 then the title is far from settled. 133 might be the best of all, with returning fixtures like Austin DeSanto, Roman Bravo-Young, and returning Wolverine Steve Micic. 141 will likely feature Yianni Diakomihalis, Jaydin Eierman, Sebastian Rivera, and Nick Lee. That's insanity.
Then there's the heavyweights — probably the weight class I'm looking forward to most, personally speaking. The Big Ten alone brings Gable Steveson, Mason Parris, Tony Cassioppi, Greg Kerkvliet, and Trent Hillger; then there are outside hammers like Central Michigan's Matt Stencel in the mix.
But please, I beg you: do not overlook 165. Here's why.
The Vanguard
Mekhi Lewis and Alex Marinelli don't really need introductions. Between the pair, there's an NCAA championship, a handful of conference championships, and enough talent to fill a Bass Pro Shop.
Lewis, of course, is fresh off an Olympic Redshirt and, before that, a 28-2 season capped off with a national title via a 7-1 decision over Vincenzo Joseph. Marinelli has yet to taste the sweet nectar of a national championship, but his two Big Ten titles and three Midlands titles make up a pretty nice trophy case by themselves.
Marinelli pinning his way to the Big Ten title: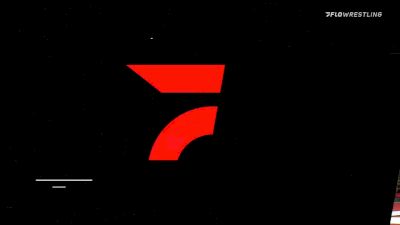 Unlock this video, live events, and more with a subscription!
Get Started
Already a subscriber? Log In
The title defender vs the oh-so-close guy is a great narrative, and these are two absolutely enthralling wrestlers, but there are plenty of guys hoping to spoil the fun. There's no sense in ignoring the fact that Lewis is the prohibitive favorite and Marinelli is the prohibitive biggest roadblock, but this is a deep weight class with, as CP said about 165, guys "nipping at their heels."
The Sleepers
At first glance this weight looks like it's a two-horse race between Marinelli and Lewis, but that's far from the case.
Take Wisconsin's Evan Wick, for example. The Badger missed the Big Ten Championships for a medical reason, but we were hopeful Wick was set to return for the never-to-be NCAA Championships. Before Big Tens, though, he was a beast, blazing through most of his schedule and narrowly losing to Marinelli on a 4-2 decision. At the NCAAs in 2019, Wick took Mekhi Lewis to a 5-2 decision. He's beaten Marinelli before, though that's a bit in the past now. He's a tough wrestler and not someone you look forward to seeing on the mat.
There's Michigan's Logan Massa (unless he bumps up to '74), NC State's Thomas Bullard, and down at No. 12 in the current rankings Kennedy Monday, who we know can put together some fierce bouts. This isn't the type of class where you have a few good guys and then a steep decline.
The Next Generation
Stanford's Shane Griffith may be the guy who has the most to side about the hypothetical Lewis-Marinelli hegemony in this weight class, depending on his improvement over the offseason. The Cardinal star shredded his 2019-20 season to the tune of a 28-0 record and the No. 3 seed at NCAAs, though he didn't log a lot of bouts against the best competition.
Griffith's scheduled opponent at NCAAs? Oklahoma State's Travis Wittlake, another member of the youngsters club. The two actually met at the Southern Scuffle earlier in the year with Griffith winning by a 4-1 margin. In the Oklahoma State-Iowa dual, Wittlake nearly gave Marinelli his second-ever loss in Carver-Hawkeye Arena in a taut 3-2 affair.
Griffith vs Wittlake earlier this year: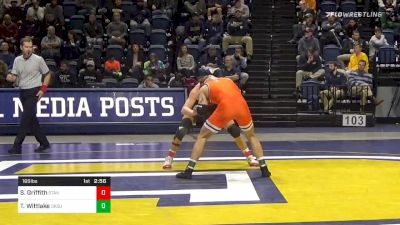 Unlock this video, live events, and more with a subscription!
Get Started
Already a subscriber? Log In
Besides Griffith and Wittlake, who have already started to establish their college careers, Big Ten powerhouses Ohio State and Penn State have some rising blue-chippers ready to enter the fray. Buckeye Carson Kharchla and Nittany Lion Joe Lee both come in as highly rated prospects after redshirting last year and collecting a healthy batch of wins unattached.
At the end of the day, this is Mekhi Lewis's weight until proven otherwise. The Bull is his top contender, and then there's a group of several wrestlers that make up the next tier. But as we see year in and year out, there's really no way to foresee the way some of these kids level up from one year to the next. Eight months from now we might be discussing something we had no idea was coming. In fact, I'm quite sure we will be.
The beauty of college wrestling is that we don't have to choose which weight class is best and watch just that one. We can watch all the dang weight classes and squabble for the sheer joy of it! But as the season approaches and more and more of the discussion floats down to 125, 133, and 141, or up to 285, please, dear friends, don't forget about the pending carnage at 165. It's going to be bloody, brutal, and super awesome.