174 U: A Changing Of The Guard Between Two Legendary Teams
174 U: A Changing Of The Guard Between Two Legendary Teams
FloWrestling uses 21 years of NCAA tournament data to examine which schools have been the best at 174-pounds since the weight classes changed in 1999.
Jul 2, 2020
by JD Rader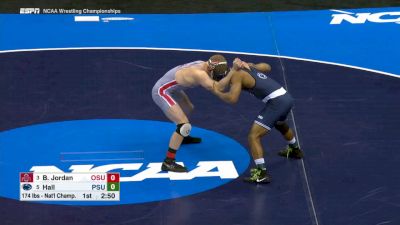 Unlock this video, live events, and more with a subscription!
Get Started
Already a subscriber? Log In
Unlock this article, live events, and more with a subscription!
Get Started
Already a subscriber? Log In
Ever since the weight classes changed in 1999, Penn State and Oklahoma State have separated themselves in terms of producing results at 174. We've broken down the numbers to find out which program is 174 U.
The Rest Of The Series: 125U | 133U | 141U | 149U | 157U | 165U | 197U | 285U
When the one they call Nomad was publishing "The U" series for the first time around in 2016, it was Oklahoma State coming out on top. However, since then the Cowboys have yet to finish above seventh place and the Penn State Nittany Lions have had two gentlemen by the names of Bo Nickal and Mark Hall never finish below second, making the race quite interesting.
First, let's look at the basic data. The following chart is the schools that have not only consistently gotten 174-pounders to the big dance, but put them on the podium.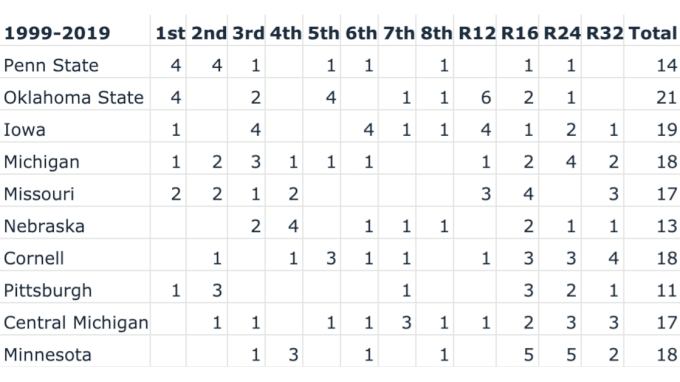 Although Penn State has a total of seven less NCAA appearances than OSU, they have an equal amount of championship and All-American finishes since 1999. The Round of 12 has killed the Cowboys. Brandon Mason (twice), Newly McSpadden, Mike Benefiel (twice), and Chandler Rogers all lost just one win shy of the podium.
Oklahoma State's four national championships were split up between Chris Pendleton and Chris Perry. Pendleton beat Ben Askren for both of his titles. In 2013 Matt Brown was able to take Perry to tiebreakers, but the Cowboy prevailed. In 2014 Perry's title came at the hands of Andrew Howe while Brown finished fifth.
After being defeated by Pendleton in the 2004 and 2005 finals, Ben Askren dominated his way to two titles of his own, making Missouri the school with the second-most titles. The two other All-Americans for Missouri were Raymond Jordan (third in 2009) and Daniel Lewis (fourth in 2018 and 2019).
Arguably the most consistent from 1999-2009 was Michigan. The Wolverines qualified for the NCAA tournament every year except 2006 with NCAA champion holding the spot from 2007-2009 and finalist Otto Olson holding the spot in 1999, 2001, and 2002. They hit a bit of an All-American draught before Myles Amine rattled off three-straight top-four finishes from 2017-2019.
Watch Myles Amine wrestle Daniel Lewis for 3rd at the 2019 NCAA Championships below.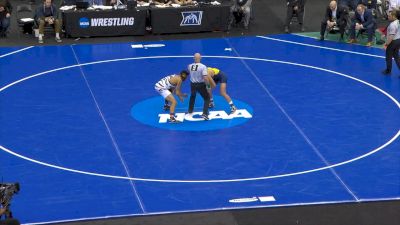 Unlock this video, live events, and more with a subscription!
Get Started
Already a subscriber? Log In
Iowa has been quite consistent since the changing of weight classes in 1998 with 2005 and 2019 being the only years they failed to qualify the weight. In fact from 1999-2017, while they didn't put up AA finishes every year, the Hawkeyes had a career All-American at 174 every year. Their lone national championship came from Jay Borschel in 2010 while they have had All-Americans in Gabe McMahan, Tyler Nixt, Eric Luedke, Mark Perry, Jay Borschel, Ethen Lofthouse, Mike Evans, and Alex Meyer.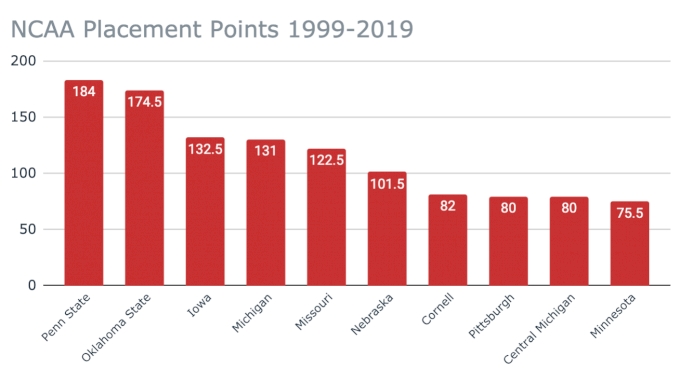 When you take a look at the total placement points, you see Penn State now has a slight edge over Oklahoma State, and shall be crowned the new 174 U. Outside of 1999 NCAA champion Glenn Pritzlaff, Penn State didn't have much success until Quentin Wright's 2009 sixth-place finish (yes Quentin Wright did indeed start his career at 174). However, it's been all-star power since then.
There is a clear drop off before a very close race for third. Ultimately, it was Iowa's consistency over the entire 20 year period while Michigan dipped slightly from 2010-2015.
Pitt gets the nod over CMU for having a champion in Keith Gavin.
Top 10 Teams at 174
1. Penn State
2. Oklahoma State
3. Iowa
4. Michigan
5. Missouri
6. Nebraska
7. Cornell
8. Pittsburgh
9. Central Michigan
10. Minnesota
Key Scorers For Penn State
Mark Hall (17-19): 1, 2, 2
Ed Ruth (11-12): 3, 1
Matt Brown (13-15): 2, 5, 1
Glenn Pritzlaff (99): 1
Bo Nickal (16): 2
Key Scorers For Oklahoma State
Chris Pendleton (03-05): 3, 1, 1
Chris Perry (12-14): 3, 1, 1
Key Scorers For Iowa
Jay Borschel (08-10): 3, 12, 1
Mike Evans (13 15): 6, 6, 6
Tyler Nixt (02-04): 12, 24, 3
Key Scorers For Michigan
Steve Luke (07-09): 6, 2, 1
Otto Olson (99, 01, 02): 2, 3, 5
Myles Amine (17-19): 4, 3, 3
Key Scorers For Missouri
Ben Askren (04-07): 2, 2, 1, 1
Daniel Lewis (18-19): 4, 4
Raymond Jordan (09): 3