Sebastian Rivera Transfers To Rutgers
Sebastian Rivera Transfers To Rutgers
Two-time All-American Sebastian Rivera is headed to Rutgers for his final year of eligibility.
Jun 26, 2020
by JD Rader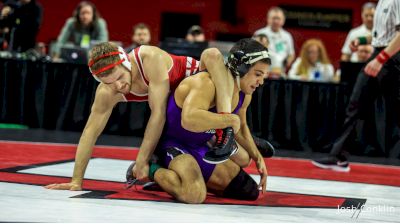 Unlock this article, live events, and more with a subscription!
Get Started
Already a subscriber? Log In
Two-time All-American and three-time national qualifier Sebastian Rivera is heading home. The Jackson, NJ, native announced via Instagram that he will be attending Rutgers University for his final year of eligibility.
Speculation as to where Rivera would end up has been discussed since he announced his intent to enter the transfer portal on Tuesday. The speculation is now turned toward whether Rivera will compete at 133 or 141.
Rivera has spent the past four years at Northwestern University where he finished in sixth place at the NCAA Championships in 2018 and third in 2019. Last season Seabass moved up to 133 lbs where he won a Big Ten over the likes of Seth Gross, Roman Bravo-Young, Austin Desanto, and many more. He was the #1 seed before the 2020 NCAA Championships were canceled.
The 2020-21 Rutgers lineup could potentially include 2019 133 NCAA champion Nick Suriano, 2020 133 Big Ten champion Sebastian Rivera, and 2020 NCAA #10 seed Sammy Alvarez.
A press release from Rutgers University stated that Rivera has already enrolled at Rutgers as a graduate transfer and will be immediately eligible to compete in his final season of NCAA eligibility.
The press release also included the following quote from Rutgers head coach Scott Goodale:
We're excited to welcome Sebastian back home to Jersey and cannot wait to get him in our wrestling room with the rest of the guys. Sebastian is an instant threat to win both a Big Ten and national title and it is awesome he will have an opportunity to do so in his home state with a Rutgers singlet on.
Goodale presaged the announcement with one of his customary "Boom" tweets.
BOOOOOOOOOOOOOOMMM!!!

— Coach Scott Goodale (@CoachGoodale) June 26, 2020
We're still conducting the analysis, but this appears to be the highest number of Os ever included in a Goody boom tweet.