The Iowa Way: NFL Pro Bowler Kreiter Talks Wrestling, Ferentz & Much More
The Iowa Way: NFL Pro Bowler Kreiter Talks Wrestling, Ferentz & Much More
Casey Kreiter is an NFL Pro Bowler and wrestling superfan. We talked to him about Iowa, his football journey, and more.
May 15, 2020
by Hunter Sharpless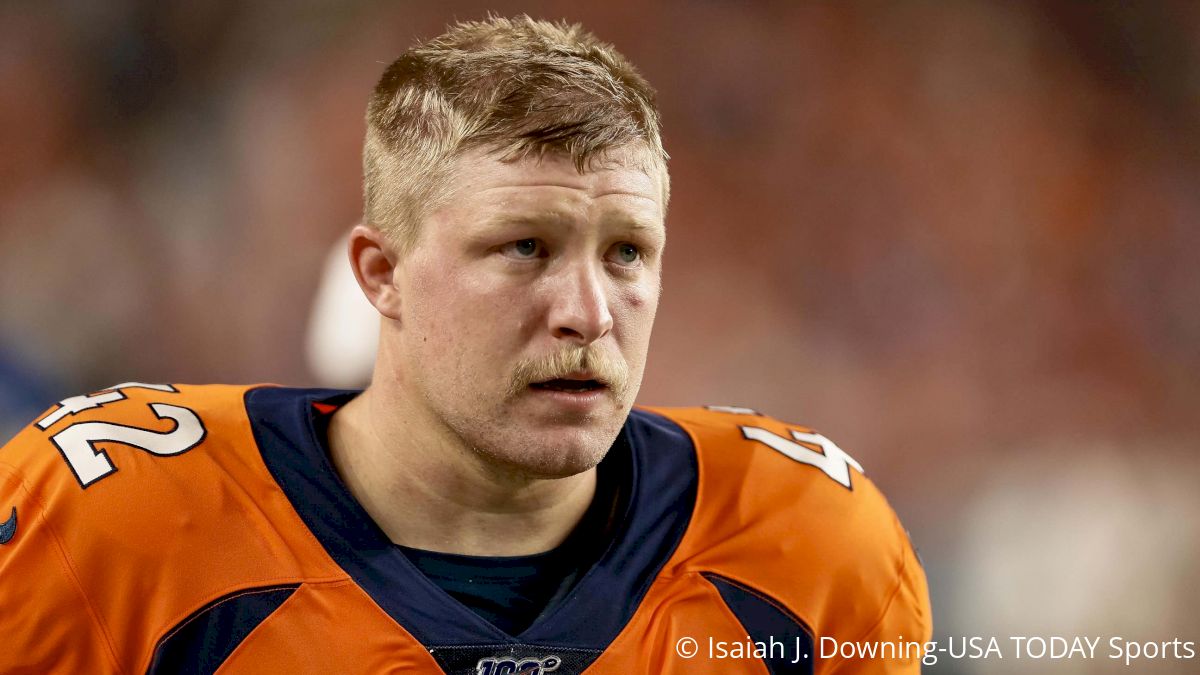 Unlock this article, live events, and more with a subscription!
Get Started
Already a subscriber? Log In
Casey Kreiter might just be the perfect emblem for FloSports.
The NFL long-snapper, who just joined the New York Giants after a stint with the Denver Broncos, has the kind of story you read about in books (or watch in sweet Flo documentaries): a lightly recruited walk-on who rose through Iowa football and ended up as an integral leader on the Hawkeyes — only to then fight his way to an NFL roster and eventually make a Pro Bowl. That's pretty awesome. He was even a science education major in school, which somehow makes him even more awesome!
Oh, and he's a wrestling fanatic.
Kreiter bleeds passion, so I decided to ring him up and talk about everything from Kirk Ferentz's chewing gum habits and Spencer Lee to what it's like to move NFL teams in the middle of a freaking global pandemic. It turns out that we have a lot in common: we both went to Iowa (even crossed over the same years), lived at the same dorm, and have both been teachers.
I can't say I've played in the NFL, though.
When I called, Kreiter was in the middle of a 12-hour drive from Denver to the epicenter of human civilization (Iowa City): Casey, his dog, and the open road.
Flo: You're currently moving from the Denver Broncos to the New York Giants in a pretty chaotic time — what's that transition been like in the time of the coronavirus?
Casey: It's all part of the business, but yeah in the midst of a pandemic, it's kind of thrown everything at us. The silver lining is I'm able to move my family and our possessions and things like that a little bit easier and more hands-on than had the pandemic not been here. We'd be trying to move our possessions from Colorado to Iowa while I was in New York training. So the silver lining is we were able to do it all together and probably make that process a little bit easier.
What has your trajectory through the NFL looked like?
Right out of college I signed with the Cowboys as an undrafted free agent, then got cut the third week of preseason, way back in the day when they had two rounds of cuts in the NFL. I spent that following year in Iowa City, did a little bit of wrestling coaching, trained as hard as I could, got into the teaching world doing substitute teaching, resigned with the Cowboys my second year out of college. And the same deal — got cut the third week, went back to Iowa, did some coaching, finished my student teaching, really started to pursue a teaching career, accepted a full-time teaching job, and then kind of got my first break with a real workout in Denver, where they needed a long-snapper.
I think there were probably 10 or 12 other snappers there at the workout, and the rest was history. I'm going into my fifth year now in the NFL. It's crazy to think that.
Was it ever tempting to stop pursuing the NFL thing?
I'd be lying if I said I always thought I was going to be in the NFL and pursued it nonstop, and nothing could stop me. I went through a lot of ups and downs in that process. I was probably ready to give it up a few times, and had a great support system around me with my now-wife, some teachers that I'm still friends with today that I spent a lot of time with. My family just in general: my mom, my dad, my sister.
Every athlete goes through that, especially collegiate athletes. Sports aren't gonna stay with you forever, so when they're taken away from you, whether injury, graduation, the end of the road, I think every athlete goes through that struggle of what is their identity, and I went through it. I honestly was at a place where I was ready to go be happy being a teacher and a coach. My wife said, "Give it one more year, let's push. We'll make it work if it doesn't happen." And obviously she was the smarter person than I was, because it worked out. We've been doing this for a few years now and I couldn't be happier.
But also along those lines, I don't think I would be as successful as I am right now in the NFL without going through those struggles and coming to a place where if sports were done I would've been happy with it. I think it actually made me appreciate the opportunities more.
We know you love wrestling: you wrestled in high school, you follow the sport intensely. What is it about wrestling that makes you so passionate even years removed from participating in the sport?
I think there's something different about the wrestling atmosphere, about the community, and wrestlers in general. My dad wrestled in college and he played football at Augustana College, a small DIII school in Rock Island, Illinois. He was my wrestling coach. Wrestling has always been around my family. My cousin Justin was an NCAA runner-up at the DIII level at Luther.
Honestly, I think it's the mentality of the sport that draws me to it, the fact that it's you and another human being out there. As much as I love team sports, even team sports boil down to the one-on-one matchups, and I don't think there's anything better that can prepare you for a one-on-one matchup in a team than a wrestling match.
In my athletic progression from peewee to now the pros, probably the biggest mental jump I made was when I qualified for the national wrestling tournament for Team Iowa, and going to the Fargo dome and seeing the massive amount of mats on the floor, competing with big-name guys at the time — Matt McDonough was on the team, the Moores, the St. Johns.
Mentally it was such a big jump for me to go from, "Hey maybe I'm OK," to, "I worked my butt off and I've earned these things and earned the respect to go out and expect a win every single time."
Obviously it was a terrible way to end the NCAA season with COVID-19 canceling everything, but what were some of your favorite moments from the year?
Something that sticks out — the tie-in with football and wrestling — is that picture of Tristan Wirfs with his hand out on top of Aaron Costello's head. It cracks me up to this day, and Aaron is a distant relative of mine so I've known Aaron since he was younger. Being in the football world, guys talked to me about it and I'm like, "You will not believe this, but the small guy in that picture won the wrestling match."
But in terms of the season, obviously the heartbreak that all those athletes are gonna go through. The Iowa-Penn State dual . . . having to watch those duals on TV is painful for me, because you know I was at Carver when Iowa wrestled Oklahoma State the year when Tony took out JO.
We know Spencer Lee is a big name at Iowa, but who else did you like watching on the Hawkeyes this year and why?
Obviously Alex Marinelli and just his pace, the way he wrestles. Michael Kemerer has had his personal trials with the sport and as an athlete myself, you see guys go through injuries, ups and downs in the sport, and you see those guys come out better and on top of those things — that's awesome.
Also a guy like Pat Lugo, another guy that you can find inspiration in. Ends up at Iowa, is wrestling better than he ever has. The team in general had such a good year.
I was and am a pretty avid Iowa football fan. I've always wondered what Kirk Ferentz is like. How many packs of gum does he chew per game?
You are not officially a Hawkeye football player until you've stepped on a piece of Coach Ferentz's gum on the sideline. It's a right of passage — if you don't do it, I don't think you're a real Hawkeye.
But Coach Ferentz is the best. What you see is immediately what you get. I consider him one of my role models, someone I aspire to be like. I hope that I can make him proud to this day . . . I'm not even one of his athletes anymore but I hope he can be proud of the product that came out of his program.
It's a family atmosphere there, it really is, and every time I see Coach Doyle or Coach Ferentz, or really any coach that was in that building that was around when I was there, the first thing they ask about is how my family is doing, whether it be my parents or my kids or my wife. Then they'll ask about me. And it's been like that since day one.
There's the underdog mentality there, and people love that.
Is there one particular game or memory that stands out from your Iowa days?
Yeah there are probably two when I think back on my career.
The first one [at Minnesota in 2010, Iowa's final regular-season game] was the very first game I played in, as a redshirt freshman. I was only traveling because I was working my tail off on scout team, and it was kinda like, "Hey you're working hard, doing things right, let's get you on to road games."
Our long-snapper got hurt and I got a call from the booth down at the sideline: "Hey, you better get warmed up, you're playing."
There was a blizzard, there was ice on the field, it was cold, the very last regular-season game, and I had a snap in the second half of the game.
Growing up, I was a Minnesota fan — kinda because I didn't want to be like everyone else and be an Iowa fan — and my mom's from Minnesota. But to play against them, a team that didn't want to recruit me, have success, that was a lot of fun.
We ended up losing, unfortunately, but I think one of Coach Ferentz's quotes after the game was, "Not many things went right for us today, but one of the bright spots was Casey Kreiter stepping in and doing his job."
For me, that's all I wanted to do. I just wanted to help the team out.
The other game was my senior year playing Nebraska. They had just built that rivalry, we hadn't won yet. Nebraska was talking a lot about how good they were and how we didn't deserve to be in that conversation with them. And we ended up beating them in Lincoln [38-17].
Playing at Memorial Stadium was incredible. It was one of the most fun places I've played in. But being able to win that, get the first program victory in that rivalry game was awesome.
You worked your way up from being a walk-on to a pretty key part of the team even as a long-snapper. What was that journey like?
It's kind of the Iowa dream as a football player. There are so many success stories of guys doing that, and I was fortunate that Marcus Schnoor, who was a running back from my high school, did the same thing: He walked on, worked his butt off, earned a scholarship. I wanted to get to that point in my career.
Once I hit that, it was "let's see how far we can take this."
That's kind of the Iowa way. Come in, work as hard as you can. When you get your opportunity, don't squander it. When it's all said and done, look back at the successes, look back at the failures, learn from the failures in the moment, but while you're in it just keep grinding.
What was so special about Iowa for you?
I think for me it's the relationships you build. Coach Ferentz's secretary Rita, I give her a big hug every time I'm there. Doug, he's the janitor that's there early in the morning when we're showing up for six o'clock lifts. He drives his motorcycle in every day . . . but he's still there!
And that's the thing that I don't think a lot of other programs get. Guys may leave the program and be successful in the NFL, but they may not have relationships with the janitors, the secretaries, that kind of staff. But that's the culture at Iowa. That's not a slight at any other program. I just think it's built that way at Iowa.
You were a science education major at Iowa and talked a little about your experiences as a teacher. How does that play into your story? Could you see yourself going back to it?
Yeah I think I will.
Teaching came into my life because I was told my second or third year in, "Hey you gotta start checking boxes toward a major." And I was like, "Well I don't know what I want to do . . . let's try teaching." My dad was a teacher.
I knew I would like being a teacher because I knew I could stay involved with sports in terms of coaching, but I actually really enjoyed being in a classroom, developing lesson plans, implementing them, and then kind of reassessing how they went based on a test or an activity that you did with your students to see if they retained any information you're trying to throw at them.
I think it just ties in to being an athlete: You have a plan, you practice for that plan, you go try to implement the plan and if it works, let's keep building on it and if it doesn't then let's readjust.
But the thing that will always stay with me is watching students grow in your subject from really no idea what's going on — let's say in biology, which is what I taught — to the point where they can have fluent conversations about biology and science . . . it's just a special thing. Plus you get to be around them in their formative years and hopefully make a positive impact on their lives and then see where they go from there.
Thanks a bunch to Casey for spending some of his drive with us. We wish him best of luck with the Giants and are sure he's going to do just fine at MetLife Stadium in the Meadowlands.