Unlock this article, live events, and more with a subscription!
Get Started
Already a subscriber? Log In
When CP sat down with Gable Steveson before the beginning of the 2020 Big Ten Championships, our FloWrestling captain asked a pretty good question: What had the Minnesota heavyweight learned from his round-one bout against Tony Cassioppi in Iowa City, and what did he expect in Piscataway, NJ?
The answer sounded like something Iron Man would say.
"I mean, I expect the same thing he did last time," Steveson said. "Just sit around and wait for me to do things."
That's cold!
Look, I love me some Cassioppi. Big Tony is a very, very good wrestler. He's got a high IQ on the mat, and the size paired with the agility that he has isn't something you see a lot. But when the Hawkeye went to battle Steveson both times — the first in Carver-Hawkeye Arena, which ended 7-5; the second at Big Tens, which ended 9-4 — he didn't exactly look competitive, despite the scores indicating the matches were close.
And oh yeah, this happened:
Steveson is a dominant, beastly, scary-good wrestler who is going to be near the top of Hodge Trophy talk over the next couple of years. Spencer Lee is probably going to grab the trophy this year when they announce the winner on Monday, but please do not overlook how nasty Steveson was this year (and last year, too, for that matter).
Going past the numbers
This year, Lee is superior to Steveson in tech falls (nine to six), major decisions (three to one), and bonus-point percentage (94 percent to 73 percent), and the two are tied in pins with four apiece. But the thing about Steveson is his nonchalance on the mat, his ability to completely dominate a match even without a major decision on the scoresheet.
Take that first bout against Cassioppi by way of example. Out of the five points that Big Tony registered, one was from a penalty in the opening seconds and four were from escapes. He was hardly able to generate anything offensively the entire matchup.
Midway through the second period, Steveson basically isn't even breathing hard. With 30 seconds left, Steveson exploded through a shot to effectively seal the deal.
You are not going to see many regular decisions as dominant as that display.
Watch Cassioppi vs Steveson, Round 1, here:
Round 2 at the Big Ten Championships was pretty much the same thing. Whenever Steveson wanted to fire a shot, he usually went double-leg (though there was a nasty single-leg and trip in the third) and blew right through the Hawkeye. Cassioppi registered his escapes and generally acquitted himself well, but it is astounding how a very good, very accomplished wrestler like Big Tony can be tackled through by a guy like Steveson.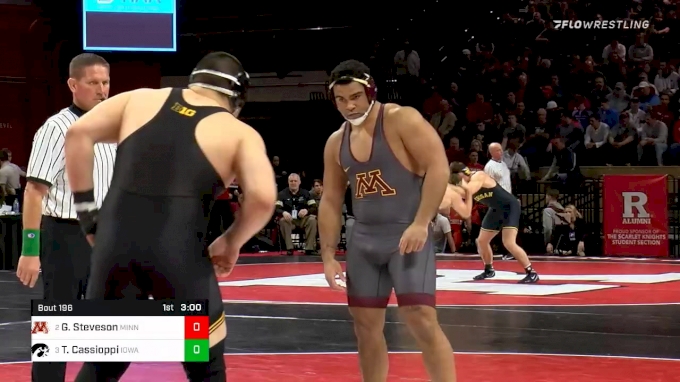 Unlock this video, live events, and more with a subscription!
Get Started
Already a subscriber? Log In
The Big Ten title bout vs Michigan's Mason Parris, whose athleticism is closer to Steveson's, proves that the Golden Gopher can pretty much win any way possible. The match looked a lot different than the Steveson-Cassioppi battles, but the results and even the mechanisms to the results were eerily similar: Parris got points via escapes, Steveson scored when he felt like it.
Next year's heavyweight class is dynamite
With Steveson, Parris, Cassioppi, and Greg Kerkvliet and guys like Matt Stencel and Trent Hillger, 285 pounds is just going to be absolute fire next year.
I'm sure Spencer Lee is going to be gunning for a second consecutive trophy if he does indeed win this year, but if Steveson is able to run the table with that kind of top-end competition plus the depth up with the big boys, he's going to have a very strong argument no matter what Lee does.
Steveson is impossibly athletic and impossibly smart on the mat. Watching him, it's almost impossible to define his approach — in general or in any specific bout — as "aggressive" or "defensive," simply because he seems so calm and at ease until he takes a shot. But when he does take a shot, dang does he take a shot.