New Jersey State Championships: Robert Howard's Revenge & Other Notes
New Jersey State Championships: Robert Howard's Revenge & Other Notes
Garden State wrestling fans flocked to Atlantic City for the 2020 New Jersey State Championships.
Mar 10, 2020
by Brendan Scannell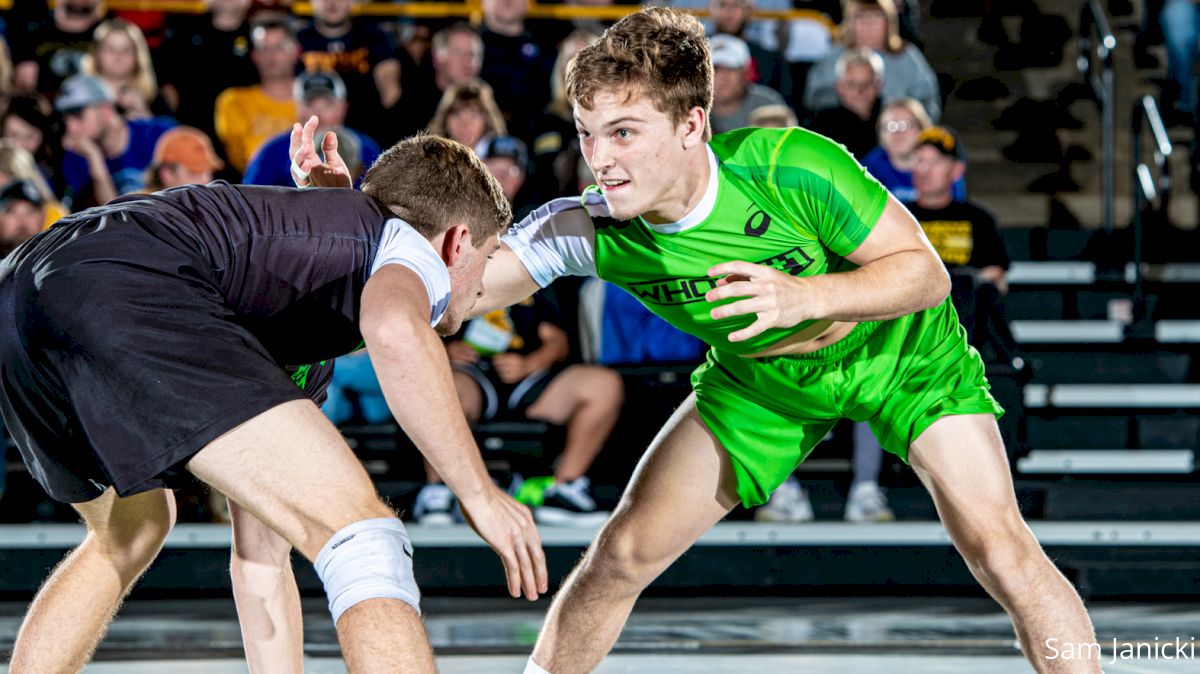 Unlock this article, live events, and more with a subscription!
Get Started
Already a subscriber? Log In
If you came to Atlantic City this weekend looking for high stakes action, fuhgettabout Caesar's Palace or the Tropicana, because Boardwalk Hall was the place to find it. The country's most passionate fanbase flocked to watch New Jersey's best do battle down at the Jersey Shore.
Let's take a look back on an amazing weekend of wrestling from the New Jersey State Championships.
Most Outstanding Wrestler
182lbs: John Poznanski, Colonia
Poznanski was not only the best of the weekend, but he was the best guy all year. Poznanski was dominant, dismantling the competition from start to finish. His run to the finals included three falls and a tech. In the finals, he showed off a variety of leg attacks and other scores to go up 13 points before pinning #2 Luke Rada from Colt's Neck early in the third period.
Poznanski heads to Rutgers next year along with three other NJ state champions and is beginning to look like he could be an immediate option in the Scarlet Knights lineup.
Upset of the Tournament
126lbs Semifinal: McKenzie Bell, Kingsway vs Eddie Ventresca, Pope John
I don't mean to underscore Bell's ability or his chances at winning this match, but I would understand if he feels that I did a bit. Entering the state tournament as a two-time placer, he was clearly one of the four best guys at this weight.
With that said, few gave him a chance here. Ventresca entered the match as the returning champ, #1 in the state, and Team USA's representative for the upcoming Pittsburgh Wrestling Classic. He was undoubtedly the favorite in this one.
McKenzie Bell wasn't hearing it.
After he reversed Ventresca early in the third and rode him for most of the period, it felt like things may have shifted in Bell's favor. Ventresca eventually escaped to tie the match, but once it reached overtime and Ventresca was forced to go back underneath in the second tie-breaker, it was difficult not to think back on that tough third period ride. The #1 seed looked gassed. Could Bell hold him down for the next 30 seconds?
Hungry for his first trip to the finals, he dug deep and did just that. Bell then escaped in the next period, winning 5-4 and sending shockwaves through Boardwalk Hall.
In the end, an exhausted McKenzie Bell was embraced by his family and other members of the Kingsway faithful. It was clear: this one took everything he had.
Comeback of the Tournament
Eddie Hummel, Southern
Although Southern's Eddie Hummel didn't finish on top of the 138lb podium, where he did finish might've been just as difficult a task. After taking his first loss of the season in the Region 8 finals just a week before, his state title dreams were extinguished immediately this weekend when he lost in the first round to Darren Jones of West Essex.
Where most might accept defeat, Hummel opted to succeed, rattling off seven straight wins on the backside in the state's deepest weight class to take third place, "the next best thing." His run included wins over four ranked wrestlers, including a bloodround match where he avenged that region finals loss by taking out Woodstown's Hunter Gandy 3-1 in sudden victory.
Match(es) of the Tournament
126lb Semifinal: Robert Howard, Bergen Catholic vs Nico Nardone, Delbarton
I had this potential semifinal matchup between Howard and Nardone on my radar at the start of the season and boy did it deliver.
It didn't need a shocking upset or last second takedown. This was just high-level wrestling at its best.
You could feel the buzz before the first whistle as each wrestler paced back-and-forth on their respective ends of the mat. This was the match each guy wanted and they couldn't wait to step on the line. The attacks were constant. Both guys wrestled through the whistle and brought a physicality and athleticism you'll only see in a matchup between two of the nation's best.
The difference in this one was an explosive blast double from Howard for the first takedown of the match. It was sealed in an upper-body flurry stifling Nardone's relentless attack later. At the end of the day, Howard wouldn't be denied. He was workmanlike all weekend long, leaving no doubt. It may be the best he's ever looked.
What a way to go out for the senior headed to Happy Valley, next year.
145lb Final: Andrew Clark, Collingswood vs Andrew Troczynski, Delbarton
There were a number of awesome finals matches on Saturday, but this one had it all. Lots of action, a gritty comeback, and the most emotional celebration of the weekend.
The sophomore Troczynski struck first with a takedown early. But then he had to go underneath Clark. Andy Clark had won plenty of big matches on the mat throughout his career, but this was the biggest one. Down 3-1, the senior from Collingwood was as suffocating as a python on top. After breaking Troczynski flat he began to ride a tight arm bar. As Clark slowly went to work and tightened his lock, you could sort of feel a turn coming and thought, " . . .he might get this."
On the edge of the mat, he got the turn and five-count he needed off a tight tilt to go up 4-3 going into the third period.
As he countered Troczynski's final attempt and the final buzzer rang, Clark and his corner erupted in celebration. Overcome with emotion, he fell to his knees and emphatically slapped the mat.
It was the prime example of progressing through a program. Clark entered high school as top prospect and continued to improve, climbing the state podium year after year, before finally finishing at the top as Collingswood's first state champion since 1992.
Team of the Tournament
Brick Memorial
Yes, I know Delbarton crowned two champs, Bergen had finalists in three straight weights, and St Joe's placed seven. But from where I was sitting, the Mustangs were the team of the tournament.
First off, aside from the wrestlers, the Brick Memorial crowd was on fire this weekend. They were far and away the loudest group in the arena. When a Mustang wrestler won, you knew it.
I was woken by Brick Memorial entering the state tournament, of course, after watching its wrestlers dominate a loaded Region 7. Still, this was the big stage and the team was ready for it. With four in the semis, three in the finals, and a number of other qualifiers winning matches, Brick stood out among the state's best public school teams.
Look out for these guys next year. All three finalists return. So expect the Mustang faithful to be back again.
Moment of the Tournament
Before the finals, Paulsboro's Brandon Green was showered with applause and a standing ovation from the crowd at Boardwalk Hall. The 2019 state champion raised both hands as he peered around the packed arena just as he had in celebration a year ago.
It's incredible to watch the wrestling community come together in moments like these and support one of their own. We'll all be rooting for Brandon as he takes heads toward the next chapter of his life both on the mat and off.
2020 New Jersey State Champions
106: Evan Mougalian, Kinnelon
113: Tyler Klinsky, Middletown North
120: Dean Peterson, St John Vianney
126: Robert Howard, Bergen Catholic
132: Joey Olivieri, Hanover Park
138: Anthony Clark, Delbarton
145: Andrew Clark, Collingswood
152: Nick Boggiano, Toms River North
160: Brian Soldano, High Point
170: Connor O'Neill, DePaul
182: John Poznanski, Colonia
195: Martin Cosgrove, Camden Catholic
220: PJ Casale, Delbarton
285: Jim Mullen, St Joseph's (Montvale)