Unlock this article, live events, and more with a subscription!
Get Started
Already a subscriber? Log In
Given a golden opportunity to crack Northern Illinois' starting lineup this season, freshmen Izzak Olejnik and Gage Braun pounced.
The two have thrived since beating out teammates for starting roles and are a major reason the Huskies, just 6-10 and 2-5 in the MAC a year ago, take marks of 11-4 overall and 6-2 in the conference into tonight's home dual against Buffalo.
No NIU squad has won 12 duals since 2003-04.
Olejnik and Braun, who boast a 32-19 combined record, also appear well on their way to NCAA Tournament berths.
They are far from only MAC freshmen making an impact this season.
Here is a closer look at the conference's top freshman performers.
IZZAK OLEJNIK, NORTHERN ILLINOIS
He is the only MAC freshman who appears in the latest national rankings, sitting at No. 21 at 165 pounds. Olejnik is also third in the latest MAC rankings and MAC coaches rankings.
He was 25th in the latest NCAA Coaches Panel ranking of the top 33 wrestlers in each weight class that was released Thursday, meaning he is in a good position to reach the NCAA Tournament.
Watch Olejnik get a win vs UVA: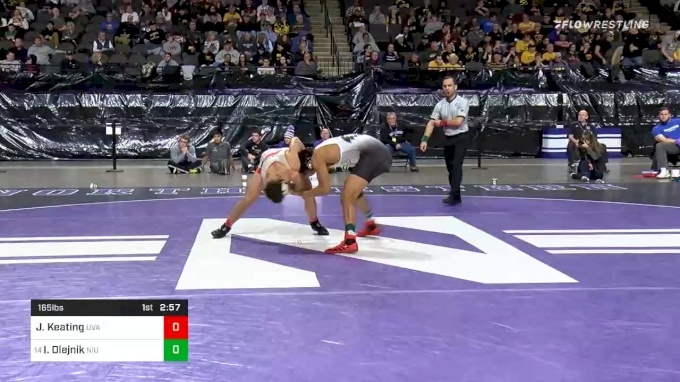 Unlock this video, live events, and more with a subscription!
Get Started
Already a subscriber? Log In
Olejnik, who has won his last three matches, is 14-9 this season, including three pins and two major decisions. Perhaps his most impressive win has been a 7-5 decision over Illinois' Danny Braunagel, who is 18-6.
A 165-pound vacancy was created in the Huskies' starting lineup when Kenny Moore, who started the majority of matches there last season, moved to 174. Olejnik then beat out senior Caden McWhirter, who started three matches last season, for the starting role.
Olejnik, who went 117-39 in high school, has emerged following a quiet redshirt year in which he was just 5-4.
GAGE BRAUN, NORTHERN ILLINOIS
With an 18-10 record, Braun is the only MAC freshman who appears in the top 20 of the latest ratings percentage index (RPI) rankings, coming in at No. 17 at 197 pounds. He is also No. 26 in the newest coaches panel rankings.
Braun is ranked fifth in the MAC and tied for fourth in the latest MAC coaches rankings as well.
Another distinction is that Braun is the only freshman to be named MAC West Division Wrestler of the Week this season. No freshman has earned the honor in the East Division.
Braun was cited Nov. 27 for a week which included a 2-1 record at the Purdue Duals. It was there Braun scored what is easily his biggest win of the season, an 11-4 decision over two-time NCAA qualifier Greg Bulsak of Clarion. Bulsak is currently ranked No. 18 at 197 pounds and has a 20-5 record.
Braun used the momentum of a 13-1 redshirt campaign to secure a starting spot this season. An opening was created when two of the three wrestlers who started a 197 last season graduated and the other (Max Ihry) moved to up to 285.
PEYTON MOCCO, MISSOURI
The 165-pounder has been on a tear of late, winning 13 of his last 16 matches, including a 1-0 edging of Olejnik. Overall, Mocco is 20-8 with four pins, five major-decision wins, and two technical-fall victories.
Needless to say, he is a big reason the Tigers have dominated the MAC again, recently clinching their ninth straight title with an 8-0 dual mark. Missouri is 11-7 overall against a brutal non-conference schedule.
Watch Mocco give Kennedy Monday a run for his money: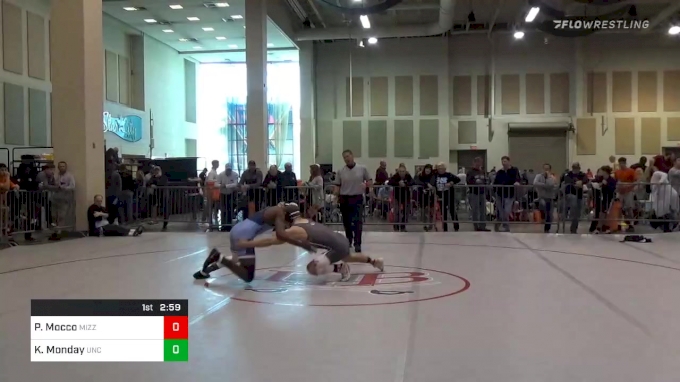 Unlock this video, live events, and more with a subscription!
Get Started
Already a subscriber? Log In
Mocco is ranked second in the MAC and second by MAC coaches. He is also No. 28 in the latest RPI rankings and sits at No. 31 in the new coaches panel rankings.
He carried the momentum of a 9-3 redshirt year into this season. That record includes a 9-8 win over Iowa State's David Carr, currently ranked No. 3 at 157 pounds. The only other college wrestler who has beaten Carr during the past two seasons is top-ranked 157-pounder Ryan Deakin of Northwestern.
A vacancy was created at 165 when last year's starter, Connor Flynn, moved up to 174. Mocco, a two-time Wisconsin state champion, beat out three others for the starting role.
JORDAN EARNEST, OHIO
The 285-pounder is ranked third in the MAC and MAC coaches rankings. He is also No. 32 in the latest coaches panel rankings.
Earnest is 15-9 this season with three pins and has been on a roll of late, winning seven of his last nine matches. Earnest's biggest win thus far was a 6-4 decision over Southern Illinois-Edwardsville's Colton McKiernan, a 2019 NCAA qualifier.
Watch Earnest notch a win over Indiana: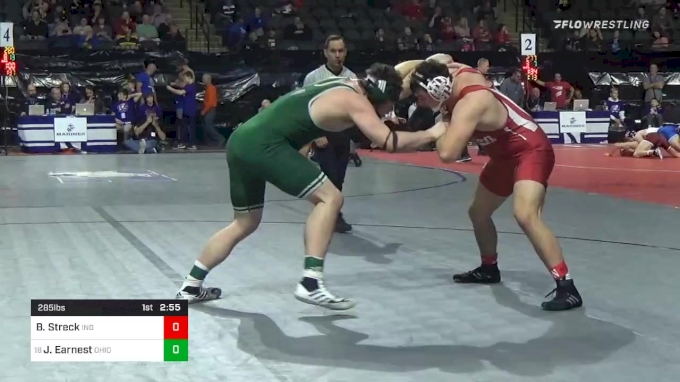 Unlock this video, live events, and more with a subscription!
Get Started
Already a subscriber? Log In
The 285-pound slot was left empty in the Bobcats' lineup coming into this season and a pair of Ohio state champions -- Earnest and Noah Price -- battled for it. Earnest beat Price, 5-1, in preseason wrestle-offs.
He defeated Northwestern recruit Jake Heyob for the 2018 Ohio Division 1 heavyweight title. Price finished 49-0 in capturing last year's Division 3 heavyweight crown.
Earnest has improved from the 19-14 record he posted in his redshirt season last year.
LOGAN HEIL, CLEVELAND STATE
He has gone 20-9 as a true freshman with three pins. Heil, who has won six of his last eight matches, is ranked sixth in the MAC at 125 pounds.
His most significant wins thus far have been two decisions over Bloomsburg's Willy Girard, an NCAA qualifier and Eastern Wrestling League champion last season.
Watch the Heil-Girard bout here: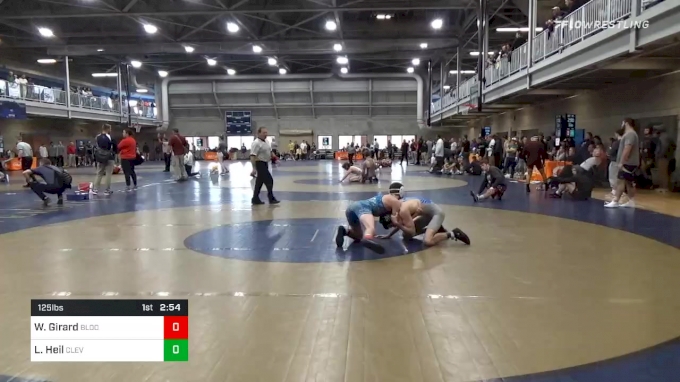 Unlock this video, live events, and more with a subscription!
Get Started
Already a subscriber? Log In
Despite being a true freshman, Heil beat out last year's starter, junior Cameron Lathem, for a starting role. Heil came to the Bobcats after winning a 126-pound Ohio state title.
---
Mark Spezia is a freelance writer based in Lapeer, Michigan. He has written for ESPNW, Flohockey, Flint, Michigan-based My City Magazine, the Detroit Free Press, Hour Detroit Magazine and Troy, Michigan-based Oakland Press. He previously worked for the Flint Journal, Lapeer (Michigan) County Press and Daily Mining Gazette in Houghton, Michigan.