Hypothetical DII Hodge Rankings
Hypothetical DII Hodge Rankings
If Division II offered their own version of the Dan Hodge Trophy, these would be the official rankings.
Feb 5, 2020
by JD Rader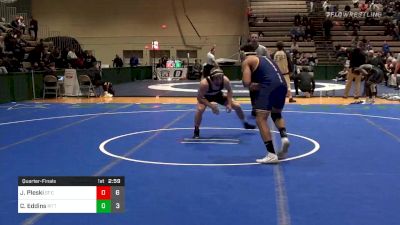 Unlock this video, live events, and more with a subscription!
Get Started
Already a subscriber? Log In
Unlock this article, live events, and more with a subscription!
Get Started
Already a subscriber? Log In
The Dan Hodge Trophy is presented to the nation's best college wrestler every year. Theoretically speaking, a non-DI wrestler could win this award. DIII's Nick Ackerman won it along with Cael Sanderson in 2001 and NAIA's Emmett Wilson of Montana State-Northern in 2004. However, excluding those two exceptions, it has rightfully gone to the top DI wrestler of the year.
Now, the NWCA does award a DII Wrestler of the Year Award every year, but I thought I would put together rankings for a hypothetical DII Hodge that follows the exact same criteria. Here are the criteria in order of importance when it comes to determining the winner of the Hodge Trophy.
Record

Number of pins

Dominance

Past credentials

Quality of competition

Sportsmanship/citizenship

Heart
So, below you will find the rankings along with an explanation and some numbers. The dominance score is an average of how many team points a wrestler accrues every time they step on the mat. The bonus rate and pin rate include all matches, not just wins. It should also be noted that any losses to DI wrestlers did not affect a wrestler negatively, but beating DI wrestlers was a big boost when taking quality of competition into consideration.
*This is not a prediction, but a ranking of who is having the best season so far following the above criteria. The Hypothetical DII Hodge winner will most likely have to finish the season a national champion and undefeated against DII competition. The picture will be a little more clear after regionals and complete after NCAAs.*
| | | | | | | | |
| --- | --- | --- | --- | --- | --- | --- | --- |
| Rank | Wrestler | School | Weight Class | Wins | Pins | Techs | Majors |
| 1 | Max Schneider | San Francisco State | 157 | 17 | 12 | 1 | 1 |
| 2 | Michael Raccioppi | East Stroudsburg | 174 | 14 | 7 | 3 | 3 |
| 3 | Chris Eddins Jr. | Pitt-Johnstown | 149 | 22 | 10 | 2 | 3 |
| 4 | Heath Gray | Central Oklahoma | 184 | 25 | 2 | 6 | 12 |
| 5 | Andrew Dunn | Kutztown | 285 | 12 | 4 | 0 | 3 |
| 6 | Trey Grine | Tiffin | 157 | 17 | 4 | 3 | 3 |
| 7 | Ryan Vasbinder | McKendree | 197 | 19 | 0 | 9 | 1 |
| 8 | Jonathan Andreatta | Adams State | 133 | 14 | 3 | 3 | 2 |
1) Maxamillian Schneider (JR), San Francisco State: 157
Maxamillian Schneider is having a preposterous year. He's 17-0 with 12 pins. However, he hasn't wrestled many of the top DII guys at 157 yet, which is why he isn't highly ranked. However, his three non-bonus victories have come to DI guys including Tyler Eischens, who is Stanford's starter, and Jace Lachau, who was a top recruit in the class of 2019 and now at Fresno State. Schneider didn't wrestle in the SF State's last two duals, where he would have taken on #10 and #11, so that is a bit concerning. The Gators only have one dual remaining against Menlo (who is NAIA) before Regionals, so it will be interesting to see if Schneider can keep pinning people in the postseason.
Dominance score - 5.29
Bonus rate - 82%
Pin rate - 70%
2) Michael Raccioppi (SR), East Stroudsburg: 174
After taking third at NCAAs last year, Michael Raccioppi looks like a man on a mission this year. He's 14-0 with 13 bonus point victories. If there's one area Raccioppi lacks, it's strength of schedule. However, he did beat his toughest opponent of the season #4 Brock Biddle 18-3, so I think that answers for concerns over whether he is a top guy or not.
Dominance score - 5.14
Bonus rate - 92%
Pin rate - 50%
3) Chris Eddins Jr. (SR), Pitt.-Johnstown: 149
Chris Eddins has turned into quite the pinner this season, picking up 10 so far with eight of those 10 coming in the first period. Eddins' only losses this year have come to DI competition, but he's also beaten several DI wrestlers including national qualifier Josh Maruca of Arizona State and Jimmy Hoffman of Lehigh. Oh, and that fourth criteria — Eddins is the two-time defending 149 national champion.
Dominance score - 4.29
Bonus rate - 62%
Pin rate - 41%
4) Heath Gray (SR), Central Oklahoma: 184
If strength of schedule is any concern for Raccioppi, it's the exact opposite for Heath Gray. The Bronco wrestler has two wins over #2 Anthony Mancini (including one by pin), a major over #3 Tyree Overton, a win over #6 Tony Vezzetti, a major over #8 Aidan Pasiuk, and a major over #9 ZeBrandon Grant. He's also got a handful of DI wins and his only loss on the year is to Dakota Geer from Oklahoma State. The one criteria holding Gray back is pins. In his 26 matches this year he has just two pins.
Dominance score - 4.03
Bonus rate - 76%
Pin rate - 7%
5) Andrew Dunn (JR), Kutztown: 285
After transferring from Virginia Tech two years ago, Dunn won the DII National Championships last year, and he is on pace to do the same again this year. He hasn't wrestled the top DII guys yet this season, but he's 12-0 so far and picked up wins over a couple of average DI guys at the East Stroudsburg Open back in November.
Dominance score - 4.25
Bonus rate - 58%
Pin rate - 33%
6) Trey Grine (SR), Tiffin: 157
Trey Grine's stats are extremely similar to Dunn's, except whereas Dunn hasn't faced the top DII heavies, Grine has beaten pretty much every other top DII 157 in the country. He has wins over current #2, #3, #5, #6, #7, and #8. I went with Dunn at #5 because of the several D1 wins, slightly higher pin rate, and his national title last year.
Dominance score - 4.23
Bonus rate - 58%
Pin rate - 23%
7) Ryan Vasbinder (JR), McKendree: 197
Ryan Vasbinder is 19-1 this season with the lone loss coming by way of decision to Christian Brunner of Purdue in his very first match. Since then, he has rattled off 19 straight including wins over #2 Nick Baumler and #3 Matt Rudy. However, zero pins hurts him.
Dominance score - 3.8
Bonus rate - 50%
Pin rate - 0%
8) Garrett Voss (SO), St. Cloud State: 133
There are three guys at 133 who have a legitimate argument to be in the eight slot: Garrett Voss, Hunter Bray, and Jonathan Andreatta. I went with Voss over the other two because he has the highest bonus rate of the three and a win over last year's champion Tyler Warner. None of these three will see each other until the National Championships, so it will all get settled there. Andreatta, however, will face his biggest test of the season in returning finalist Wesley Dawkins at Regionals.
Honorable mention
Hunter Bray (Jr.), Notre Dame, 133
Jonathan Andreatta (So.), Adams State, 133
Isiah Royal (Jr.), Newberry, 141
Garrett Aldrich (So.), St. Cloud State, 141
Nick Foster (Sr.), McKendree, 165
Josh Jones (Fr.), McKendree, 174