Unlock this article, live events, and more with a subscription!
Get Started
Already a subscriber? Log In
Division 1
RESULTS
Buchanan & Clovis

Empty

Poway & Gilroy

Empty

Clovis North

Bakersfield
Notes: The Division 1 results are most notable for what happened in the last round. With Clovis and Buchanan each reaching the finals, they decided to swap opponents. Buchanan would wrestle Poway and Clovis would wrestle Gilroy. The two Clovis schools have their dual against each other - one of the biggest wrestling events in the state season - this week.
We saw the return of Maximo Renteria for Buchanan. That should give us some insight on his readiness as the post-season nears. Though he did tweak something against Poway's Jason Miranda. That was a battle of the current CA #1 and #2 wrestlers at 126 pounds. Renteria fought through obvious pain for a victory that he controlled from start to finish.
A couple of weight changes to keep in mind as we head to the CIF run next month. Giano Petrucelli wrestled 160 against Poway. Joseph Martin likewise wrestled 160 against Gilroy and Poway. If nothing else, it speaks to what weight these kids are walking around at, while competing at 170 and 182 respectively most of the season.
BEST DUAL: Clovis North vs Gilroy (Gilroy 31-28)
Notes: This dual was so close, it really came down to some coaching decisions that tilted in Gilroy's favor. The big question I had at the time is Gilroy's forfeit at 195 pounds. Clovis North has a CA top 10 wrestler there, Paul Sharp. It seemed to me he should be up at 220, where he'd likely beat the Gilroy wrestler and any back-up could get their hand raised for the forfeit.
On the flip side, Gilroy inserted Donte Lopez at 145 which bumped Victor Jacinto up to 152, Chase Saldate up to 160, and so on. That gave them a body at 182, where in recent tournaments they have had an empty space there. Instead of 6, they only lost 3 at 182. Winning the dual by 3, that's the difference.
MOST DOMINANT PERFORMANCE:
TEAM: Buchanan over Poway (56-6)
Notes: In a showdown of the current #1 and #2 teams in CA, this was never close.
INDIVIDUAL: Giving this to Raymond Lopez of Buchanan.
Notes: There were other kids to earn 2 or more falls (Chase Saldate is probably the answer here), but no other kid had the opposing coach, with the nation's #1 wrestler, choose NOT to wrestle him.
BIGGEST SURPRISE: Buchanan beating Poway by 50.
Notes: Whatever WAS supposed to happen, that wasn't it. A 12-2 match count advantage for the Bears, along with pushing one of Poway's best, Aaron Gandara at 152, to a hard-fought 3-0 decision.
BIGGEST UPSETS
120: #16 Noah Ozuna (Bakersfield) over #7 Johnny Lopez (Poway), 4-3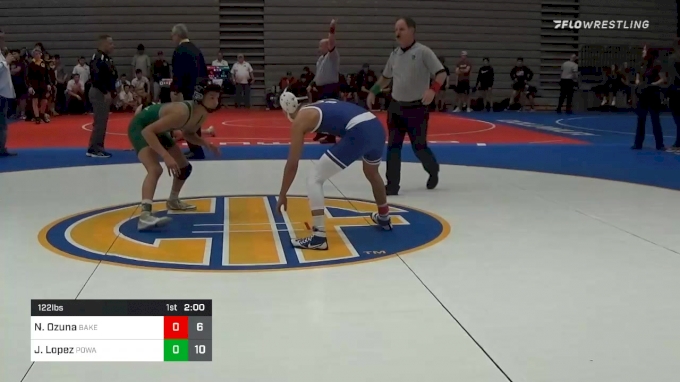 Unlock this video, live events, and more with a subscription!
Get Started
Already a subscriber? Log In
132: #13 Sloan Swan (Clovis) over #8 Noah Tolentino (Poway), 9-3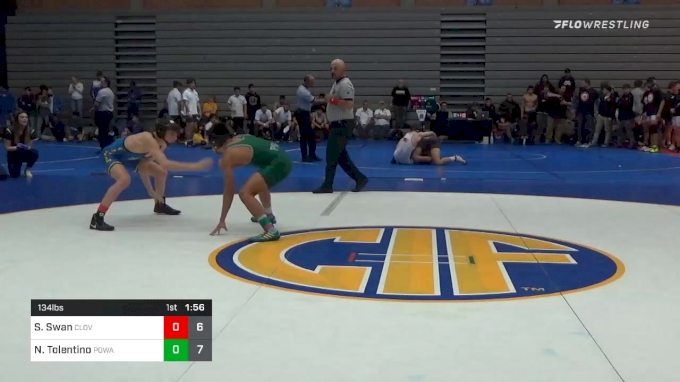 Unlock this video, live events, and more with a subscription!
Get Started
Already a subscriber? Log In
138: Austin Rhoads (Clovis) over #9 Zane Stoddard (Poway), 6-4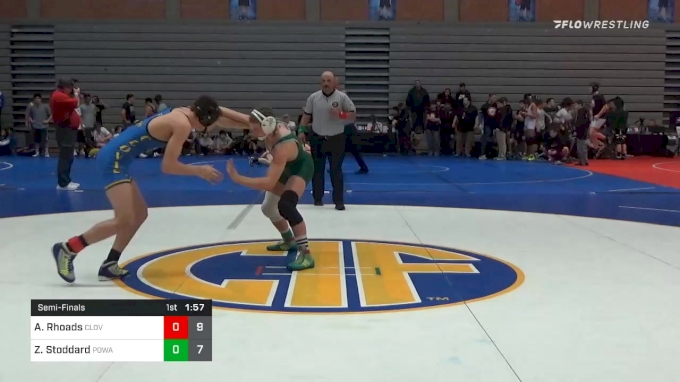 Unlock this video, live events, and more with a subscription!
Get Started
Already a subscriber? Log In
---
DIVISION 2
RESULTS:
Vacaville

Northview

Rancho Bernardo

Temecula Valley

Oakdale

Del Oro

Frontier

Clovis East
Notes: This division went about as expected. Vacaville is one of the better dual teams in the state and always comes loaded from 106 to 285. In a setting where just having wrestlers can be an advantage, they hardly ever are totally outmanned. They won every match by at least 20. Maybe should have been in Division 1, swapping with Bakersfield.
BEST DUAL: Rancho Bernardo vs Oakdale (Rancho Bernardo 33-32)
Notes: This one had everything. An opening match at heavyweight that went into sudden victory. Rancho Bernardo escaping with the win. Then a run by Oakdale to open up a double digit lead. A couple of pins by some Rancho Bernardo hammers, Jaden Le and Tyler Badgett, kept them in it. A 14 point deficit with 3 matches to go. The Broncos finished with fall, fall, and 6-4 decision to decide it. Talk about drama.
MOST DOMINANT PERFORMANCE:
TEAM: VACAVILLE
Notes: Take Clovis East out of the equation - they lost 3 duals by an average of like the national debt - Vacaville still won by an average margin of 25 points. All the other duals combined for an average margin of 5 points per dual.
INDIVIDUAL: Chris Island (Vacaville)
Notes: Two first period falls and a solid win over the state's #4 wrestler.
BIGGEST SURPRISE: #15 Eric Hayward (Vacaville) pinning #10 Rigo Estrada (Northview)
---
DIVISION 3
RESULTS:
Central

Vista Del Lago

Bella Vista

Turlock

Esperanza

Lemoore

Birmingham

Chico
Notes: As far as team results go, this could be the biggest surprise of the day. First of all, Central just lost to Buchanan in a dual meet 71-0. Of course, none of these schools are to that level, Central still came in as the 8 seed. They got #1 Esperanza to start their day off and pulled out a nice 39-36 win.
The Grizzlies followed that up with a win over Turlock and then a finals match with VDL that was probably the dual of the day - considering that it was for 1st place and much of the gym was paying attention.
Not sure what to make of the Esperanza result. The set up here was quarters losers go for 5th. That's what they ended up with. A healthy Aaron Nagao at 138 likely flips the Central result and maybe they're sitting atop this field.
BEST DUAL: Central vs Vista Del Lago (Central 36-32)
Notes: Let me set the stage. Trailing by 14 with 3 weights left, the Grizzlies went pin, pin, pulling within 2. A 108-pound bout featuring a kid from VDL who had gone 0-2 and a kid from Central who didn't even wrestle the 1st two matches is how it would decided. And boy — or in this case, girrrrl — did Central's Paige Morales deliver. A pin with 20 seconds left. The dual and the 1st place trophy.
MOST DOMINANT PERFORMANCE:
TEAM: Central over Turlock 56-20
Notes: That's the 8 seed over the 4 seed too, yikes!
INDIVIDUAL: Abheybir Sekhon (Central)
Notes: 2 falls and a dominating win in the finals, across two weight classes for the eventual champion. William Giron from Turlock deserves a mention as well.
BIGGEST SURPRISE: I mean, duh. Central High.
---
DIVISION 4
RESULTS:
Granada

North

Los Gatos

Benicia

Ponderosa

Corning

El Capitan

Casa Roble
Notes: Just like in Division 3, you had a Central Section 8 seed knock off the top dog in the division right off the bat. This time it was North High from Bakersfield.
Granada came down from the Northern Section and took care of business, which included a 38-34 win over the 2 seed, Los Gatos.
Like Esperanza, Ponderosa was able to bounce back from disappointment and win 2 in a row to take home 5th.
If you haven't by now, learn the name Carter Bailey. I mentioned him in my Doc B preview as one of the fastest rising kids in the state. He's only making me look like the genius I am.
BEST DUAL: Granada vs Los Gatos (Granada 38-34)
MOST DOMINANT PERFORMANCE:
TEAM: Ponderosa over Corning Union (61-15)
Notes: In the dual for 5th and 6th, the 1 seed flexed a bit on an out-manned but game Corning squad.
INDIVIDUAL: Carter Bailey (Grenada)
Notes: 2 early falls and a major decision for the eventual champion. Lorenzo Gunn from Benicia had 3 falls, deserves a little love for that.
BIGGEST SURPRISE: North Bakersfield
Final Thoughts: I appreciate what the folks at Clovis North along with Dr. Marco Sanchez are trying to do and I will be excited to see the vision continue to come together in the upcoming seasons of this event. I was asked to help with an event program and I look forward to making that even better in the years to come - along with even more promotional efforts.
Buchanan is a machine. No one in the state can see them. Best effort might turn out to be Selma last week. They just have zero vulnerabilities.
Poway let us down by not wrestling their stud at 108 against Buchanan's. Interesting that they did wrestle their #2 at 126 against Maximo. They have their reasons, but it definitely left a void where there was a lot of anticipation.
Clovis is a big-time program. Like I mentioned, they perform when called upon. Solid wins over Poway and Gilroy.
Vacaville has some guys who will make noise in Bakersfield. Chris Island is a kid at heavyweight who looks fresh out of Central Casting for Alabama middle linebacker. His sort of athleticism and physique is uncommon at that weight.
Carter. Bailey. Write it down. 120. Granada.
The Central Section continues to reign supreme. Buchanan, Clovis, Clovis North, Bakersfield, Central, Lemoore, North all acquitted themselves nicely.
Oh, and Michigan State got an absolute beast in Chase Saldate.