The Top 10 Upsets In NCAA DIII Action
The Top 10 Upsets In NCAA DIII Action
The biggest upsets from a wild weel of DIII wrestling.
Dec 11, 2019
by Anthony Bonaventura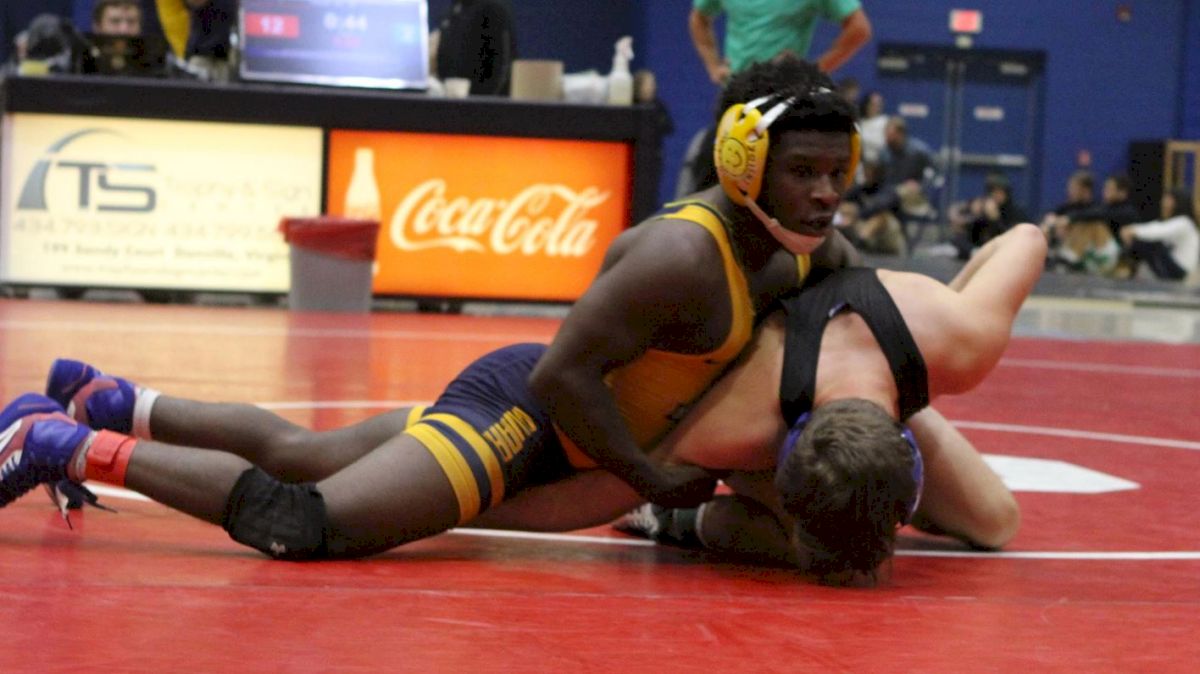 Unlock this article, live events, and more with a subscription!
Get Started
Already a subscriber? Log In
Similar to the results from the DI landscape this past weekend, there were a handful of upsets in DIII. Week 6 belongs to the underdog, as there were numerous highly ranked individuals getting knocked off by competitors that were either unranked or ranked below them.
Let's take a look at the top 10 upset stories from week 6:
1) Greg Baum pins returning NCAA Champ and current #1 Jordin James
After winning the title at 133 in 2019, Jordin James has looked just as dominant at 141 and seems to be on his way to another tournament title this past weekend at the Messiah Petrofes tournament. James cruised into the quarterfinals where he met sophomore Greg Baum of Muhlenberg College.
James and Baum were battling in the first period but James started to pull away, he had a commanding 10-2 lead going into the third period. Baum continued to press forward and caught James on his back early in the third to record the pin at the 5:19 mark. Baum handed James his first loss since November 2018 and helped lead Muhlenberg to a third-place team finish at the Messiah Petrofes tournament.
---
2) Tyler Gazaway over #3 Da'Mani Burns
Tyler Gazaway of Roger Williams started the year at 157 and took a few losses to start his senior campaign. Gazaway made his first appearance at 149 this past weekend at the New Standard Invitational and has had success at 149. Gazaway qualified for NCAAs in 2019 at 149 and was the #7 seed in the bracket but did not reach the podium. Gazaway registered a huge win over #3 Da'Mani Burns in the semifinals in their first meeting between the two. Gazaway jumped out to an early lead on Burns and was able to fight off his back in the third period during Burns comeback attempt to secure the upset 15-11.
The northeast regional is loaded at 149 with #3 Burns, Gazaway (who will enter the rankings when the next set is released), #5 Evan Drill, and #9 Evan Fidelibus. One of these top competitors will be on the outside looking in when March rolls around.
---
3) Marco Gaita over #3 A.J Aeberli
Sophomore Marco Gaita of Wesleyan College is quietly having a solid start to the season. He currently is 13-2 on the season and defeated returning All-American A.J Aeberli in the semifinals of the Ted Reese Invitational 3-1. Gaita won the tournament and was named outstanding wrestler with a perfect 4-0 record on the weekend. This is Gaita's second win over a top 10-ranked opponent, at the Roger Williams tournament he defeated Dan Kilroy of TCNJ who was ranked #7 at the time. Gaita will be in the mix in February to qualify for the NCAA Championships out of the northeast regional.
---
4) Jacob Falleni over #4 Hayden Brown
True freshman Hayden Brown of Johnson & Wales has been off to an incredible start and no one has seemed to be able to figure him out. Jacob Falleni of The College of New Jersey was able to crack the code and handed Brown his first collegiate loss in the round of 16 at the New Standard Invitational. Falleni was the third different TCNJ wrestler to wrestle Brown this season and is a testament to the depth that the Lions have at 133 this season. #5 Jake Giordano, Domenic Difrancescantonio, and Falleni are all solid options for TCNJ at 133. The trio has a collected record of 24-8. Falleni was able to complete the upset by a score of 8-5 and Brown ended up not placing after coming off of two tournament wins to start his career.
---
5) Adam Wagner over #5 Taylor Shay
Adam Wagner is a tough true freshman for Ithaca College but is behind returning All-American and current #7 Austin Whitney. Wagner has seen some time in the varsity lineup and continues to show improvement every time out. Wagner secured the biggest win of his college career when he knocked off returning All-American and current #5 Taylor Shay of Roger Williams. Wagner was able to put Shay on his back off a high-crotch late in the match and secured the fall at the 6:50 mark in the round of 16 at the New Standard Invitational.
---
6) Samuel Braswell over #9 Terry Adams & #6 Matt Caccamise
Samuel Braswell of Averett University is a returning NCAA qualifier and has been on the cusp of cracking the top 10 in the rankings all year. Braswell showed this past weekend he is for real with an impressive performance and winning the 125 bracket which featured three ranked wrestlers in #9 Adams, #6 Caccamise, #10 Ninos, and NCWA national champion Colton Messick. Braswell took out freshman Terry Adams in the semifinals 7-5 and defeated Matt Caccamise in a shootout 12-11 in the finals of the New Standard Invitational. Braswell was named outstanding wrestler of the tournament and posted a 5-0 record on the weekend.
---
7) Brandon Woody over #7 Gabriel McDaniel
Sophomore Gabriel McDaniel has proven he is an All-American contender after securing some big wins to start the year. McDaniel was carrying a lot of momentum into the weekend but returning NCAA qualifier Brandon Woody was up for the challenge. Woody piggybacked off of his teammate Braswell's big win in the semis and was able to secure an upset win of his own. Woody and McDaniel engaged in one of the most entertaining bouts of the whole tournament that was tied up at six heading into sudden victory. Woody was able to secure the winning takedown in SV-1 thanks to a danger call during a wild scramble. Averett is a young program but could potentially get their first All-American in just their third year of existence.
---
8) Rocky McGeary over #9 Nico Ramirez
True freshman Rocky McGeary has only two losses on the season and both were against DII wrestlers. McGeary went into the weekend undefeated in DIII but faced his toughest test to date when he faced #9 Nico Ramirez of Southern Virginia who was an NCAA qualifier back in 2018. McGeary weathered the storm and was able to take out Ramirez 11-6 in the Messiah Petrofes semifinals and followed it up with a pin in the second period in the finals to win his first collegiate title. McGeary will be a factor in the heavyweight division this season and will crack the top 10 at 285 when the next rankings are released.
---
9) Alexander LaVeck and Angelo Mahaffey over #10 Colby Morris
The 157 bracket at the Messiah Petrofes tournament was loaded with three individuals ranked in the top 10: #1 Antwon Pugh, #8 Stephen Maloney, and #10 Colby Morris. Morris came into the weekend undefeated against DIII opponents but would suffer his first two losses this past weekend and ended up in fifth place. LaVeck recorded a first-period fall over Morris in the quarterfinals but the two would split on the weekend as Morris beat LaVeck 8-0 for fifth/sixth. Mahaffey was able to pull off the upset against Morris by recording the only takedown of the match in the consi-semifinal; Mahaffey finished in third.
---
10) #3 Grant Zamin over #2 Brandon Murray
Zamin from UW-La Crosse took on Brandon Murray of Loras for the third time in the last two seasons. Zamin was 0-2 against Murray but was able to flip the script this past weekend and register his first career win over Murray by a score of 7-5. Zamin is currently 6-1 on the season and this win could have potential national seeding implications come March. Both Murray and Zamin will be on the hunt for a top-five seed at NCAAs.