Unlock this article, live events, and more with a subscription!
Get Started
Already a subscriber? Log In
On Friday night, Wyoming heads east on I-80 to Lincoln to take on the Cornhuskers of Nebraska. This match has become an early-season tradition, and this year's dual should be a good one.
Wyoming's lineup features six ranked wrestlers while Nebraska's features seven. The strength of these lineups alone should be an incentive to watch, but this dual also has some interesting individual matchups to keep your eyes on. Check out four reasons we're excited for this matchup.
Watch Wyoming vs Nebraska LIVE on FloWrestling
Friday, November 22 | 8:00 PM ET
---
1. Can Thomsen Challenge Verner?
Nebraska freshman Alex Thomsen's arrival in the lineup has been highly anticipated. While his freshman season has only started at 5-3, he has already faced his fair share of ranked opponents and has a win over then-ranked Christian Moody of Oklahoma.
Meanwhile, Wyoming's Cole Verner offers a real challenge to the upstart Thomsen. His season has also started a bit slower than he would have hoped, having dropped three of his first four bouts. Still, #19 Verner has proven to be a legitimate threat at 125.
Verner is in his second season as a Cowboy starter after transferring from Northwest College in Powell, Wyoming. Verner's breakout win was this thriller against Zeke Moisey during last year's Wyoming vs Nebraska dual: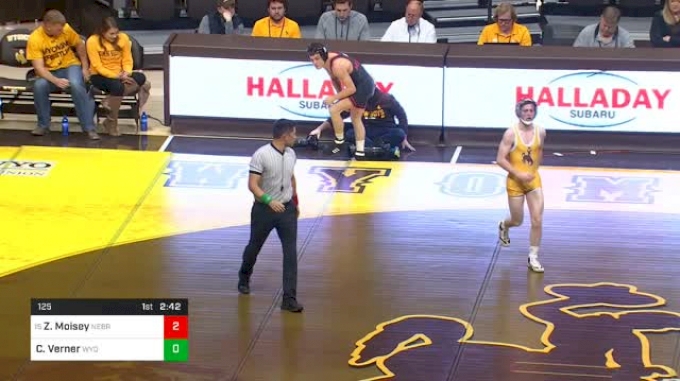 Unlock this video, live events, and more with a subscription!
Get Started
Already a subscriber? Log In
---
2. Labriola and Hastings Like to Score Points
One of the most exciting matches of the dual will be at 174 between Wyoming's #13 Hayden Hastings and Nebraska's #4 Mikey Labriola. When these two met last year, they put 25 points on the board in a 14-11 Labriola decision.
All-American Labriola will certainly be the favorite here, but he and Hastings both like to let it fly, so this one could get interesting. Check out their gun-slingin' match during last year's dual: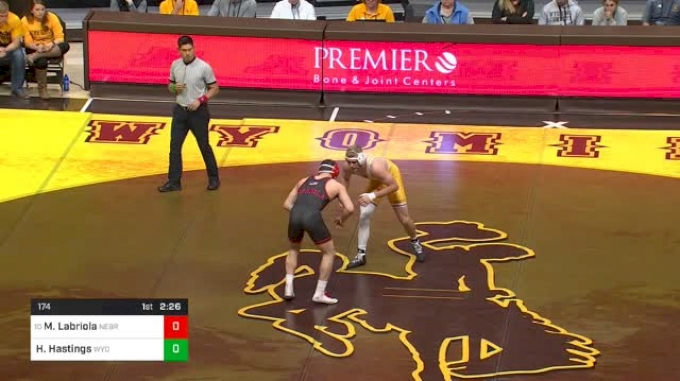 Create a free account to unlock this video!
Get Started
Already a subscriber? Log In
---
3. Stephen Buchanan Gets a Crack at #8 Schultz
Last weekend, Wyoming pulled true freshman Stephen Buchanan's redshirt for a dual against Air Force. Buchanan responded with a 15-3 win over Air Force's Casey Jumps. The decision to pull Buchanan's redshirt was probably influenced by his 12-5 decision over Northern Colorado NCAA qualifier Jacob Seely.
At this point, Buchanan is 10-0 on the year, but he has yet to wrestle anyone of the caliber of Schultz. Of course, Schultz is favored in this matchup, but it will be interesting to see if the youngster Buchanan is ready to roll with a high-level guy like Schultz.
---
4. Is Christian Lance For Real?
Nebraska senior heavyweight Christian Lance has yet to earn a permanent starting spot for the Cornhuskers after transferring from NCAA DII Fort Hays State in 2018. This could be his year.
At the Journeymen Collegiate Classic, Lance knocked off 13th-ranked teammate David Jensen 3-1. This could be a sign that we'll see Lance moving forward for Nebraska.
He'll have an opportunity to make a name for himself on Friday night against Wyoming's #14 Brian Andrews. Andrews will be favored in this match, especially after having pinned Lance in last year's dual, but this improved version of Lance could make things interesting.
Here's what happened last year when Andrews wrestled Lance: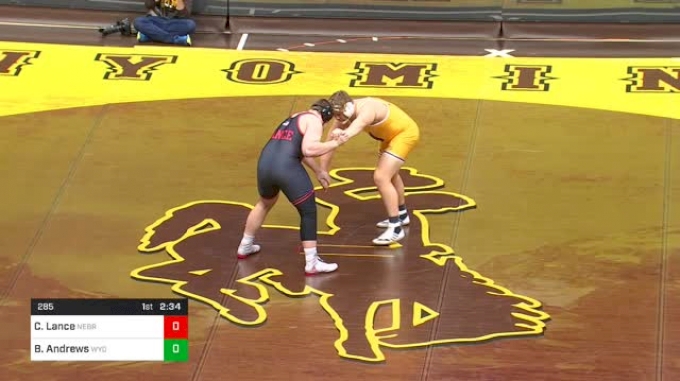 Unlock this video, live events, and more with a subscription!
Get Started
Already a subscriber? Log In
---
Possible Starters
While neither team has listed its lineup for this dual, here are the starters we could see on Friday Night:
125: #19 Cole Verner (Wyoming) vs Alex Thomsen (Nebraska)
133: #7 Montorie Bridges (Wyoming) vs Jevon Parrish (Nebraska)
141: Chase Zollmann (Wyoming) vs #7 Chad Red (Nebraska)
149: Jaron Jensen (Wyoming) vs Collin Purinton (Nebraska)
157: Logan Jensen (Wyoming) vs Peyton Robb (Nebraska)
165: Dewey Krueger (Wyoming) vs #4 Isaiah White (Nebraska)
174: #13 Hayden Hastings (Wyoming) vs #4 Mikey Labriola (Nebraska)
184: #23 Tate Samuelson (Wyoming) vs #7 Taylor Venz (Nebraska)
197: Stephen Buchanan (Wyoming) vs #8 Eric Schultz (Nebraska)
285: #14 Brian Andrews (Wyoming) vs Christian Lance (Nebraska)