Unlock this article, live events, and more with a subscription!
Get Started
Already a subscriber? Log In
By Paul Myers
---
To say it's been an interesting preseason for Pennsylvania wrestling would be an understatement. PA was well-represented all over the place for the last couple of months.
First, the "Keystone State" showed at well at Super 32, with 200 wrestlers making their way to Greensboro, North Carolina, and bringing home the team title with 26 total place winners. Following that up was The Lock Haven Fall Classic, and finishing up with The Surge at UPJ SportsCenter. Enjoy!
All rankings according to Flowrestling.
Super 32
The only real relevant champs to this article — being that Nic Bouzakis, now wrestling at Wyoming Seminary along with new teammate Lachlan McNeil, and eighth grader Mason Gibson are not PIAA varsity wrestlers — are Hunter Catka and Garrett Nijenhuis. Catka seems to be adjusting to the weight jump rather well. Word is that he now weighs around 240, and he won every bout except for his final by bonus points, collecting two falls a major and default to go along with his convincing 8-2 win over #2 Hayden Copass from Illinois, a Wisconsin commit. Ranked #2 nationally, Nijenhuis, a Purdue commit, beat three nationally ranked guys on his way to the title (#13 Walker, #16 Warden, #4 Poznanski) and followed that up with a killer interview exemplifying his mullet game.
PA had two other finalists who fell just short in their championship matches: #5 Thayne Lawrence and #6 Kenny Herrmann. Herrmann came from the #10 seed to the finals, beating nationally ranked Wyatt Henson (who also just took third at the Clarion Open) in the semis in a crazy OT match (which you can see below), then losing a tough finals match to #5 Vandervere in the title bout. Thayne, a Lehigh commit, beat a couple ranked guys ( #10 Gilcher, MI, and #16 Blumer, PA) on his way to the finals before losing a back and forth battle with #4 Cael Valencia.
Watch Herrmann vs Henson here: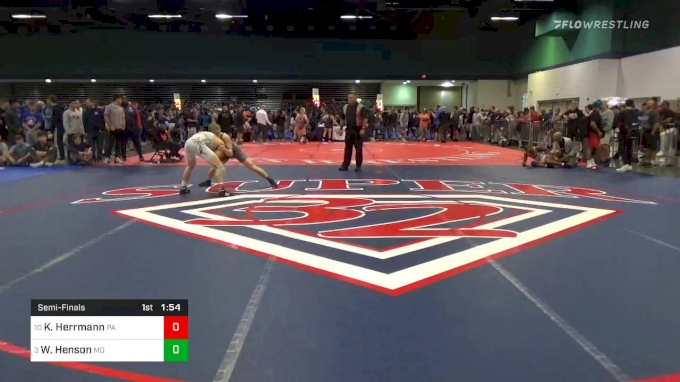 Unlock this video, live events, and more with a subscription!
Get Started
Already a subscriber? Log In
PA had its strongest showing at 170, with four place winners from third through sixth, three of the four compete at the AAA level. Taking top honors among the PA guys was mullet man himself, Clayton Ulrey. Ranked #4 in the country, the Virginia Tech commit avenged his 2019 state finals loss to fourth-place finisher, #7 Trey Kibe. Rounding out the AAA guys to place at this weight was Stroudsburg standout Lenny Pinto, who will make his way to the midwest next year to wrestle for the Nebraska Cornhuskers and Mark Manning. He avoided the "semi-slide" by besting two-time AA state placer #10 Tyler Stoltzfus from St Joe's in his final bout in NC.
Carter Dibert, returning AAA state champ and national #5, lost his round of 16 bout to eventual champ Jacob Rivera, and then capped off his third-place finish with six — yes six — straight wins and four over nationally ranked foes. Going into the tourney as the 13th seed, taking a loss in the round of 16, then to cap it off with those wins will give Carter a ton of confidence rolling into his title defense. Also, finishing with a win in the consolation finals was #6 Isaiah Vance, a junior out of Hempfield Area, lost his quarterfinal bout then reeled off three wins, including two of them over nationally ranked opponents, to cap off a third-place finish at 285.
Patrick Noonan, another Stroudsburg wrestler, has had himself an impressive offseason. Since failing to place at PA states, he has accomplished a third-place finish at NHSCA Junior Nationals and a fourth-place showing at Super 32 after going 8-2 with his only losses in that time coming to three guys ranked in the top seven at his weight. I would be inclined to say that Noonan will be looking to "shake that monkey off his back" this season and take a few steps up the podium on Saturday night in Hershey!
Also finishing fourth was Ed Scott and Dorian Crosby, from Dubois and Erie Cathedral Prep, respectively. An NC State commit, Scott followed that performance up with a fine showing at the Clarion Open, with his only loss coming at the hands of college senior and D1 national #4, Brock Zacherl (watch the match below). NC State should be very excited about what they have seen from Ed in the last few weeks. #13 Crosby, on his way to Bucknell, had a strong fourth-place showing with a 5-2 record over the weekend.
Watch Scott vs Zacherl here: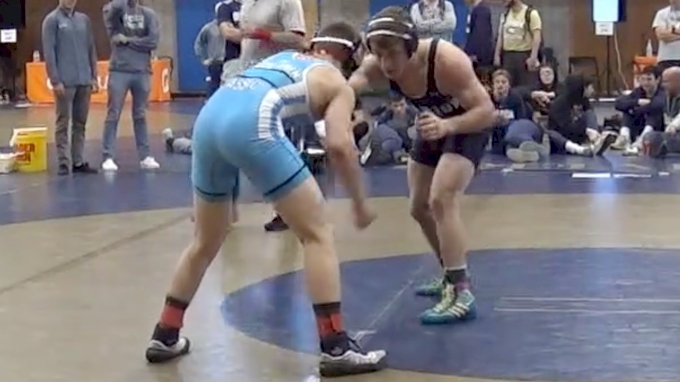 Unlock this video, live events, and more with a subscription!
Get Started
Already a subscriber? Log In
Among the other notable performances in NC were including, but not limited to, Colby Whitehill (Brookville), John Meyers (Greensburg Salem), Cameron Robinson (Council Rock North), Joey Milano (Spring-Ford), Avery Bassett (Midd-West), Sam Hillegas (North Hills), Jagger Condomitti (Northampton), Mac Church (Waynesburg), and Austin Walley (Ellwood City).
Returning AA state champ Whitehill finished fifth at 285. Meyers will look to step onto the podium after a nice showing at Super 32 with a sixth-place finish. Also finishing sixth was returning state finalist and Iowa State commit Cameron Robinson at 152 lbs after going 7-2. Joey Milano started his junior campaign out with a seventh-place showing at 182 lbs. Returning state placers Condomitti and Walley also made it into the top eight down in NC, to go along with #8 Sam Hillegas, another Hoakie recruit, who will look to once again strike gold in Hershey after finishing third last year (Loss to Chlebove). Chalking up the most impressive performance here amongst the PA placers was now-#16 Avery Bassett. If you follow the PA AA scene, you would recognize the name, but he put himself on the map by his showing in Greensboro. Bassett is a two-time state qualifier and has never placed in Hershey, but put on a show by going 7-2 and picking up wins over PA state placer and nationally ranked Erik Gibson on his way to seventh place.
I know there were plenty of all-star efforts from PA guys who fell just short of placing at this prestigious tournament and I don't want to take anything away from them, but for the sake of writing a full novel, I kept it to the guys who placed.
Lock Haven Fall Brawl
The Fall Brawl always has some good guys among the place winners and has some pretty good depth among most of the weights too. Among your champs were state placers Matt Sarbo (Altoona) and Cade Balestrini (Shikellamy). State qualifiers Hunter Walk (Tyrone), Jude Swisher (Bellefonte), and regional qualifier Hunter Adams (Big Spring). There were some notably deep weight classes, such as 128, which two-time state place winner Gable Strickland (Benton) did not place. At 147, there were multiple state placers that DNP (Ethan Wiant, Redbank Valley and Alex Chess, Mercer).
Jumping up three weights from last year to 162 was 2019 state AA seventh-place finisher Malachi Duvall out of Penns Valley, where he finished runner-up. Also at the weight were state qualifier Hunter Weitoish (DNP) and Nolan Lear, from Benton, who finished in third place. At the next weight above, 2019 state sixth Ethan Richner (Bellefonte) finished in the runner-up spot.
Finally, we get to the heavies. District champ and two-time regional qualifier Jake Marnell (Hazelton) was a finalist at 184, finishing as runner-up. State qualifier from Downingtown West, Chase Mielnik finished third at 197.
The Surge
For a small tournament that had a field size of approximately 250 wrestlers, there was a ton of talent in this growing event, only its second season. Out of the 250 or so registrants, about 70 of them were at least a state/national prep qualifier (at the varsity level). That shows the toughness of this event that over 25 percent of the field has at least wrestled at the state tournament, that is without factoring in others such as two Surge champs, Mason Gibson (eighth grade) and Rocco Welsh (incoming freshman).
At 106, Jacob Van Dee (Erie Cathedral Prep) avenged his regional final loss to Nic Allison (Mifflin County) in a match that went completely different from last year's battle. It seems as though these guys will go back and forth at this weight again this year and will both look to "step up" in Hershey. At 113, we saw Mason Gibson show his dominance over the field. Behind him saw varsity newcomers Andrew Christie (New Oxford) and Matt Repos (Central Dauphin), who were second and fourth, respectively. Also placing top six were PA state qualifiers Connor Brown (Littlestown) in third and Gavin Richard (Daniel Boone) in sixth.
Arguably the deepest weight in the entire tournament — with 11 of the top 12 seeds at least returning state qualifiers (the exception is Coy who had three losses to state placers to go along with 30 wins before a premature ending to his season) — was 120 lbs. Jackson Arrington from Forest Hills started this season off the way he ended last season: winning the title. He avenged his regional final loss to Ryan Michaels, Elizabeth Forward, in the finals, who defeated multiple-time national prep placer DelVischio (Malvern Prep) in the semis. DelViscio was then handed a loss to drop to fourth at the hands of Jude Swisher, who has transferred from State College to Bellefonte, in the consolation finals. Rounding out the placers here were AA state seventh Noah Frack and state qualifier Chase McLaughlin, in a match won by Frack with the difference being a second-period escape.
In another deep weight, 126 was won by a tough, well-known incoming freshman, Rocco Welsh (Waynesburg). He defeated 2018 AAA state seventh Matt Sarbo (Altoona), 3-1, thanks to a first-period takedown. Past state medalist and Muncy senior, Jacob Blair, was upset in the quarters but came back to win the next four tough matches and finish third, beating multiple-time state qualifier David Evans (Tunkhannock) there. Garrett Thompson (Franklin Regional) and state place winner David Kreidler (Allentown CC) rounded out the placers here. Alejandro Herrera-Rondon (Seneca Valley) continued to win in PA by taking home a hammer with his victory over fellow state place winner Anthony Glasl (Brockway) in a closer-than-anticipated match. Another state medalist, Dalton Gimbor (Hamburg) took third. Fourth through sixth was Carter Gill (Hickory), Matthew Weinberg (Archbishop Ryan), and Riley Bower (Williamsport), in that order.
Kenny Kiser (Saegertown) showed why he's the favorite going into the season at 138, winning the title with a win over Jared Keslar (Connellsville). At 145, Matthew Lackman (Beth Catholic) sure turned some heads after failing to get to the state tournament last season. He blanked two-time state placewinner Paniro Johnson (Erie Cathedral Prep) in the championship match. This weight class also saw returning AA state sixth Tristan Pugh (Berlin) finish in that same spot here with two losses to Ethan Wiant (Redbank Valley). Erik Gibson (Forest Hills), Mason's older brother, won a hammer over Weathersbye (Central Dauphin) by major. His closest match was in the semi against state qualifier Nolan Lear (Benton), who finished fifth at this weight.
At 160, national #16 Jack Blumer, finished runner-up losing to National Prep placer Wehmeyer in a close match in UTB. In what would be considered an upset, Eli Brinsky (South Fayette) defeated 2019 AAA state sixth Ethan Richner (Bellefonte), 4-0. Angel Garcia (Mariana Bracetti Academy) eased his way through the 170 lb bracket, only squandering one point in his four matches, which was a 3-1 decision over state qualifier, Coy Bastian (Selinsgrove). Rounding out notables at this weight was another AAA qualifier, Isaiah Reinert (Easton) finishing third. With it still being football season, the upper weight participant numbers were lower, but there was still some good dudes. At 182 Ryan Weinzen (Norwin), a returning state qualifier, won a very intense final over Marnell (Hazelton Area). **Post-match may have been more intense as he was never really challenged.**
PA state qualifier Jake Lucas (Cumberland Valley) was the runner up at 195. In my opinion, the best upper weight final came at 220 with Dorian Crosby (Erie Cathedral Prep) coming from behind to beat state qualifier John Meyers (Greensburg Salem) 6-4 for the title. Finally at 285, Jalen Stephens showed his class being above the rest of the four-man field on his way to the title.
That wraps up the Pennsylvania All Class Preseason Rundown. With the season officially starting in just a couple weeks, the anxiousness is being felt around the state. Please enjoy the read, and look forward to the upcoming rankings that will reflect most of the weight changes (at least what is known) and give a nice preview into opening weekend in December.