Unlock this article, live events, and more with a subscription!
Get Started
Already a subscriber? Log In
By John Foster — Sometimes it can feel like great athletes just arrive fully formed, or a name has been at the top of the rankings forever, but one of the great things we get to do here at Flo is watch kids develop and hone their craft, until they have realized all of their potential on the mat and see it show up in the match results and trophy cases.
Building A Blue Chip: AJ Ferrari
The reality is that it is a climb to the top, and that climb comes with an array of hurdles and traps that have to be navigated. They might present themselves under the hot lights on the sport's biggest stages, or they might be in the corner of some dusty gym going up a weight to help the team in a dual while battling a muscle tear on an ice-cold Wednesday night.
The kids that make it all the way to the top figure out a way to win no matter what the circumstances are, no matter the opponent, regardless of injuries or officiating: They are the Hammers and we will be tracing their path to the podium and highlighting their pivotal matches along the way.
Braxton Amos Top 5 School List | Class of 2020 Big Board
Today we will examine the career of the pound-for-pound #2-ranked high school wrestler in the nation and the pride of Parkersburg, West Virginia: Braxton Amos.
Rising Freshman
To some of us on the East Coast, it has felt like Braxton Amos emerged straight from the womb as an absolute savage on the mat. Few kids have combined power, technique, and determination to such devastating effect at that early of an age. Just take a deep Flo dive for a peek at Amos not only making another second-grader whimper at Eastern Nationals, but also putting on a comprehensive performance via his little big man game plan execution.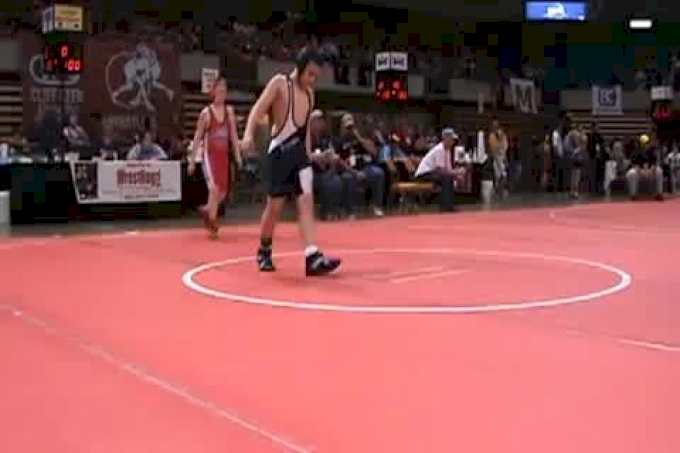 Amos was such a phenom that we have to talk about the months before he entered high school to put his career to date in perspective. A demon at freestyle, he had already started ruining Jake Kaminski's hopes of winning big tournaments by the end of middle school. He was hungry to see where he stood against the older kids and chomping at the bit to get to the next stage, and Braxton was about to find out where he sized up against the world's elite a little earlier than planned. He was also so talented that other folks would try to keep him out of tournaments by using absolutely anything at their disposal.
Showing a surprising ability at the Olympic styles at an early age, Amos found it difficult to find proper training locally as he got a grasp on how good he might actually become. That led his family to seek out Miron Kharchilava in Ohio, and as he got ready to try his hand at a higher level, it became obvious that West Virginia would not have dual teams at his age level for all the events he would want to attend. After consulting with USA Wrestling, it was decided to go through the proper channels and compete as part of Team Ohio for Schoolboy Duals. (Stay with me, as this all becomes important in a minute.)
Looking to get additional mat time, he found his way to Central Regionals, where Braxton ruined Kaminski's weekend for the first, but certainly not last time. This win would prove far more crucial than he could possibly imagine.
After repeating the process with USA Wrestling again, Amos joined Team Ohio for Cadet National Duals and went 7-1, often wrestling up at 220 to help the squad. All he could focus on afterward was the one loss.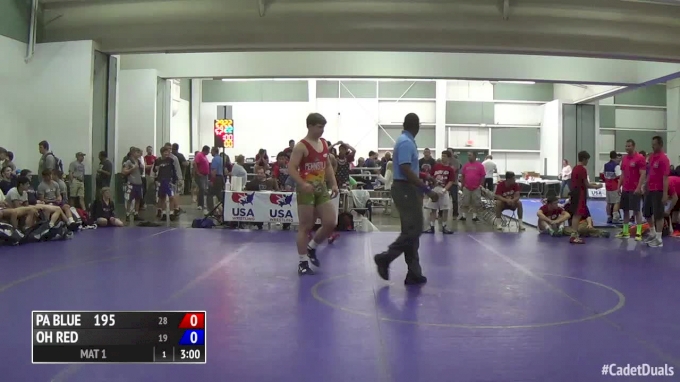 Unlock this video, live events, and more with a subscription!
Get Started
Already a subscriber? Log In
Two years older, Gavin Hoffman was ranked sixth in the country at the time, with guys named Gable, Cohlton, Chase, and Mason just ahead of him. Amos was giving up 15-20 pounds, two full seasons of high school experience, and just plain man strength that defines that age gap at the upper weights. The first period is a fantastic display of both wrestlers muscling into position as they countered each other's moves. Amos is getting the better of things and is clearly about to put Hoffman in trouble when he was stopped in his tracks with a potentially dangerous call.
Tied at two, they started the second with Braxton winning the exchange again, before he got just a little too eager and tried an ill-advised throw on the edge that turns the score in Hoffman's favor. Amos showed off some mad scrambling skills and Gavin looked like he just wanted it to end for most of the period. It always rings a little hollow to say that a kid looked amazing in defeat, but Amos truly looked amazing here.
"This wasn't the turning point, but it felt like it established that I could hang with these top guys. I knew that at least I had a shot of running with them, and I also knew I was going to need to work even harder to pass them."
June turned to July and Amos was headed for the biggest stage of the summer. For Fargo, just about every state puts the resources into turning out their top team, and West Virginia is no different, so Amos joined up with his home squad and proceeded to demolish the Greco bracket on day one. No one had anticipated that he would do this kind of damage, but all eyes were on him for day two, particularly the eyes of Team New Jersey who had high hopes for one of their own on the other side. To everyone's amazement, New Jersey lodged a protest and demanded that Amos be tossed from the tournament.
The crux of the argument was centered around a rule stating that he would have to wrestle for Team Ohio, as West Virginia had waived him when he had competed for them at Duals. Of course, Ohio's roster allotment was filled so he wouldn't be able to continue competing if that was the case. After a lot of back and forth, it was luckily mentioned that Amos had won Central Regionals earlier (I told you this was all-important!) which then allowed him to participate.
Both Ohio and West Virginia bent over backward to make sure everything was in order in just a few hours, and Braxton amazingly maintained his focus through it all and eventually won Greco as a member of Team Ohio, with "Country Road" played ironically as his intro for the match, as Pyles and Mike Mal try to make sense of it all.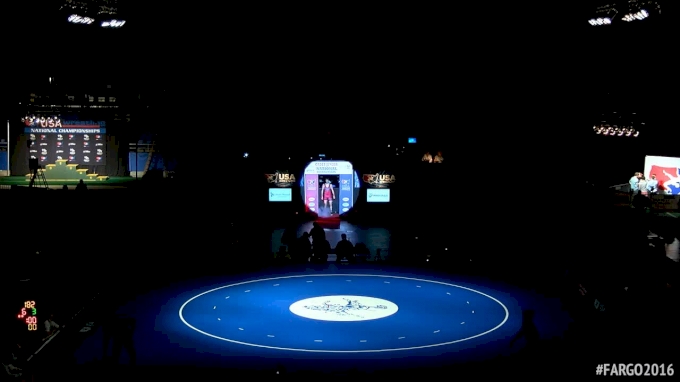 Unlock this video, live events, and more with a subscription!
Get Started
Already a subscriber? Log In
He then wrestled freestyle for Ohio, taking the title on that side as well. I am not sure if that had ever happened before, and I hope it won't ever happen again. Amos clearly just wanted to get down to business while he locked down the stop sign.
Of course, the real story of his Fargo run wasn't even his titles, but rather a match much earlier in the tournament. Looking back in amazement, hitting each other in the round of 16 was what could potentially be the NCAA heavyweight final four years from now, as Amos squared off against freshman Greg Kerkvliet. The result was a ridiculously fun match where they traded blows back and forth. Occasionally you meet an opponent where you cancel each other out and you have to find other avenues to score, which is the case here as Amos had to pull out all the stops for the victory.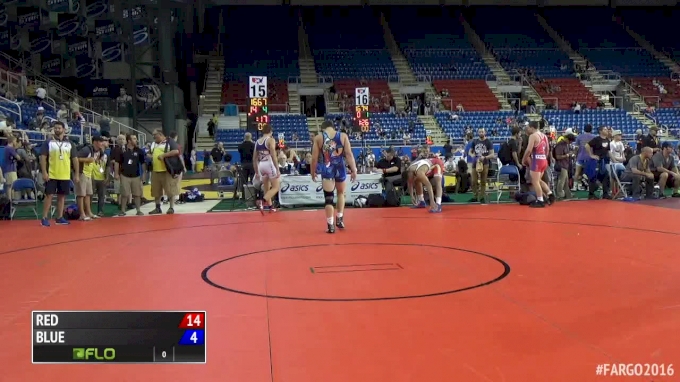 Unlock this video, live events, and more with a subscription!
Get Started
Already a subscriber? Log In
"He and I had a shootout that no one saw coming. Knowing now, and looking at that bracket, we never should have hit each other until at least the semis, but that is what you have to love about Fargo, as two guys that are only sort of known yet, and on the younger side, can hit each other early. Then they end up first and third overall."
Both wrestlers dazzled as Kerkvliet went for a tornado-like 360 early on, only to be met with a crotch lock, and Amos continued to score with his counter wrestling, but Kerkvliet refused to give up points in par terre and kept himself in the match. At the end of the first he gave a hint of what was to come by putting Amos on his back for a moment. Braxton wasn't going to be able to blow him away. Kerkvliet was getting to his legs repeatedly and the tide was turning before Amos seemed notably annoyed and blasted in to score a two and turn to go up 12-6. It would prove to be a crucial score as Greg was relentless until the final whistle, coming up just short 12-10.
"It is funny as we are both strong upper body, but we ended up trading leg attacks. We had both scouted each other pretty well and had great coaching. It came down to the last second as I was almost on my way over on a gut wrench. An extra three seconds and Greg wins Fargo that year. That's how close it felt."
"[Kerkvliet] was a fun match, but I wouldn't want to do it again."
---
Freshman Year
Every tournament seemed to feature Amos just getting better and better and he was headed for ninth grade with expectations blasting through the roof. On the back of his Fargo performance, a run up the upper weight rankings at an unheard-of rate by a freshman seemed to be on the docket. Unfortunately, his knee had other plans.
"Summer after eighth grade I doubled up in Fargo and was excited about my role on my high school squad. Then I got hurt prepping for Super 32 and was out until the following Fargo. I tore my ACL, and between the surgery and all of the rehab I wasn't on a mat for eight months. I lost my entire freshman year."
With the regular season completely wiped out, Amos returned to action the following summer ready to test out his knee and start his hit list of victims properly. By the end of the campaign, Braxton's injury was a distant memory and his name was at the top of every recruiter's shortlist.
"Getting ready for Fargo the next year, I really had no idea where I stood and how I would perform. You hear stories about guys tearing their knees up and then never having the success that they had prior, and that was weighing on my mind. Coach Henson and coach Marable were still at WVU and they put a lot of time and effort into making sure that all of Team West Virginia was ready, so by the time I got on the bus I felt prepared for whatever tough dudes were going to be thrown at me."
Greco finds Kaminski posing a challenge in the semi after Amos gave up a five to start the match, before he then stormed out to a large enough lead to hold on. He then obliterated a feisty Luke Luffman in the final.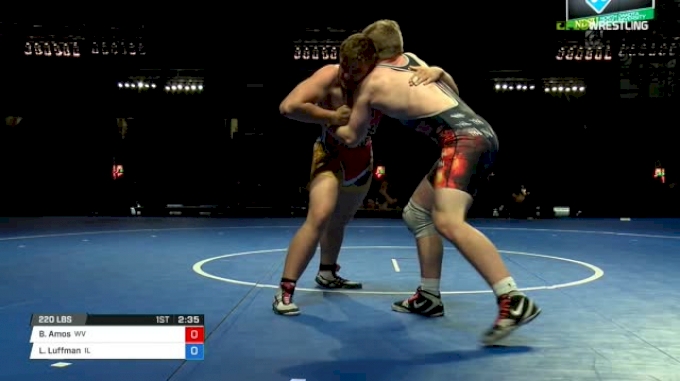 Unlock this video, live events, and more with a subscription!
Get Started
Already a subscriber? Log In
Freestyle would be a straight repeat, only Kaminski would be less of a challenge in the semi. Braxton would earn an Outstanding Wrestler for the tournament and collecting stop signs was quickly becoming a habit in the Amos household.
---
Sophomore Year
Braxton started the year with a tough road through Super 32.
"I'm in a bracket with a lot of D1 guys and I wanted to get going and prove myself in folkstyle to make sure people couldn't just discount me as a freestyle wrestler," he explained.
That included an intense mat battle with Lewis Fernandes that turned on an illegal hold in the final exchange, as well as a grind of a final over Peter Acciardi. He was building confidence with every match and showing that he simply knew how to win no matter what he had to do to make it happen.
After missing out on Ironman the prior year, the top prep big boys found out the hard way how much of a handful Amos had become. Following his tight wins over Braden Ray and Owen Trephen, Amos found himself across from Lake Highland Prep's Ben Goldin.
"That run at Ironman was pretty interesting as that entire last day I only scored five points."
"It's Ironman, you do what you have to do to win. You assume the score will figure itself out and you just have to make sure you get your hand raised at the end of the match."
By the final, Amos was feeling the effects of wrestling older opponents and was a new level of sore, and he needed a plan.
"Ben is a big jacked up guy, so our thinking was to keep it close and swing for the fences at the end. I wasn't entirely comfortable taking shots against those guys yet, so it was hand fight, hand fight, hand fight. Luckily, I had spent a lot of time working with Henson and Marable, along with Tervel Dlagnev, on hand fighting and making your opponent do something that they don't want to do, just out of frustration – and it ended up working.
"This was the first match where I felt like I really had to dig deep and not gut out a match, but actually wrestle smart to win. It wasn't brute force and score points. It was tactical and making decisions about giving up an escape with 20 seconds and doing what is needed to finish things off."
This battle was huge in Amos' development and shows how far he could truly go on the college level. Proving that it was hardly a fluke, he fought out from bottom and handled Goldin again later in the month to win a Powerade title.
Come spring, Braxton easily won both styles at Pan Am Trials and came into UWW Cadet Trials in Akron like an unstoppable freight train. Landing in a charged bracket loaded with challengers, he was about to learn one of the biggest lessons a wrestler can learn: Everyone, even the very top wrestlers, lose on occasion. The important part is what you do afterward.
"Akron felt like a step backward," he lamented. "It wasn't the fact that I lost, but more the manner of how I lost the three matches there. I made assumptions based on earlier in the match as to how the ref was going to call certain things and that changed late in the match and came back to bite me, and other things frustrated me. I could have gotten past it if I had wrestled to the best of my ability, but I wasn't happy with my showing.
"It didn't sit well with me, both how I wrestled and how I reacted. I'm not sure if I grew as a wrestler, but I definitely grew as a person that weekend."
"I realized that no matter how hard you work and the price you pay in the practice room, there is always someone out there that can beat you. It was a big learning experience as far as what I had to do to make sure that it didn't ever happen again."
With Amos clearly confused as to how things were being officiated, Pete Christensen held on for a desperate one-point victory, setting back the plan on the Greco side. Battling back to the third-place match, Braxton was up three on Gabe Christenson before a double challenged move at the buzzer ends up being sent Gabe's way for the upset victory.
Hoping to get back on track in freestyle, things went even further sideways as a back and forth battle found Jacob Cardenas on top at the end. Most wrestlers would have been ready to pack up and head home. Instead, Amos got his emphatic revenge on the backside.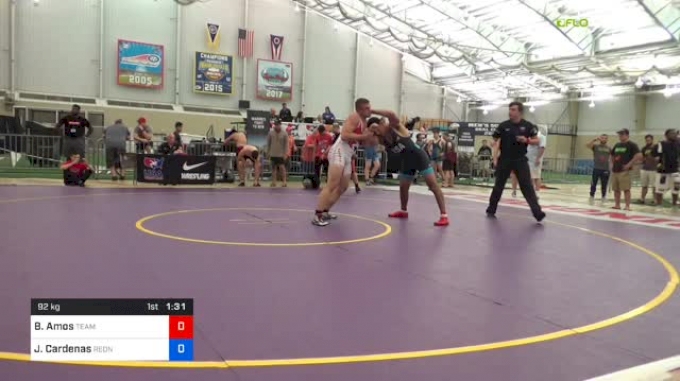 Unlock this video, live events, and more with a subscription!
Get Started
Already a subscriber? Log In
Taking third after a tight match with Pete Christensen, Braxton righted the ship and did the dirty work after his earlier disappointment. The hardest journey for any wrestler can be that claw through the back of the bracket and it says a lot about Amos that despite beating two of the top wrestlers in the country, anything less than the spot on the world team was going to leave him despondent.
---
Junior Year
Starting his junior campaign ready to make a statement, Amos was fully in control and put on a show at Super 32, including throwing up a wild 26 points in the quarterfinal.
At this juncture in his development, it started to feel as if Amos hadn't been challenged as much in folk, but the truth was that he had just become so dominant, and made such massive strides, that you could forget how good he is. Braxton dominated his side at Ironman, putting up truckloads of points, in stark contrast to the year before, leading into his rematch with Owen Trephan. Controlling the mat and seemingly determined to find Trephan a seat in the front row of the bleachers, or under the scorer's table, he bruised and battered the Blair big man.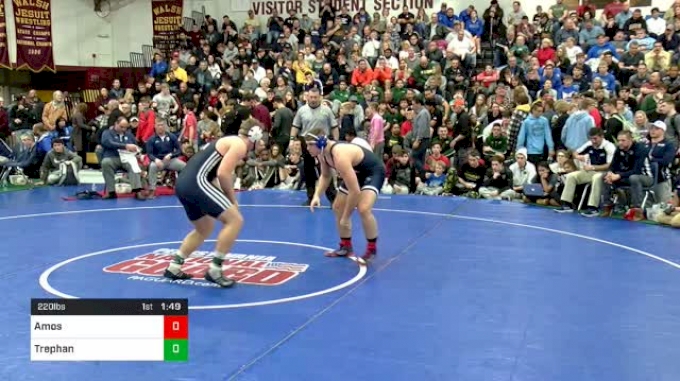 Unlock this video, live events, and more with a subscription!
Get Started
Already a subscriber? Log In
Powerade was a walk in the park and Amos coasted into the offseason. Throwing himself into the deep end of Greco competition, Braxton hit the US Open to face college and OTC stars, picking up a third-place as he easily dispatched Michigan State's Brad Wilton.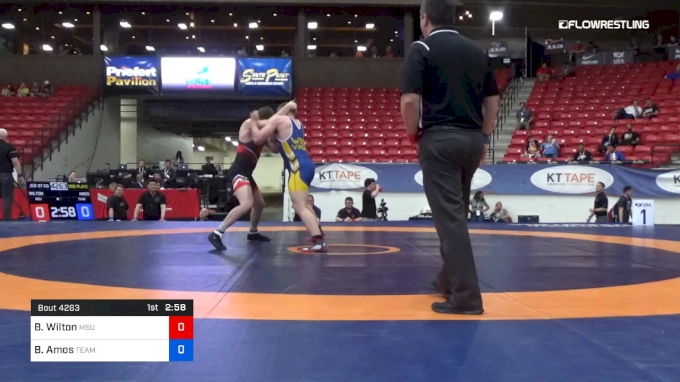 Unlock this video, live events, and more with a subscription!
Get Started
Already a subscriber? Log In
Amos only lost a tight match with Nick Boykin during the Open, and soon afterward he welcomed international duty, bringing home a silver medal from the Junior Pan Am Games in Greco. Representing his country was clearly something Amos could get used to doing.
Reaching back to the disappointments of Akron the year before, Amos was certain to not leave anything to chance in pursuing another Fargo double. Braxton came right out of the gates and absolutely buzzsawed through the field, competing with a new sense of urgency and power.
"For Fargo I changed up who I trained with and where I trained. Knowing I could be looking at Ferrari, Cardenas, Christensen, and these guys that are really good (and stylistically very different) I had to step it up. If you are prepping for a single opponent, you might be able to get away with certain things, but to get ready for a bracket this deep I knew I had to get into a college room or an elite club room.
"So, following Pan Ams, I flew to Oklahoma State for a camp where my room could be Doucet and Plott and John Smith and the OSU staff for two weeks. I followed that up with a little over two weeks at the Southeast RTC at Virginia Tech. For the two months leading up to Fargo I might have wrestled three high school guys, with the rest being college guys and international stars. That training was a big reason I was able to really go after guys when I arrived in North Dakota."
Amos was destroying the competition leading into the freestyle semi, where speculation ran rampant that his close friendship and frequent training with Konner Doucet might result in a tight contest. His focus and sense of urgency put that mode of thinking to rest as he dominated from start to finish, getting a tech in 1:30.
"Ending the match quick set the tone for the rest of the tournament for me. As far as what I was prepared to do to guys to win, that was all on display here. In the practice room we are pretty closely matched, knowing each other's moves. I really let it fly here and blew the doors off."
He continued that determined approach as he dismantled Dorian Crosby in the final. It is all Crosby could do to try to delay the inevitable as Amos wrapped it up in two minutes with a cutthroat exclamation mark following the tech.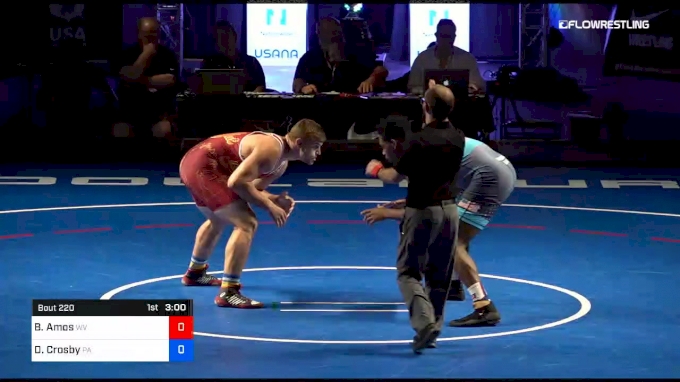 Unlock this video, live events, and more with a subscription!
Get Started
Already a subscriber? Log In
The stop sign collection looked to keep growing as Greco kicked off and the dialogue in the Fargodome picked up about which athletes had been able to put together such incredible double runs year after year. Unfortunately, the one foe that seemed to have Amos' number reared its ugly head once again.
"After freestyle I felt great. By my quarters match in Greco I could feel that something was wrong with my knee. The first step I took the following morning my knee totally gave out on me, and I knew I was going to have to make some hard decisions. I had no movement laterally or backwards. Lautt is a good wrestler and if he gets to his positions I can be in real trouble, so my coaches and I had to have a real conversation about possibly calling it quits right then and there.
"I convinced my coaches to let me wrestle and went to get a serious tape job so I could post up and hand fight. I couldn't warm up so I was worried about being cold and stiff. I still have no idea how I scored any points at all. At one point I took a blood time and almost threw up from the pain. Everything was just reacting to whatever was happening and I barely remember any of the match. The only part that is crystal clear is that with 20 seconds he has me on the edge. Lautt's lat drop is deadly, so I can't push back into him and I have to give up the step out. The match felt a lot closer than the score shows. It was a massive battle just to finish on my part."
Cade Lautt had been on a tear and looked more dangerous than ever. Amos was limping right off of the first exchange. Any movements were purely by instinct as having any trust in his body had been ruled out.
After the match, he contacted all five of his prospective schools for advice, and they were all in agreement: Another Fargo title wasn't as important as five years of college. The risk was clear, and Amos knew all too well how long and brutal the rehab could be based on his freshman year.
"I was dying to wrestle one more match, but I wouldn't wish losing your entire senior year to a knee injury on my worst enemy."
It was decided. He would walk away from the final. Having never lost before in the Fargodome, his run would come to an end with a tough handshake for Jace Punke, rather than having his hand raised.
Senior Year
Totally cleared to return to action in late August, Amos is looking forward to the upcoming season and making his college decision, which should be coming very soon. (Braxton's final five schools are Oklahoma State, Ohio State, Penn State, Virginia Tech, and Wisconsin, and his announcement will likely have a domino effect amongst recruits.) He is also going to take one final run as a small 220 before committing to 197 at the next level. Making his senior year enjoyable, Braxton will continue his heavy lifting and allow himself to eat, but also wrestle at his walking around weight, and not stress about getting on the scales that second day of big tournaments. I joke that he is living that heavyweight life, without having 300-pound guys laying on top of him.
The fact of the matter is that he spent most of his wrestling career matched up against opponents who were bigger and older, so the challenges that await him are most likely to be in those college rooms, or in the international arena. Amos is deadly at 220, and he will be deadly at 197. He is so decorated that we didn't even have time to mention his state titles! I think we are all looking forward to seeing one of the hardest working kids in the game succeed under the lights on any and every stage.