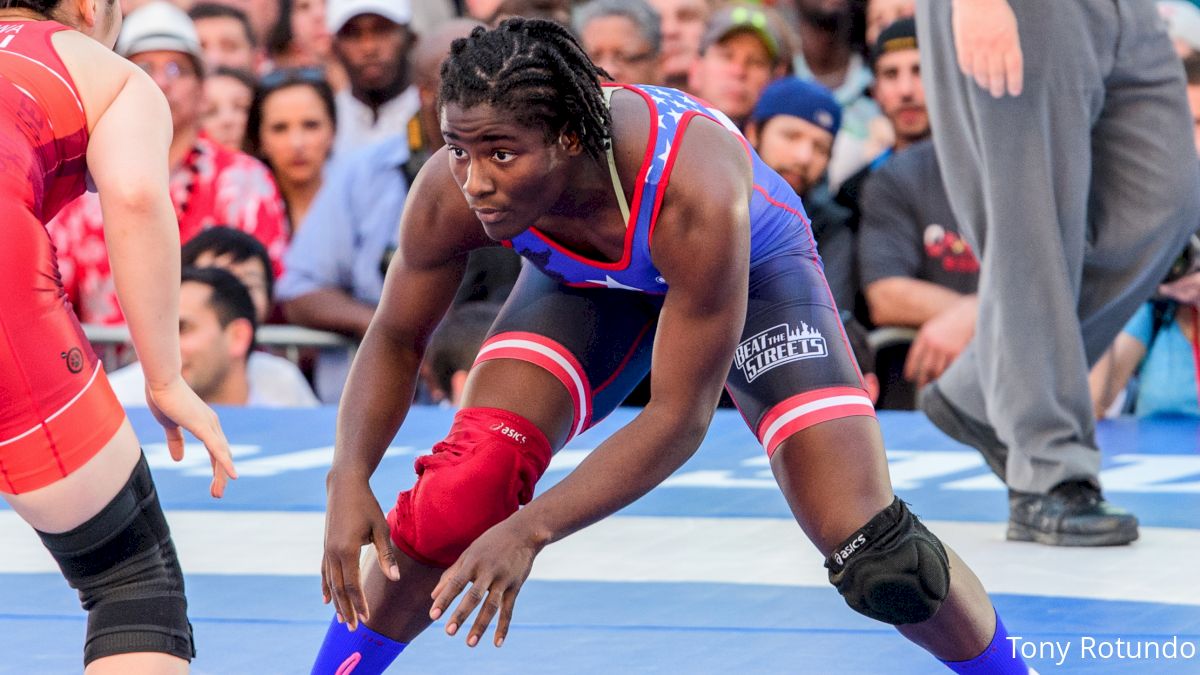 Unlock this article, live events, and more with a subscription!
Get Started
Already a subscriber? Log In
I thought the Greco field was solid. But the ladies are in Sassari at full force. With 34 of the 100 ranked women in the World here, Sassari is full of can't-miss matches that will impact seeding at Worlds.
In particular, 57kg, with six ranked wrestlers, 62kg (with 6), 68kg (with 5), and 76 (6) are loaded.
The action starts at 4AM ET in the States. Medal matches and finals begin at 9:30AM ET.
Below are all entries and credentials for the top stars.
Watch Sassari City Ranking Event Live on Flo
May 23 -25 | 4:00 AM Eastern Time
50KG
Kamila BARBOSA VITO DA SILVA - BRA
Jade Marie DUFOUR - CAN
Natasha Irene Vera KRAMBLE - CAN
Madison Bianca PARKS - CAN
Jacqueline Del Rocio MOLLOCANA ELENO - ECU
Tabatha Helene Laurence GRUNEWALD - FRA
Julie Martine SABATIE - FRA
Valentina Ivanovna ISLAMOVA BRIK - KAZ
YeoJin KIM - KOR
Anzhelika VETOSHKINA - RUS
Fredrika Ida PETERSSON - SWE
Contenders:
Dufour was a runner-up her last year and went on to win the World title in University's. Islamova-Brik, then wrestling for Russia, was a runner-up here in 2016. She just took Bronze at Asians. This year's Yarygin Champ, Vetoshkina, has been a little up and down as after that Yarygin performance she was just 10th at Germany and 5th at Klippan.
53KG
#4 - Diana Mary Helen WEICKER - CAN
#5 - Luisa Elizabeth VALVERDE MELENDRES - ECU
#10 - Zhuldyz ESHIMOVA - KAZ
Samantha Leigh STEWART - CAN
Marina RUEDA FLORES - ESP
Tatiana DEBIEN - FRA
Mercedesz DENES - HUN
Tatyana AKHMETOVA AMANZHOL - KAZ
Hyungjoo KIM - KOR
Jessica Cornelia Francisca BLASZKA - NED
Silje Knutsen KIPPERNES - NOR
Ekaterina POLESHCHUK - RUS\
Contenders:
Schultz Champ Samantha Stewart is here and won Sassari in 2017, where she beat Eshimova, who was 5th at Worlds last year, in the finals. Fellow Canadian Weicker is a reigning World Bronze that won the Grand Prix of Germany.
Valvarde was World 7th last year an Pan Am runner-up to Hildebrandt.
2016 Olympian Jessica Blaszka was just Bronze at Euro's. Most recently, Poleschuk was 3rd at the Klippan Open. She finished lower than 7th just one time in the last four years - a span of 22 tournaments.
55KG
#2 - Marina SEDNEVA - KAZ
#7 (at 53) - Vanesa KALADZINSKAYA - BLR
#10 - Sofia Magdalena MATTSSON - SWE
Emily Suzanne SCHAEFER - CAN
Jayd Aexandria DAVIS - CAN
Viktoriia VAULINA - RUS
Contenders:
Small but talented Non-Olympic weight group. Mattsson is a 7-time World medalist. Sedneva was Asian U23 Champ and SR Broze.
The World Champ in 2017 by beating current #1-Mukaida (JPN), Kaladzinkskaya placed 3rd at Euro's at 53 last month.
Vaulina bagged titles this year at Euro U23's and Yarygin.
57KG
#3 - Grace Jacob BULLEN - NOR
#4 - Odunayo Folasade ADEKUOROYE - NGR
#5 - Emese BARKA - HUN
#5 - (at 59) - Sarita SARITA - IND
#6 - Pooja DHANDA - IND
#7 - Alyona KOLESNIK - AZE
Katsiaryna HANCHAR YANUSHKEVICH - BLR
Hannah Fay TAYLOR - CAN
Tianna Grace KENNETT - CAN
Alexandria Rebekkah TOWN - CAN
Lissette Alexandra ANTES CASTILLO - ECU
Graciela SANCHEZ DIAZ - ESP
Mathilde Hélène RIVIER - FRA
Arianna CARIERI - ITA
Francesca INDELICATO - ITA
Carola RAINERO - ITA
Altynay SATYLGAN - KAZ
Emma TISSINA - KAZ
Olga KHOROSHAVTSEVA - RUS
Sara Johanna LINDBORG - SWE
Kelsey Rene CAMPBELL - USA
Contenders:
The biggest and best bracket of the entire tournament, this weight features five of the ten ranked wrestlers in the world
Bullen was World 5th last year and won U23's. Adekuoroye was World Silver at 55kg in '17; Rivier was 5th in that bracket.
Barka just won Euro's over Tatiana Kit where Rivier was 5th again, and Bullen 7th. Dhanda is returning World Bronze.
Both finalists from Pan Ams are here: Castillo over Taylor last month. Town won U23's last year. Rainero won this last year.
Khoroshavtseva was the Russian Champ last year and was Silver at this year's Yarygin. Lindborg was a World Bronze medalist at Juniors last year.
59KG
#3 - Svetlana LIPATOVA - RUS
Linda MORAIS - CAN
Laurence BEAUREGARD - CAN
Maria Victoria BAEZ DILONE - ESP
Ramona GALAMBOS - HUN
Kumari MANJU - IND
Madina BAKBERGENOVA - KAZ
Nazira AMANZHOLOVA - KAZ
Contenders:
Both Canadians have won this tournament before; Morais in 2017 and Beauregard last year, and both won University Worlds in '18.
Lipatova has made the medal match in her last 11 tournaments including making the Euro finals last month.
Wrestling both Euro SR's and U23's, Galambos was 5th and 1st, respectively this year. Manju did the same for Asian's and went 3rd and 1st.
62KG
#3 - Mallory Maxine VELTE - USA
#5 - Lais NUNES DE OLIVEIRA - BRA
#5 (at 65) Henna Katarina JOHANSSON - SWE

#7 - Aisuluu TYNYBEKOVA - KGZ
#10 - Malin Johanna MATTSSON - SWE
#10 (at 65) Elis MANOLOVA - AZE
Tetiana OMELCHENKO - AZE
Elmira GAMBAROVA - AZE
Veranika IVANOVA - BLR
Braxton Rei STONE - CAN
Lydia PEREZ TOURINO - ESP
Sakshi MALIK - IND
Aurora CAMPAGNA - ITA
Annalisa MARZULLI - ITA
Ayaulym KASSYMOVA - KAZ
Jiae CHOI - KOR
Aminat Oluwafunmilayo ADENIYI - NGR
Moa Lena Maria NYGREN - SWE
Marwa AMRI - TUN
Contenders:
Another monster weight with six ranked competitors led by Pan American athletes Velte and de Oliveira. Velte beat de Oliveira in the Bronze bout at Worlds but that result was flipped at Pan Ams. A third from the Americas is Braxton Stone, last year's U23 World runner-up.
Dating back to the 2016 Olympics when she was 5th - the span of 11 tournaments - Tynybekova has medaled in every time since.
Amri was the World runner-up at 58kg in 2017 to Helen Maroulis.
From the home nation, Campagna is the Euro Silver this year.
Mattsson was World Bronze in '17. Manolova made Euro finals the last two years and was the 2018 U23 World Champ.
Omelchenko was Euro Bronze the last three straight years. Gamborova was Bronze this year as well.
Olympic Bronze in Rio, Malik was just 3rd at Asians. Henna Johansson was this year's Klippan champ at 65 while her teammate Nygren won that event at this weight.
65KG
#2 - Mariia KUZNETSOVA - RUS
Amanda SAVARD - CAN
Pauline Denise LECARPENTIER - FRA
Saidy Lorena CHAVEZ FIGUEROA - HON
Gabriella SLEISZ - HUN
Aina TEMIRTASSOVA - KAZ
Contenders:
Russian National Champ Kunetsova leads the pack. She Bronze at U23's and just took 3rd in SR Euro's. LeCarpenter was the other Bronze in that bracket. Sleisz was Klippan runner-up.
68KG
#2 - Tamyra Mariama MENSAH - USA
#3 (at 65) Danielle Suzanne LAPPAGE - CAN
#6 - Olivia Grace DI BACCO - CAN
#9 - Maryia MAMASHUK - BLR
#10 - Blessing OBORUDUDU - NGR
Alexia Rose SHERLAND - CAN
Divya KAKRAN - IND
Dalma CANEVA - ITA
Sara DA COL - ITA
Irina KAZYULINA - KAZ
Meerim ZHUMANAZAROVA - KGZ
Anastasiia BRATCHIKOVA - RUS
Contenders:
Three women who wrestled for a medal at last year's Worlds are in this bracket. Mensah hasn't lost a tournament this year after beating Di Bacco in the Bronze bout in Budapest. She's won Kolov, Yarygin, and Pan Ams. Mamashuk was 5th on the other side of Mensah's World bracket. Caneva was 9th in the bracket and won Sassari last year.
Lappage is up from 65kg where she was World runner-up last year.
Oborududu was 5th in 2017 Worlds. Kakran has medaled at Asians five times. Zhumanazarova was a JR World Bronze in '17.
72KG
#4 - Samar Amer Ibrahim HAMZA - EGY
#5 (at 68) Koumba Selene Fanta LARROQUE - FRA
#9 - Zhamila BAKBERGENOVA - KAZ
Dejah Aniela SLATER - CAN
Anna Jenny Eva Maria FRANSSON - SWE
Contenders:
Making her first appearance since injuring her leg in World finals, Larrouque comes back at 72. Her countrywoman Slater was this year's Pan Am Champ.
Hamza was World 5th.
Bakbergenova was U23 Bronze. Fransson won Klippan.
76KG
#4 - Aline ROTTER FOCKEN - GER
#5 - Elmira SYZDYKOVA - KAZ
#6 - Erica Elizabeth WIEBE - CAN
#7 - Zsanett NEMETH - HUN
#8 - Epp MAE - EST
#10 - Iselin Maria Moen SOLHEIM - NOR
Vasilisa MARZALIUK - BLR
Natallia LANKO - BLR
Aline DA SILVA FERREIRA - BRA
Gracelynn DOOGAN - CAN
Genesis Rosangela REASCO VALDEZ - ECU
Cynthia Vanessa VESCAN - FRA
Enrica RINALDI - ITA
Gulmaral YERKEBAYEVA - KAZ
Aiperi MEDET KYZY - KGZ
Eunju HWANG - KOR
Natalia VOROBEVA - RUS
Ekaterina BUKINA - RUS
Contenders:
You know the last time Natalia Vorobeva didn't medal at a tournament? 2010 when she took 12th wrestling at the Grand Prix of Germany while still a Junior. Since 2007, she medaled in 49 of the 49 majors she's entered otherwise. After finishing runner-up in Rio at 69kg, she took two years off. She won Germany GP and took 3rd at Deglane.
Vorobeva is one of two Olympic Champs in the bracket. The other - Eric Weibe - was also medaled at Worlds last year when she beat Mae in the Bronze bout. Nemeth was 5th in that bracket, Szydykova 7th.
Focken was Bronze in her last three majors - Kolov, Euro's, and Yarygin. Marzaliuk was runner-up at Yarygin.
Yerkebayeva was Bronze at U23 World's. Bukina was the Russian Nationals Champ last year.