Unlock this article, live events, and more with a subscription!
Get Started
Already a subscriber? Log In
The big guns of American freestyle wrestling have descended on Ruse, Bulgaria for the second UWW freestyle rankings series event: the Dan Kolov & Nikola Petrov Open.
Watch the Dan Kolov LIVE on FloWrestling
Prelims start Thursday, February 28 at 3:00 AM ET
Rankings points, which will be used to determine the top four seeds at the World Championships, are on the line for the top five placers. That has enticed some of the biggest stars in the world to enter. Perfectly timed to take place when there is no NCAA wrestling going on, the Kolov is going to be lit, so let's dig in.
Snyderman and the Leopard of Juybar
That's right, Reza Yazdani is back. The Leopard of Juybar, aka The OG Yaz, hasn't wrestled since the Rio Olympics, but word is he's hungrier than ever. The Two-time world champ is jumping back into a loaded bracket, which will be a perfect opportunity for Kyle Snyder to shake off his one-and-done performance at the Yariguin in January.
Check out our coverage of the first UWW freestyle ranking series event here.
Kyle will be joined by a plethora of 97 kilo titans, like 2018 world bronze medalist Elizbar Odikadze, Rio bronze medalist Albert Saritov, London silver medalists Valerii Andriitsev and Russia's #3 at 97, Igor Ovsyannikov.
Two other Americans will be in the bracket: Ty Walz, All-American at Virginia Tech, and Kevin Beazley, who AA'd at Old Dominion and finished his career at Michigan.
Burroughs vs Chamizo Round IV
Hard to believe this almost slipped by under the radar. JB and FC going to be back in another bracket together. This would be the fourth meeting between the two world champs. Burroughs took round one at Beat the Streets last May. Chamizo got revenge in July in the finals of the Yashar Dogu. Burroughs prevailed when it mattered most, edging Chamizo on criteria for the bronze medal in Budapest.
Burroughs has five gold world or Olympic medals and two bronze. Chamizo has two gold and two bronze. Also slated to be in the 74 kg bracket are Soner Demirtash and Bekzod Abdurakhmonov, who add four world or Olympic bronze medals to the pot. Yes, there is going to be a lot of hardware in that bracket.
See how the hype to Burroughs Chamizo Part I built up online in the video below: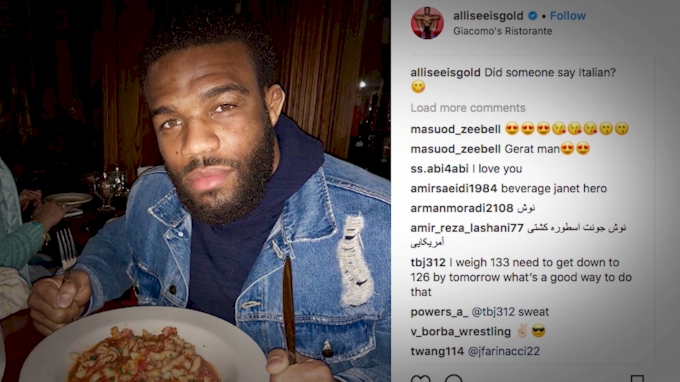 Unlock this video, live events, and more with a subscription!
Get Started
Already a subscriber? Log In
That's Cool, But What Else?
Plenty! Like, for example, how about Frank Molinaro, James Green and Ilyas Bekbulatov all in the 70 kg bracket together? Frank was America's Olympic rep at 65 kg in Rio, James won a bronze and silver world medal for Team USA, and Bekbulatov is a four-time Yariguin champ. That's a spicy bracket without even mentioning Rio bronze medalists Ikhtiyor Navruzov and Ukraine's Andriy Kvyatkovskyy, who once confused Molinaro with being food.
Click here for Day 1 Bracket Reactions
Jordan Oliver is also scheduled to return to competition, his first overseas tournament since Poland in September 2018. BJ Futrell will also be in 65 mix with JO. Alex Dieringer will wrestle in the 79 kg division. Ringer's won medals at every senior-level international tournament he's entered. Can he keep the streak alive in Bulgaria?
Valley RTC's Joe Colon will be looking to build on his bronze from Budapest at 61 kg. Thomas Gilman will be plowing through the 57 kg field, along with Suleyman Atli of Turkey. Gilman beat Atli in Istanbul to win the 2018 Yashar Dogu, but Atli got revenge later, beating Gilman for the bronze in Budapest.
Wow, That's a Lot of Heat
I know right? But check this out: also, Nick Heflin will be in the 86 kg bracket with Hassan Yazdani. Yes, Yazdani the Greatest will also be in Bulgaria. As will NCAA D1 champ Mike Macchiavello and NCAA D3 champ Riley Lefever, both of whom will wrestle at 92 kg.
You know who else will be there? Back-to-back world bronze medalist Nick Gwiazdowski, who may get a chance to avenge his upset loss to Zhiwei Deng from the Budapest semifinals. World champs Taha Akgul and Geno Petriashvilli are both expected to increase the beast in a very deep heavyweight bracket.
Great, Now Talk About the Women's Freestyle Team
Excellent idea! The Nikola Petrov will be fire as well!
At 50 kg, Vicki Anthony, Whitney Condor and Erin Golston will continue their fierce three-person rivalry. Sarah Hildebrandt, fresh off her silver medal-winning performance in Budapest, will try to add a gold medal to her rapidly expanding collection. Amy Fearnside will join Sarah in the 53 kg bracket.
Jacarra Winchester came up just short of a medal at the 2018 World Championships. The Petrov will be her third senior-level tournament since Budapest, but first back down at 55 kg. Kelsey Campbell will continue her long and well-credentialed career in Ruse at 57 kg.
Brenda Reyna will be participating in her second senior-level tournament in Bulgaria at 59 kg. 62 kg will feature the best women's wrestling rivalry in America as Mallory Velte and Kayla Miracle are both slated to compete.
The forecast is calling for Snowflake SZN as Forrest Molinari will enter the 65 kg bracket, along with fellow American and junior world champ Maya Nelson. Joining Molinari and Nelson in the bracket will be the defending world champ and national treasure of Finland, Petra Olli.
A trio of Americans are entered at 68 kg, Alexandria Glaude, Macey Kilty and Tamyra Mensah-Stock. All three are trying to add to their trophy case, as Glaude won a U23 world bronze, Kilty has a cadet world gold and junior world silver to her name, and Mensah-Stock won bronze in Budapest.
Folks, brew your coffee and prepare for a few all-nighters, these matches are not to be slept on!