Oklahoma State will be rolling about 10 deep to the 2018 U.S. Open in Las Vegas later this month. Daton Fix will also enter the senior freestyle tournament in an attempt to make his first senior world team despite having another year of UWW junior eligibility.
This is according to an interview with Cowboy Regional Training Center coach and Daton's father, Derek Fix, by Seth Duckworth of Pistols Firing.
Coach Fix mentioned that along with his son, Daton, three other Cowboys will be competing in the senior freestyle tournament on April 27-28: Alex Dieringer, rising redshirt junior Joe Smith, and the recently graduated Dean Heil. While Daton spent his first year at college redshirting, his senior-level teammates have five NCAA titles and nine All-American honors to their credit. Dieringer also has a few years of experience on the freestyle senior circuit. He recently won the 2018 Outstanding Ukrainian International tournament and was also part of the USA's 2018 World Cup-winning team.
Daton Fix has been a force at the various UWW age levels. He has a cadet level world bronze medal to go along with a junior bronze and gold medal from last year. Fix also won the 2017 U23 World Team Trials.
Watch Daton Fix beat All-American Sean Fausz in the 2017 Reno Tournament of Champions final: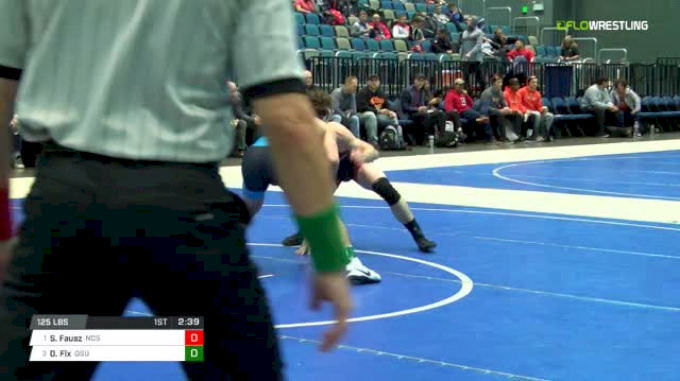 Daton will earn a bye to the finals of the freestyle junior world team trials with a top three finish at the U.S. Open. So if his goal of making the senior team does not pan out, he will still be able to make his third consecutive junior team.
Thomas Gilman has a bye to Final X and Spencer Lee has already qualified for the World Team Trials Challenge Tournament thanks to his NCAA championship, so neither is likely to be at the Open. However, one former Hawkeye that Fix can expect to see in Vegas is two-time world team member Tony Ramos.
+2kg ✔️
💪🏽 and fast after 2hr weigh in ✔️
See you soon #USOpen2018

— Anthony Ramos (@T_Ram133) April 14, 2018
With the winners of the US Open earning a bye to either the team trials challenge tournament finals or straight to Final X, expect this year's throwdown in Vegas to be the most competitive Open to date.