Coming hot of the heels of last Saturday's super dual between #2 Ohio State and #1 Penn State is yet another one involving the Nittany Lions. This Saturday, Penn State is going big, hosting the Hawkeyes at the Bryce Jordan Center in University Park, PA.
The Nittany Lions already clinched at least a share of the Big Ten dual title, but seeds for the championship tournament are still on the line. As we did for last week's match, we're going weight by weight, breaking down the starting lineups for the biggest match of the upcoming weekend.
125: #3 Spencer Lee, Iowa vs Carson Kuhn, PSU
Carson Kuhn recently outscored #4 Nathan Tomasello 9-8 in the first period of his debut match in a PSU singlet. NaTo poured it on after that, winning 21-12, but if Kuhn can capture and sustain some of that first-period magic, he could make things interesting against Iowa's true frosh phenom.
Spencer Lee, on the other hand, will look to replicate the performance he had against Drew Mattin and Ethan Lizak, two top 10 opponents whom he teched 15-0. If Lee can get the first takedown and then get his hellacious arm bar tilts going, it could get ugly in the first match of the dual for the heavily favored Nittany Lions.
133: Paul Glynn, Iowa vs Corey Keener, PSU
Iowa coach Tom Brands may also send out senior Phil Laux, but it's Paul Glynn who got the last four starts so that's who we penciled in at 133. Corey Keener has qualified for three NCAA tournaments but has yet to turn the corner and make the podium. He's hovering just outside the top 20 at the moment. Glynn is little further away from getting ranked but has wins over other bubble contenders such as Colin Valdiviez and Ben Thornton, making for a virtual toss-up at the only weight without a ranked wrestler.
141: #19 Carter Happel, Iowa vs #8 Nick Lee, PSU
The 141-pound weight class is one of the toughest, gnarliest divisions in the NCAA this season, and one big part of that is PSU coach Cael Sanderson tearing off true freshman Nick Lee's redshirt. Lee has held his own with the elite and has been ranked in the top eight ever since making his varsity debut in January.
Carter Happel appears to have wrested the starting job from teammate Vince Turk and climbed into the top 20 in the process. He'll have his hands full with Lee, whose relentless attacks have made him a perfect fit for the style Sanderson has cultivated at Penn State. Lee is the heavy favorite, and Happel will do well to avoid giving up bonus points.
149: #2 Brandon Sorensen, Iowa vs #1 Zain Retherford, PSU
Brandon Sorensen and Zain Retherford have combined to earn an astonishing six top five All-American honors in their already storied careers. They've also wrestled each other four times, with Retherford winning all four. The matches all ended distinctly, however, with Zain taking victories by way of regular decision, tiebreakers, major decision, and technical fall. While an upset is not completely out of the question, Zain will be the favorite as he looks to add to his resume and case for a second consecutive Hodge Trophy.
157: #2 Michael Kemerer, Iowa vs Bo Pipher, PSU
Top-ranked Jason Nolf is still out of action, providing a big opportunity for Michael Kemerer to earn some dearly needed team points for the Hawkeyes. Bo Pipher is a natural 149-pounder but has been pressed into service in dual meets at 157 and 165 pounds this season. His job will be to limit the damage, as Kemerer will be looking to collect a full six points via pinfall.
Halftime!
This match will be broadcast on the Big Ten Network, so as the cable channel would likely be taking a break right now (assuming they start the dual at 125), we'll pause our analysis and throw it to a Whiteboard War of this very dual.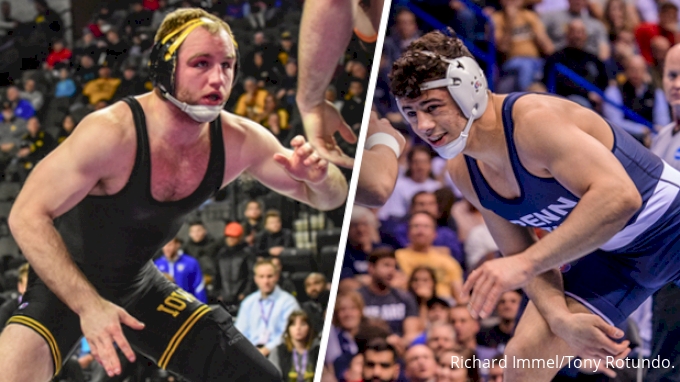 Agree or disagree?
165: #4 Alex Marinelli, Iowa vs #1 Vincenzo Joseph, PSU
This is the marquee match of the night. One unblemished record will get besmirched by the end of the dual. Vincenzo Joseph has advanced his game this season, bringing more offense lately then we've ever seen in the past, which will come in handy against Alex Marinelli's obscenely stingy defense.
Judging by common opponents, we are in for a close match. Both wrestlers have beaten Richie Lewis by a single point. Marinelli beat Nick Wanzek by four, while Joseph won by two. Against Te'shan Campbell, however, Joseph has a major decision, while Marinelli won with a 4-1 regular decision. This match alone will be worth the price of admission.
174: Kaleb Young, Iowa vs #2 Mark Hall, PSU
It's hard to think of a wrestler in the NCAA with icier veins than Mark Hall. The NCAA champion refused to panic in his last match with #3 Bo Jordan of Ohio State, winning in dramatic fashion at a pivotal point in the dual meet. Iowa's Kaleb Young will be the massive underdog and another Hawkeye who will be looking to limit the bonus damage to keep his team within striking distance.
184: Mitch Bowman, Iowa vs #1 Bo Nickal, PSU
Mitch Bowman has stepped up admirably to fill the hole in Iowa's roster left by graduated two-time All-American Sam Brooks. Unfortunately for Bowman and the Hawkeyes, Penn State's Bo Nickal dispatches admirable 184-pounders with ruthless efficiency. Avoiding bonus will be a tall order for Bowman, as Nickal has bonused all but two opponents during his Hodge Trophy-worthy junior season.
197: #8 Cash Wilcke, Iowa vs #5 Anthony Cassar, PSU
Sanderson has the luxury of having two top 10 197-pounders on his roster in Anthony Cassar and Shakur Rasheed. There are rumors that Rasheed is dealing with a minor injury, but we won't know for sure who the Nittany Lions will wrestle at this weight until they step on the mat. Either Cassar or Rasheed will make for an electric match with Cash Wilcke. Based on nothing else but his recent win over #1 Kollin Moore, we'll assume it'll be Cassar again for PSU.
Cassar's elbow-post double leg is a thing of beauty, and Wilcke will have to be at his scrappiest to fend off Anthony's attacks. If Wilcke can slow the pace of the match and win the battle on the mat, he could steal one for the Hawkeyes in a minor upset.
285: #3 Sam Stoll, Iowa vs #6 Nick Nevills, PSU
Nick Nevills no longer has to contend with an angry Kyle Snyder this week, but Sam Stoll offers problems of his own. Stoll has been steadily improving on the season after coming back from an injury he suffered last season that kept him out of the post season. His win in tiebreakers over Jake Gunning of Buffalo back in November is a distant memory, and his only loss on the season is a tight 3-2 defeat to #2 Adam Coon. Nevills, on the other hand, stumbled during the Southern Scuffle, suffering losses to #5 Nathan Butler and #10 Michael Boykin.
If the dual comes down to heavyweight, everything may hinge on if Nevills' nimble footwork is enough to get by Stoll's stingy positioning and defense.
For what it's worth, the gang all picked Penn State, and they don't think it will stay close enough to come down to heavyweight. But no one is infallible, even our esteemed FRL crew. Below are their picks, for you to follow along and judge in hindsight at your leisure.
#FRL 266 Virtual Whiteboard War: @pennstateWREST vs @Hawks_Wrestling pic.twitter.com/nzUbrqwPjZ

— The Wrestling Nomad (@wrestlingnomad) February 8, 2018
Enjoy the super dual, wrestling fans!