Evan Wick has clawed his way into the top five of the 165-pound rankings this season by putting on incredible showings against some of the nation's best competitors.
This weekend, the fifth-ranked Wisconsin redshirt freshman has two more opportunities to prove he's a serious contender when he takes on #12 Isaiah White of Nebraska on Friday and #2 Isaiah Martinez, a two-time NCAA champion at Illinois, on Sunday.
WATCH LIVE: Nebraska at Wisconsin (Feb. 9) | Wisconsin at Illinois (Feb. 11)
At 20-2 on the season, Wick comes into Friday's bout with White having collected bonus points in his last six matches, which includes three straight technical falls.
Watch Wick tech Austin Hiles: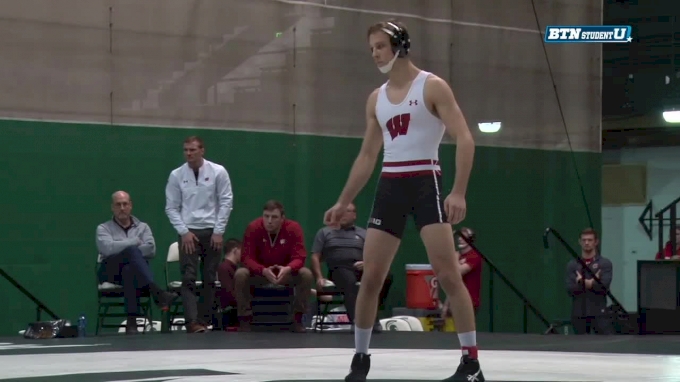 Unlock this video, live events, and more with a subscription!
Get Started
Already a subscriber? Log In
A fast starter, Wick has held a 2-1 lead in many of his matches within the first 30 seconds of action. White has shown that he has a similar style as of late, as he has tried to get to his attacks very early and often. Naturally, IMar is a different animal. He poses a completely different threat, and that would be them heavy hands.
Martinez looks to put his paws on his opponents, then works his leg attacks after he goes clubbing on their head, neck, and shoulders. Nonetheless, it's going to be a tough week for Wick up against the Isaiahs.
Nebraska at Wisconsin Projected Lineups
125: Mitchell Maginnis (Nebraska) vs. Johnny Jiminez (Wisconsin)
133: #15 Jason Renteria (Nebraska) vs. Jens Lantz (Wisconsin)
141: #15 Chad Red (Nebraska) vs. Eli Stickley (Wisconsin)
149: #11 Colton McCrystal (Nebraska) vs. Cole Martin (Wisconsin)
157: #8 Tyler Berger (Nebraska) vs. #19 Andrew Crone (Wisconsin)
165: #12 Isaiah White (Nebraska) vs. #5 Evan Wick (Wisconsin)
174: Beau Breske (Nebraska) vs. Ryan Christensen (Wisconsin)
184: #7 Taylor Venz (Nebraska) vs. #9 Ricky Robertson (Wisconsin)
197: Eric Schultz (Nebraska) vs. Hunter Ritter (Wisconsin)
285: Patrick Grayson (Nebraska) vs. Ben Stone (Wisconsin)
Wisconsin at Illinois Projected Lineups
125: Johnny Jiminez (Wisconsin) vs. #19 Travis Piotrowski (Illinois)
133: Jens Lantz (Wisconsin) vs. Dylan Duncan (Illinois)
141: Eli Stickley (Wisconsin) vs. #12 Mike Carr (Illinois)
149: Cole Martin (Wisconsin) vs. Eric Barone (Illinois)
157: #19 Andrew Crone (Wisconsin) vs. Kyle Langenderfer (Illinois)
165: #5 Evan Wick (Wisconsin) vs. #2 Isaiah Martinez (Illinois)
174: Ryan Christensen (Wisconsin) vs. David Riojas (Illinois)
184: #9 Ricky Robertson (Wisconsin) vs. #6 Emery Parker (Illinois)
197: Hunter Ritter (Wisconsin) vs. Andre Lee (Illinois)
285: Ben Stone (Wisconsin) vs. Deuce Rachal (Illinois)