As the first semester of the college wrestling comes to a close, we have yet to see a top-ranked wrestler in Division I go down. But there is plenty of season left to wrestle and opportunities for them to be unseated from their thrones.
So let's go through and identify the next big test for each of the #1s, some of which come as soon as this weekend.
125 | Nathan Tomasello (Ohio St.), SR: 0-0
Next Test: Sunday, January 7th at Rutgers
We have yet to see Tomasello wrestle this season, but he is supposed to be coming back around this time. It would not shock us if Ohio State coach Tom Ryan decided against Tomasello's first match of the year being against #2 Nick Suriano (or #3 Ethan Lizak five days later). And while we're at it, let's throw in the potential for a Spencer Lee match on Jan. 21.
133 | Seth Gross (South Dakota St.), JR: 6-0
Next Test: December 29-30 at Midlands [LIVE ON FLO]
Last year, Gross' only loss prior to the NCAA finals was in the Midlands semis; however, that was against All-American Eric Montoya. There won't be any other Top-10 guys there, but it's his last major tournament before Big 12s.
141 | Dean Heil (Oklahoma St.), SR: 10-0
Next Test: Tuesday, Dec. 19, at Wyoming [LIVE ON FLO]
Heil is 4-0 all-time against Wyoming's Bryce Meredith, but every match was within three points. The Big 12 match had the most misleading score, as Heil scored all the takedowns in a 10-7 win. A few weeks after the Wyoming dual, Heil battles Kevin Jack in Naples, Italy.
149 | Zain Retherford (Penn St.), SR: 8-0
Next Test: Saturday, Feb. 10, vs. Iowa
Given Zain's dominance, it was tempting to just put the U.S. Open. But then we look back to one of the best matches of the 2016-17 season, when Brandon Sorensen pushed him to the brink in a 9-8 overtime barn burner at Carver-Hawkeye Arena.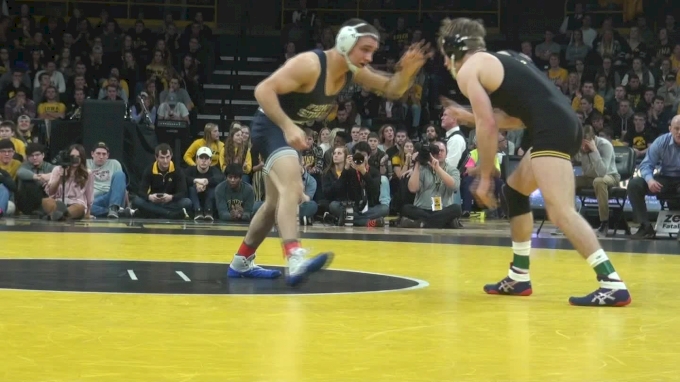 157 | Jason Nolf (Penn St.), JR: 8-0
Next Test: Monday-Tuesday, Jan. 1-2, at Southern Scuffle [LIVE ON FLO]
Nolf's closest match last year was five points, and he has seven pins and a tech so far this season. So the test by itself could be seeing what happens if someone keeps it close with Nolf, something maybe Alec Pantaleo could do based on his performance at CKLV.
165 | Vincenzo Joseph (Penn St.), SO: 3-0
Next Test: Monday-Tuesday, Jan. 1-2, at Southern Scuffle [LIVE ON FLO]
Cenzo missed both the Keystone Classic and Lehigh matches, allegedly due to weight issues. We'll see if he wrestles this Sunday against Indiana and then cross our fingers that he'll get the opportunity to be pushed at the Scuffle.
174 | Zahid Valencia (Arizona St.), SO: 10-0
Next Test: Friday, Feb. 9, vs. Lehigh
Zahid impressed me enough at CKLV to feel he won't be pushed by what is, on paper, a less impressive Midlands field. But a match with Lehigh's Jordan Kutler would give Valencia the opportunity to wrestle every wrestler ranked between second and fifth this year.
184 | Bo Nickal (Penn St.), JR: 8-0
Next Test: Saturday, Feb. 3, vs. Ohio State
Since this is in the regular season, the oddsmakers favor Nickal against Ohio State's Myles Martin, whom Nickal has previously beaten 4-3, 11-5, and 8-2. Meanwhile, Nickal is 1-2 against Martin in March, splitting at the Big Ten championships and losing in the NCAA finals. Martin has the most recent win, as you can see below. Given their history and the team race, this one should probably be the match that closes out the national tournament in Cleveland this year.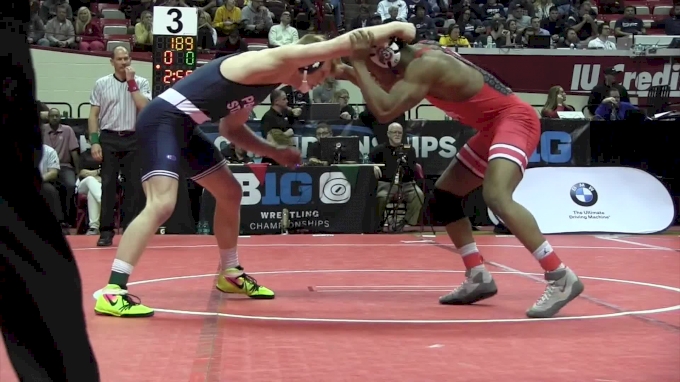 197 | Kollin Moore (Ohio St.), SO: 10-0
Next Test: Sunday, Jan. 21, vs. Iowa
We have no idea if Pat Downey will be eligible to wrestle for Iowa next semester and if he will even go 197. But considering Moore's schedule the rest of the way, I would circle this date just to be safe.
285 | Kyle Snyder (Ohio St.), SR: 3-0
Next Test: Sunday, Feb. 11, at Michigan
The last time Snyder wrestled Michigan's Adam Coon was in the 2016 Big Ten finals, where Coon was the one seed and Snyder was the two seed. It was just a 7-4 decision for Snyder, who at that time had yet to win an NCAA title and was "only" a junior and senior world champ.