The Senior World Championships wrapped up in Paris a couple weeks ago, and it's just about time to start gearing back up for folkstyle wrestling. Last year had a ton of great matches, and we are going to break down the top 10 we saw during the 2016-17 NCAA season.

How do you judge which matches are the best, you ask? For me, the best matches are the ones between top-level wrestlers that are highly entertaining and exciting.

Enjoy.


Dylan Palacio of Cornell was known for having some of the most entertaining matches, and his NCAA quarterfinal against Iowa's Michael Kemerer was no different. The first period saw a long scramble but no takedowns. Palacio started the second period on bottom and earned a reversal with a modified Peterson roll right into a fall. Palacio followed it up with an emotional celebration and lived it up with his post-match interview.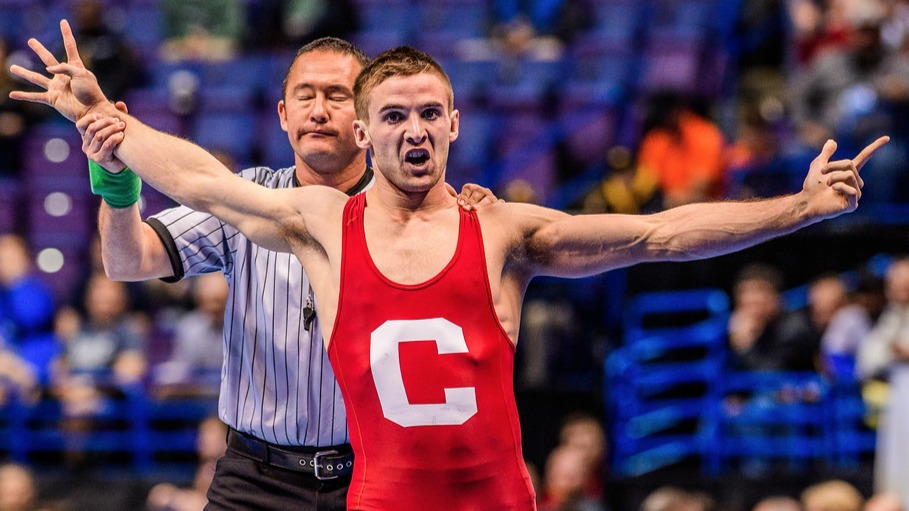 These two met two weeks later in the NCAA finals, with a different result, but their Big Ten finals clash was a more entertaining and exciting match. Bo Jordan, the veteran multi-time All-American, faced the college rookie but two-time junior world champion, Mark Hall. There was great wrestling and scrambling in this match, with Jordan getting the takedown in OT for the win. Hall, of course, would go on to defeat Jordan in the NCAA finals.
Following J'den Cox's bronze medal finish at the 2016 Rio Olympics, it looked like there would be nobody in the NCAA who would really push him. People forgot to tell Minnesota's Brett Pfarr that. He pushed Cox to the brink until the two-time NCAA champion was able to earn a takedown inside the final 10 seconds to win the match. Cox, of course, went on to win his third NCAA title and a world bronze.
A year prior, Myles Martin beat Bo Nickal in NCAA finals, when both wrestlers were down a weight at 174. This past year the two met in a dual meet, where Nickal avenged that loss. They met again in the Big Ten championships with Nickal undefeated on the season, but it was Martin who won the match on the strength on feet to back throw on the edge. Nickal of course, went on to win the NCAA title over Gabe Dean two weeks later.
Two weeks after taking his first loss of the season, Bo Nickal rebounded in style by defeating the defending two-time NCAA champion Gabe Dean of Cornell in the NCAA finals. Not only did Nickal upset Dean in the final match of the NCAA Championships, but he also won the fifth straight finals match for Penn State, helping the Nittany Lions tie the 1986 Iowa and 2005 Oklahoma State teams with five individual NCAA champions.
The Iowa vs. Oklahoma State dual meet is a big rivalry matchup every year, no matter what. Heading into last season's edition, Kaid Brock was having a breakout year as a freshman and would face his toughest test to date when he faced three-time All-American Cory Clark. This match was heated -- and not necessarily between the wrestlers! The environment was extremely tense and there was also a touch of controversy. Clark got a match-tying takedown with 0:25 left in the match. Brock got an escape with less than 0:10 to go, which left Cark with 59 seconds of riding time and allowed Brock to win the match 7-6.
4. Thomas Gilman, Iowa vs. Ethan Lizak, Minnesota (Dual Meet)
Another one of Iowa's big rivals is Minnesota, and the Golden Gophers' fans were fired up as they watched Ethan Lizak go up 8-0 over No. 1-ranked and undefeated Thomas Gilman after one period. It was 8-2 Lizak after two periods, and then Gilman got his motor going. The now world silver medalist put together an epic comeback in the third period with three takedowns before pinning Lizak.
Hodge Trophy winner Zain Retherford only had a couple of close matches this year, with one of those coming at Carver-Hawkeye Arena in front of a sold-out crowd of 15,000 Iowa fans. Sorensen wrestled a fantastic match with the two trading points back and forth until a tie forced them to overtime. In the end, Retherford pulled out the victory on riding time on his way to a second undefeated NCAA season.
Two of toughest lightweights in the country had two of the most entertaining matches of the year in the final two weekends of competition. At the Big Ten Championships, Clark got a late takedown for the lead, but Tomasello escaped with one second left to earn the win and Big Ten title. In the NCAA semifinals two weeks later, Clark was able to earn two counter offensive takedowns in the third period to take the match and eventually the national title.
This match was fireworks from the start. Vincenzo Joseph didn't care that he was wrestling Imar, the man who was on pace to win four NCAA titles, only had one loss in college, and had beaten Joseph twice that year. Joseph gave up the first takedown, but that didn't deter him. Leading 6-5 in the third period, Joseph used double overhooks to hit a sweet inside trip that planted Imar on his back, eventually picking up the fall and leading the crowd in St. Louis to erupt as loud as it had all tournament.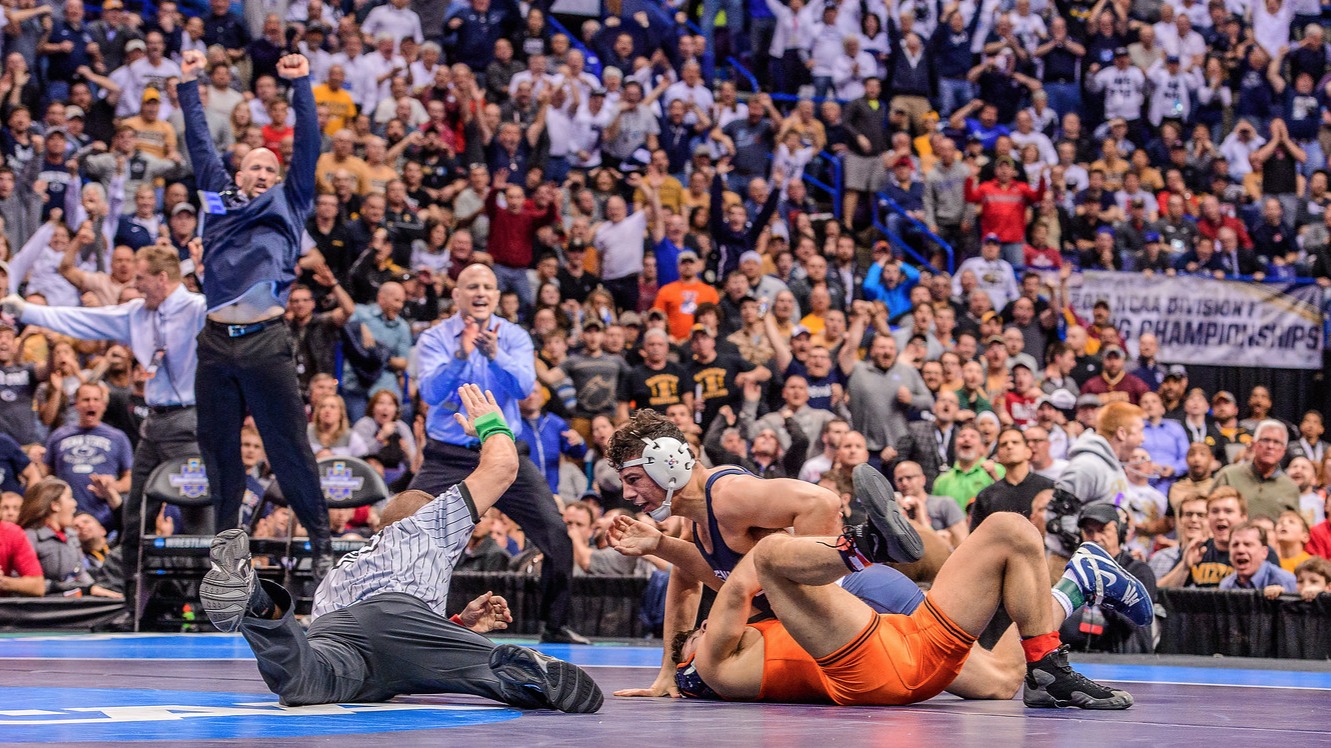 Get all of the hottest FloWrestling content!
Sign up for the FloWrestling newsletter for instant access to: breaking news, live events, results, rankings, archived matches and more!