Cael Is The Greatest NCAA Wrestler Of All Time. So Who's No. 2?
Cael Is The Greatest NCAA Wrestler Of All Time. So Who's No. 2?
Who is the top NCAA wrestler (besides Cael Sanderson) of all time? We look at total NCAA points scored to find out.
Aug 15, 2017
by Andrew Spey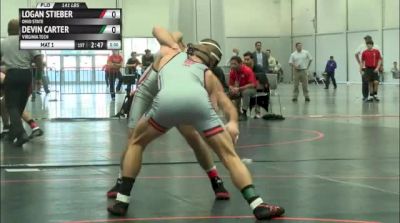 One of the great college wrestling debates of our time is definitely NOT who is the G.O.A.T. The answer is that undefeated four-time NCAA champion Cael Sanderson is the G.O.A.T.
Sanderson didn't just rack up a sparkling 159-0 career record but also did so in dominating fashion, amassing 61 pins and collecting three Hodge Trophies on the way to four consecutive individual crowns.
So if Sanderson is supreme, who is No. 2?
It's not as sexy a question as '
Who's #1
?' but at least it's something that requires an actual debate.
To narrow down the parameters of this debate (and there are many parameters), we will use the number of points scored at the NCAA tournament as our primary metric. There are other worthy metrics, such as win-loss record, quality of competition, pins, number of weight classes in which you won titles, etc., but none of them boil down a college wrestler's career to its most essential component than NCAA team points scored.
Also, we have that historical data handy, so that's what we're using. A hat tip of eternal gratitude to the thoughtful reader who helped supply said data.
Suspending the suspense and getting to the good stuff, below is the top 10 all-time NCAA point scorers.
| RANK | NAME | POINTS |
| --- | --- | --- |
| 1 | Cael Sanderson | 107.5 |
| 2 | Logan Stieber | 103.5 |
| 3 | Ed Banach | 102.5 |
| 4 | David Taylor | 99 |
| 5 | Mark Churella | 96.5 |
| 6 | Pat Smith | 96 |
| 7 | Ed Ruth | 94.5 |
| 8 | Kyle Dake | 93 |
| 8 | Alex Dieringer | 93 |
| 10 | Lincoln McIlravy | 90 |
| 10 | Jake Herbert | 90 |
No surprise in finding our undefeated ubermensch at the top of our list. And according to our preferred metric du jour, Logan Stieber is the second-best collegiate wrestler of all time.
Stieber ascended the second-highest peak by winning four titles in a row and scoring an extra 23.5 bonus points in four NCAA tournaments (those bonus points were, in order: 4, 7, 6.5, 6). Sanderson meanwhile scored 27.5 bonus points (7, 7, 6, 7.5) to go with his four titles.
Falling just outside of our top 10 but still compiling an impressive 80 or more NCAA points are the next 10 competitors: Ben Askren, Tom Brands, Mark Perry, Lee Kemp, Jake Rosholt, Jim Zalesky, Stephen Abas, Eric Guerrero, and J'den Cox.
Obviously, the easiest way to make it to the top of this list is to win individual titles, as first place is worth 16 team points, compared to 12 for second place. But the bonus points can go a long way in making up the difference, as evidenced by the bonus-point machines in third and fourth place, respectively: three-time champ Ed Banach and two-time champ David Taylor.
To put these careers in perspective, to crack the top 10 and score 90 points, you'd have to make four NCAA finals, win two of them, AND score 18 bonus points over those four tournaments. Ben Askren made four finals and won two titles but "merely" scored 17.5 bonus points in his four trips to the championship tournament.
Unfortunately, this analysis means that anyone from the era of only three varsity seasons is out. So no Gables, or Uetakes, or Hodges. Lee Kemp, if anyone is wondering, scored 86 total NCAA points, adjusting for current scoring rules. That doesn't mean those wrestlers are excluded from the debate, only from this particular analysis according to our aforementioned parameters.
So are there any current wrestlers with eligibility left who have a chance to usurp Stieber as No. 2? Or even climb into the top 10?
No one has the ability to catch Stieber next year, although three have the ability to break into the top 10. Thirty is the maximum number of points you can score in a season (that's an NCAA title with five pins, assuming there is no pig-tail match). The three wrestlers whose career totals are less than 30 points away from 90 are the following:
| NAME | POINTS SO FAR | NEEDED FOR TOP 10 |
| --- | --- | --- |
| Zain Retherford | 68.5 | 21.5 |
| Kyle Snyder | 66.5 | 23.5 |
| Isaiah Martinez | 64 | 26 |
Retherford is the likeliest to place in the top 10 all-time. He is 21.5 points from 90, has scored at least 28 in his last two tournaments, and is a heavy favorite to repeat as the champ at 149 pounds next season. If Retherford scores 28 points in Cleveland next year, he'll have 96.5 -- good enough to tie Mark Churella for fifth place all-time.
Finally, keep an eye on Jason Nolf (as if college wrestling fans needed a reminder to do so). If he can score a Retherfordian 28 points at his next two tournaments, he'll have 105 points, good for second place. And if Nolf can score 59 points in his next two tourneys, he'll pass his current coach, Cael Sanderson, for the most all time NCAA points.
And then MAYBE we'll actually have a debate for the the greatest college wrestler of all time.
Or still maybe not.
Get all of the hottest FloWrestling content!
Sign up for the FloWrestling newsletter for instant access to: breaking news, live events, results, rankings, archived matches and more!