A Dozen Division 1 Duals To Watch This Season
A Dozen Division 1 Duals To Watch This Season
An early look at some of the biggest dual meets for the 2017-18 college wresting season.
Aug 10, 2017
by Wrestling Nomad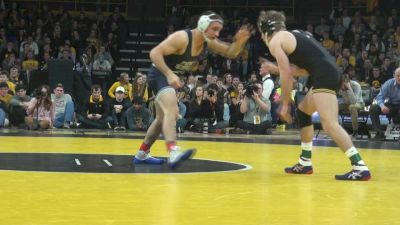 It may still be early August, but the college wrestling season is right around the corner. Slowly but surely, more and more teams have been rolling out their schedules, which means we've started circling some dates on our calendar.
Nov. 4: Maryland vs Rutgers at Yankee Stadium
This matchup is part of a doubleheader with the Scarlet Knights and Terrapins football teams. While outdoor matches are starting to become an annual tradition, let's all hope this one is early enough in the year that the cold won't be too big an issue.
Nov. 17: Illinois at Fresno State
There are so many reasons to get excited for this dual, starting with the fact that it is the very first dual of the reincarnated Fresno State program. The Bulldogs coaching staff is expecting a raucous crowd of 10,000 fans. It will also be the first time we see Isaiah Martinez wrestle a folkstyle match after he was pinned in the NCAA finals, and it will be just a half hour from where he grew up.
Nov. 17: Minnesota at South Dakota State
Another dual that will be expecting a packed house. It would not be unreasonable to see well over 4,000 fans fill Frost Arena in Brookings, SD, to face their next-door neighbors. This could become an incredible rivalry for our sport as Chris Bono has turned SDSU into a potential top 10 team and Brandon Eggum eyes a return to trophy-contention status for the Gophers.
Dec. 1: Oklahoma State at South Dakota State
Thanks to the new and improved Big 12, we'll see a top five power come to Brookings for the second year in a row. Last year in Stillwater, OK, there were five ranked matchups in this dual, and the Jackrabbits won three of them. Both this dual and the Minnesota match listed above will be live on Flo.
Jan. 12: Oklahoma State at Iowa
The rivalry returns to Iowa City, Iowa, this year. By this time, we'll know if Tom Brands and the Iowa coaching staff will let loose any of their true freshmen as well as the impact of any and all incoming transfers for both teams. The Cowboys should be right in the mix to have over half their team finish as All-Americans yet again.
Jan. 19-21: Iowa at Ohio State
No, this won't be a three-day festival of wrestling, but be sure to mark your calendars for the third week in January once the Big Ten and both schools nail down the precise date. The Hawkeyes won at home last year, but this time around, the Yarygin might not interfere and Kyle Snyder may be in the lineup for the Buckeyes.
Jan. 28: Penn State at Rutgers
Will he or won't he? The level of interest in this dual is largely dependent upon the ability of
Nick Suriano
to wrestle this season or not, if he ends up competing for the Scarlet Knights.
Feb. 2: Nebraska at Michigan
The Huskers always have strong dual teams but Michigan should be a top five program this year. Hopefully this one doesn't fly under the radar during the heart of the dual season.
Feb. 9-11: Iowa at Penn State
Penn State's schedule will largely be a matter of staying healthy and savoring the individual matchups. Last year, Brandon Sorensen pushed Zain Retherford to the brink at Carver Hawkeye. We'll also be looking to see if Michael Kemerer can close the gap or if Jason Nolf will have further separated himself from the field.
Feb. 10: Iowa State at Northern Iowa
The first in-state dual of Kevin Dresser's career was discussed
on Twitter by the two coaches
just a couple weeks ago. The Panthers took last year's dual in Ames, Iowa, while the Cyclones came into West Gym two seasons ago and left victorious.
Feb. 16: Oklahoma at Lehigh
Right before winter break in 2015, the Mountain Hawks came into Norman, OK, and blew the doors off the Sooners. That 30-7 loss was likely one of the final straws that ended up bringing Lou Rosselli in as Oklahoma's new head coach. This one could prove to be an important test right before the conference championships for both teams.
Feb. 18: Iowa at Iowa State
While he was at Virginia Tech, new ISU coach Kevin Dresser was never able to dual the Hawkeyes. An Iowa alum, he's closing out his first season at the helm of the Cyclones by hosting Iowa in Ames.
Get all of the hottest FloWrestling content!
Sign up for the FloWrestling newsletter for instant access to: breaking news, live events, results, rankings, archived matches and more!