2017 Junior and Senior World Team Trials
Thomas Gilman's Impressive Run To The Top
Thomas Gilman's Impressive Run To The Top
Match after match Thomas Gilman proved that he was up for the challenge in every scenario.
Jun 12, 2017
by Ryan Holmes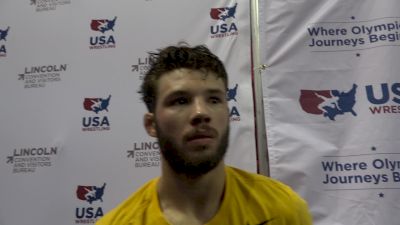 Match after match, Thomas Gilman proved that he was up for the challenge in every scenario at the World Team Trials in Lincoln, NE, on Saturday.
If he needed to be clutch like he was against Nathan Tomasello, Gilman did it. And when he started rolling, he went in for the kill and got the technical fall on Nico Megaludis. Clearly, Gilman's most impressive performance came when he finished his run by winning the best-of-three finals over former Iowa teammate Tony Ramos. When it was all said and done, Gilman took out five NCAA finalists, four of them being champs, to become the top dog at 57kg.
Let's relive Gilman's match-by-match run to make his first senior world team.
Mission complete. Gilman completes his run and claims the 57kg spot on the world team with a controlling 7-2 win over Ramos.
[WATCH MATCH 1 HERE]
Clutch gene activated. If there's time on the clock, there's time to score, even if it's just one second. (A caution-2 for fleeing on Tomasello came as time expired.)
As if Gilman wasn't already impressing everyone, he added another avenging win to his list when he beat Megaludis 11-0.
[WATCH HERE]
It turned out being the only match in which Gilman didn't not score a takedown, but his clutch ability still shined through as he got the win over Graff.
[WATCH HERE]
It was one of the biggest moments of the NCAA tournament, and in a flash of points at the World Team Trials, Gilman avenged his semifinal loss to Cruz.
[WATCH HERE]