2017 UWW Cadet and University Nationals
Greg Kerkvliet: One Of The Nation's Best Young Big Men
Greg Kerkvliet: One Of The Nation's Best Young Big Men
Daniel Greg Kerkvliet is one of the best heavyweights in the country, and the Simley sophomore made his first Cadet world team this weekend in Akron
Jun 4, 2017
by Wrestling Nomad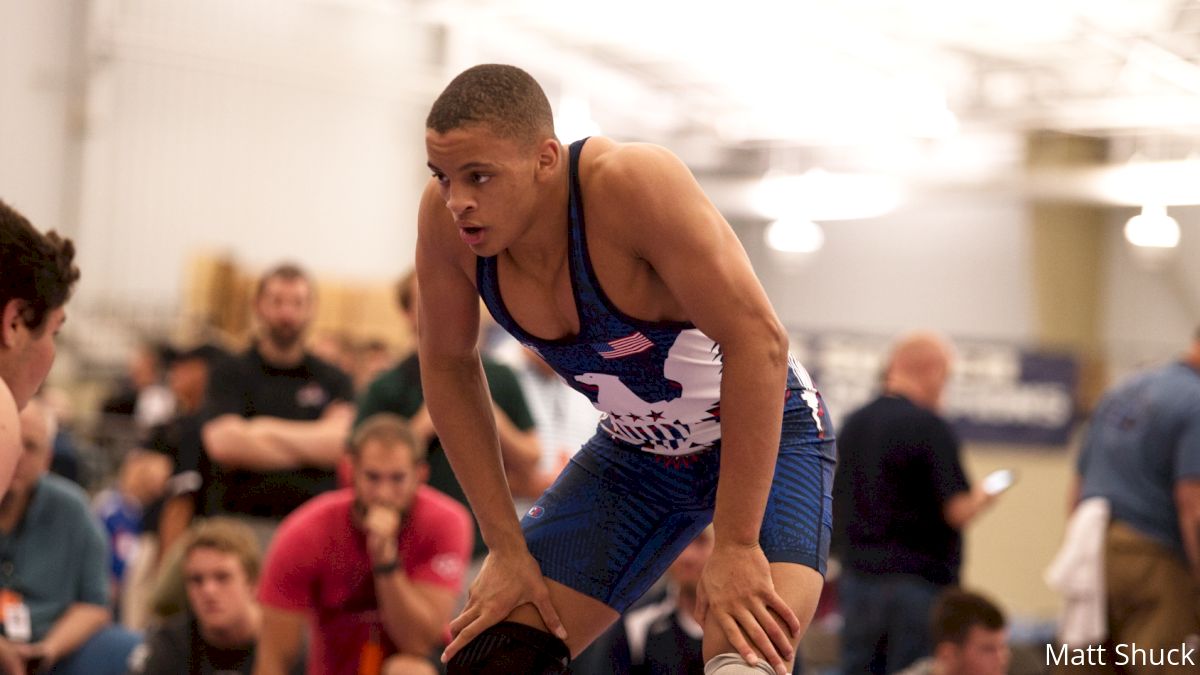 Akron has a way of letting kids kick the door in and show themselves off to the world. Every year, there's at least one breakthrough athlete who blows us away at the
UWW Cadet Nationals
.
Daniel (Greg) Kerkvliet was that man this year. If you don't know who he is, you will now. A two-time Minnesota state champ with an 89-3 career record in high school, he will be our 100kg freestyle representative at the Cadet world championships in Athens, Greece.
While Kerkvliet had a strong resume coming into the weekend, he lacked a signature tournament victory. This one just happens to give him a shot to win a world medal in September. Previously, he beat No. 9 Patrick Brucki and No. 11 Jacob Raschka at the Cheesehead in January, as well as a Folkstyle nationals title in April. His only loss in Fargo last year was to eventual champ Braxton Amos.
The Simley sophomore finished the year seventh in our high school FloRankings at 195, with his only loss coming to senior Jacob Warner, the No. 7 prospect overall on the class of 2017 Big Board. His only losses the year prior as a freshman were to seniors who would go on to wrestle Division 1.
This weekend, he gave up points in just one match and outscored opponents 66-2, teching in all six of his matches. Kerkvliet was equally dominant on his feet and on the mat, using a slick single leg combined with a devastating gut wrench to end every bout without using the full four minutes.
He's verbally committed to stay in state and wrestle for the University of Minnesota. With Gable Steveson also heading to the Gophers, coach Brandon Eggum and staff could have a very good problem on their hands with too much heavyweight depth.
Between the staff at Simley, and his club coaches Brandon Paulson and Jared Lawrence at Pinnacle, Kerkvliet has been able to combine hard nosed toughness with supreme athleticism and refined technique. Keep your eyes locked on this young man over the next few years.
Kerkvliet's Akron Results
R32:
12-2 over Bradley Smith (Beaver Creek)
R16:
10-0 over Jack Sutton (MWC Wrestling Academy)
QF:
12-0 over Dakoda Powell (Northwest Iowa Wrestling Club)
SF:
12-0 over Luke Luffman (OS/WN)
Final 1:
12-0 over Jace Punke (OS/WN)
Final 2:
10-0 over Jace Punke (OS/WN)