2017 NCAA Finals Notes
2017 NCAA Finals Notes
2017 NCAA Wrestling National Championship session 6 St Louis Missouri FINALS
Mar 18, 2017
by Andrew Spey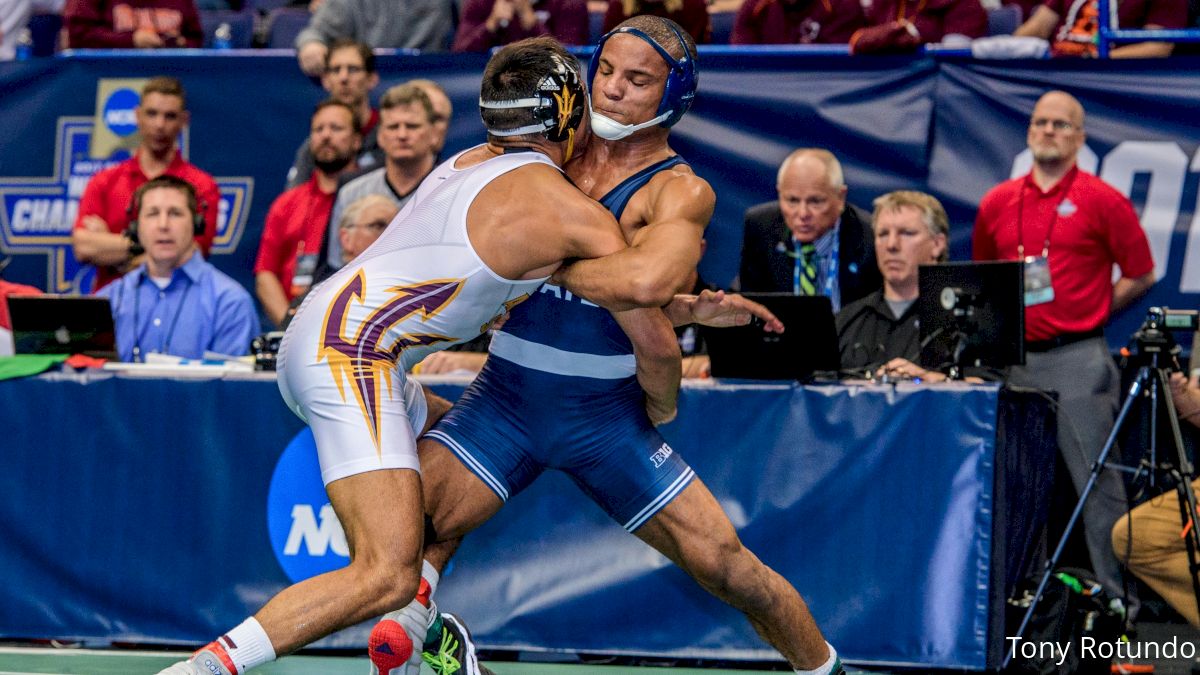 Team Race Updates
|
NCAAs Event Hub
|
NCAAs By the Numbers
|
NCAA Wrestling Brackets
|
NCAA Archived Match Videos
We close out the season and the 2017 NCAA Tournament with ten titanic finals matches! We'll keep you updated with all the big news of the sixth and final session right here!
Brackets and mat assignments will be updated live on
FLOARENA
.
Notes on the first session can be found
here
. Second session notes are
here
. Friday's third session notes are
here
. Notes on the semis and bloodround are
here
. And the medal matches from this morning are
here
.
Before we begin, please, because he very clearly should win,
VOTE FOR KYLE SNYDER FOR PRESTIGIOUS AAU SULLIVAN AWARD RIGHT NOWTEAM SCORES
​Penn State - 122.0

Ohio State - 106.0

Oklahoma State - 99.0

Iowa - 93.0

Missouri - 82.5

Virginia Tech - 63.5

Minnesota - 62.5

Cornell - 60.5

Nebraska - 59.5

Michigan - 47.5

FINALS MATCH-UPS
125: Darian Cruz, Lehigh vs Ethan Lizak, Minnesota
133: Seth Gross, SDSU vs Cory Clark, Iowa
141: Dean Heil, Oklahoma State vs George DiCamillo, UVA
149: Zain Retherford, PSU vs Lavion Mayes, Missouri
157: Jason Nolf, PSU vs Joey Lavallee, Missouri
165: Isaiah Martinez, Illinois vs Vincenzo Joseph, PSU
174: Bo Jordan, Ohio State vs Mark Hall, PSU
184: Gabe Dean, Cornell vs Bo Nickal, PSU
197: J'Den Cox, Missouri vs Brett Pfarr, Minnesota
285: Kyle Snyder, Ohio State vs Connor Medbery, Wisconsin
This is it! The stage is set. One mat, 10 matches, 20 wrestlers. The stakes don't get any higher and the atmosphere doesn't get more electric. We are at the fiery, nuclear hot center of the wrestling universe tonight!
The parade of All-Americans has paraded through the arena. The National Anthem has been sung (spectacularly). The laser light show has been lasered. Billy Baldwin is hyping things up. It's 7:00 PM (Central Time). It can be no other time than NCAA FINALS TIME.
We're saving 184 until the end, so we kick things off with 197 and hometown hero J'Den Cox and Brett Pfarr. It's go time.
197
1st period
We have first whistle! Couldn't even hear it over the crowd. Minnesota fans start in with a "Let's go Brett!" Cox with a knee pick and Pfarr is off balance but he doesn't go down. They're back to handfighting in neutral. One minute left in the first, no score. Solid "M! I! Z!" cheer from the Missouri partisans. Cox reaches for a low leg attack and gets it. Cox has Pfarr's leg up in the air and finishes with a trip. Missouri on the board first! Cox rides Pfarr out to end the first. Pfarr will have something checked out, probably blood, before we restart. We get a "Let's go Tigers!" cheer while we wait.
2nd period
Cox starts the second period on bottom. He's up and out in 10 seconds. A snatch single for Cox and he has Pfarr's leg up in the air again. Cox tries to trip but then just changes levels, drops down and grabs the other leg and gets the takedown at the edge of the mat. More blood being cleaned up now. 5-0 lead for Cox, 30 seconds of RT and counting. Spiral ride for Cox. Pfarr fights for wrist control, stands and is out. 5-1, over a minute of RT for Cox. The second period ends with no more scores.
3rd period
Pfarr's turn now on bottom. A clean start off the whistle and Cox mat returns Pfarr after some struggling by the edge of the mat. 90 seconds left in the match, Cox leading 5-1, RT nearly locked. Pfarr escapes with another stand, one minute left. Pfarr in a deep hole. Cox doges a shot from Pfarr. 20 seconds now. Cox snatches a leg but can't finish. Cox spins after an errant shot from Pfarr. That'll do it. Cox is a three time NCAA champ!
Big ovation from the Missouri fans, as to be expected. Cox showing a lot of emotion on the mat. He waves to the Mizzou fans who let him hear it. Cox gets corralled for an interview. He's a four time All-American, going 1st, 5th, 1st, 1st.
Pfarr finishes his career as a two time All-American for the Golden Gophers. He improves on last year's 3rd place finish one step up on the podium.
Perhaps the biggest round of applause going out to all the American military service members in attendance right now.
The heavyweights are being announced, so that means it's time Olympic and World Champ Kyle Snyder and Wisconsin's Connor Medbery.
285
1st period
Rage Against the Machine and then Metallica playing in the arena as we wait for first whistle. Noice. Also an O-H-I-O chant. And we're off! Both guys leaning in heavy, handfighting for position. Snyder snatches a leg. Medbery sprawls on top and locks around Snyder's chest. Snyder squats down and picks Medbery up over his head! A thunderous mat return and the crowd is in literal awe! Medbery escapes and Snyder back in on a shot. Medbery flees the mat and Snyder is awarded a point on Medbery's second stall call, still in the first.
2nd period
They start on their feet, score 3-1 in Snyder's favor. A "Let's go Kyle" chant starts a minute into the period. Medbery with a shot of his own, but Snyder spins away. Snyder gets yet another snatch single. He finishes cleanly and it's 5-1. Medbery can't escape and Snyder racks up over a minute of riding time as the period ends.
3rd period
Snyder escapes but only after RT goes back down under a minute. Super loud indiscernible Ohio chant happening. It's 6-1 Snyder. Medbery with a front headlock and Snyder on all fours, but not close to scoring. Medbery does get a spin behind now to close the gap, but he can't turn Snyder and that's how the match ends, 6-3.
Snyder is a three time finalist, two time champion! Snyder looks, dare I say, unimpressed? Nonplussed? He looks satisfied but more like he put in another successful but run of the mill day at the office. I suppose winning a world championship as a teenager might have that kind of affect. In any event, it was a world class display of athleticism from Snyder. Even if he is not all that impressed with his performance, everyone in the Scottrade Center certainly is.
Medbery finishes his outstanding career as a two time All-American, finishing 4th two years ago as a junior. He took an Olympic redshirt year in between now and then.
Another loud ovation for J'den Cox as the 197 pounders take their place on the podium. Also as Missouri's fight song plays on the speakers. A nice touch.
125
1st period
This is a battle of two Lehigh Valley kids. They've wrestled each other since middle school, when they were both in the 44 pound weight division (not a joke, this is real, I implore you to
confirm this trivia
). AC/DC's Thunderstruck getting everyone ready for this one. A good choice. Classic choice. Lizak was third in the Big Ten this year, will finish no worse then second in the nation. Cruz hits a low leg attack, Lizak wraps around Cruz in an upside down backpack position. They scramble out of that and into a whizzer position. Cruz able to limp arm into a merkel and gets the two. Lizak right out and they're back in neutral. The score is 2-1 Cruz and that's how the period will end.
2nd period
Cruz wins the toss and defers. Lizak chooses down, so Cruz will be able to avoid going underneath Lizak on purpose next period. Lizak able to stand up and out after Cruz accumulates 32 seconds of riding time. Score is tied 2-2. They're wrestling at the edge of the mat, Cruz controlling the center. The period ends and we go in to the third tied.
3rd period
Cruz wisely chooses neutral. They're on their feet, 90 seconds left in the match, tie score. Lizak working off a front headlock, Cruz grabs an ankle but they go out of bounds before any scrambling can occur. Cruz low leg attack, he's go the ankle and he tries to spin around. Can't get it, and Cruz rolls forward, offensive funk roll, Cruz gets two! Lizak fighting to belly out. They go out of bounds and it's 4-2. The Minnesota coaches want the refs to take another look at it. Haven't seen too many calls reversed so not sure if they'll have much luck here. And the call is confirmed! Lizak escapes and has 15 seconds to attack. A stall call on Cruz, but then he counters a desperation shot for two and will win 6-3! Darian is Lehigh's first national champion since Zach Rey in 2011!
Cruz is a two time All-American, going 7th, round of 12, redshirt year, and now 1st. Lizak was a national qualifier his freshman year, then took a redshirt year, and now finishes second in his sophomore year of eligibility.
Snyder now getting another round of applause as the heavies climb up the podium steps to accept their awards.
133
1st period
I do not recognize this warm up music. The genre is beyond my ken. It is nice though, no complaints. I do recognize this stadium anthem, though. It's Sandstorm, which plays right up until first whistle. Gross comes out aggressive. Clark has his left shoulder bandaged up as he has all tournament but it hasn't slowed him down yet. Gross able to get a leg, and now has it up in the air, but somehow Clark is able to wrench it free. Clark in on a leg this time. Clark trying to come out the back door but he loses his grip on Gross's leg and gives up two. Clark escapes and it's 2-1, 30 seconds left in the period. Gross racked up 24 ticks of riding time.
2nd period
Clark chooses down. Clark sitting out, able to grab a leg, but Gross is draped over him and not letting Clark get the upper hand. Until Clark wrangles free and it's tied, though Gross has 1:17 of RT. 1 minute left in the period and they're in neutral. The period ends with no change in score.
3rd period
Gross stands and is out and still has over a minute of RT. Clark on a low leg attack, comes out the back door and get's two. Clark able to knock the RT clock back down under a minute. He's leading 4-3. He's got an armbar and a half but he's very high. Potentially dangerous called with 30 seconds left in the match. Iowa fans are making a lot of noise. Clark still riding. A stalemate with 10 seconds left. Gross tries to dive out of Clark's grasp but Clark covers. That's it, Iowa has a national champion!
Clark very nonchalantly strolls over to the Iowa corner before shaking hands. The Brands brothers are as animated as you can imagine. And Clark body slams Tom Brands on the mat! A very fun moment for Clark, Brands and the Hawkeye fans. Clark must feel a great relief, being able to go out on top, and as the only Iowa finalist this year as well.
Clark is a four time All-American, going 5th, 2nd, 2nd, 1st. Gross, only a sophomore, finished in the round of 12 last year.
Cruz stands atop the podium now as the Lehigh fight song plays, familiar to anyone who's ever been to a Lehigh Lafayette rivalry game at any point in their life (full disclosure, I've been to a couple few).
141
1st period
I'm not a WWE guy but I'm pretty sure DiCam just walked out to John Cena's theme music. Andrew WK's Party Hard is the selection as the whistle blows. One of my favorite bits of trivia in this tournament is George DiCamillo ended his last three seasons in the NCAA tournament bloodround. In his fourth and final attempt, he finally breaks through and makes the finals. And Heil breaks through DiCam's defenses with a double leg takedown! DiCamillo able to escape just before riding time climbs over a minute. The period ends, Heil winning 2-1.
2nd period
Heil starts on bottom and escapes, riding time down to 37 seconds. Heil leads 3-1. Heil in deep on a shot. Slowly working up and improving his position. He's so strong and so solid, he almost always gets these points. But DiCam locks upper body and rolls Heil through! He keeps a toe in bounds and could have back points! But Heil is off his back and out of bounds. No points say the refs! Review it, say the Virginia coaches! They do but the call is confirmed. They're back on their feet with 30 seconds left now. DiCam in on a couple deep shots but Heil's defense is too good. No score, Heil still leading 3-1.
3rd period
Heil starts on top. DiCam escapes with 58 seconds on the RT clock. Heil looking to spin behind but DiCam has an arm and is too strong, he keeps Heil from scoring. It's 3-2 Heil, 60 seconds left. Heil decides to take charge and finishes a shot. He leads 5-2 and has over a minute of riding time. DiCam out and attacks but Heil gets them in a scramble and eats up valuable clock. They finish in the scramble. Heil wins, 6-3! Oklahoma State gets a national champ from their sole finalist!
Heil is now a three time All-American, two time champion, with one year of eligibility left. He stalks around the mat in a brooding celebration before being ushered over to the cameras for the obligatory post-match interview.
Hawkeye fans and the rest of the fans in attendance give Clark a very warm round of applause as the 133 awards are distributed.

149
1st period
It may be the Zain Train, but it's Lavion Mayes who get's a freight train double to score the first points of the match, as Retherford finds himself in an unfamiliar position, one where he has fewer points than his opponent. Retherford quickly rectifies the situation by escaping and double legging Mayes. Zain leads 3-2 and goes to work on top. Retherford is riding tough but he is going to have to work to turn a guy as tall and as strong as Mayes. No more points but Zain has 1:15 of riding time.
2nd period
Retherford starts on bottom. He stands and is out quickly. Zain leads 4-2, still with over a minute of RT. Lavion doing a lot of attacking, but Retherford nimbly avoids them and gets in deep on a re-attack. Retherford muscles up and gets the two. The Nittany Lion leads 6-2. The second period ends, and I just realized we're over half way through with the finals!
3rd period
Retherford with two boots sunk in deep and stretches Mayes out. He pulls his head back and gets four back points. After they swipes are awarded he pulls on Mayes foot and rocks him back over with a bow and arrow. He's blown the match open now as it's 14-2. Four more back points and just like that, Retherford has has a tech fall in the NCAA finals!
Johnny Cash's Folsom Prison Blues plays in the arena and the Penn State fans sing along as Retherford is interviewed for the TV cameras. Zain goes 5th, redshirt, 1st, 1st, and will be coming back next year for another. Mayes finishes his career a three time All-American, going round of 16, 7th, 2nd.
Heil gets his trophy and the Oklahoma State fight song plays as the Cowboy fans clap along.
157
1st period
Penn State will send out their second of five finalists in a row with Jason Nolf. Joey Lavallee will have the hometown crowd behind him, and he's going to need them, as Nolf has pretty much wrecked everyone he's wrestled this year. Action on the mat begins and the first of what I'm sure will be many "WE ARE" chants is shouted from the Penn State section. Nolf gobbles up a leg and is somehow holding it behind his back. Like Nolf is standing and Lavalle is hopping on one leg and Nolf's arms are reaching behind his own back to secure Lavallee's leg. I'm not even sure how that happened but regardless, Nolf finishes the attack and leads 2-0.
2nd period
Lavallee starts down and escapes. They get in a scramble, each wrestler with a leg, but Nolf has the higher position, looking to stack Lavallee for a no control pin. But they scramble out of bounds with no score. Another scramble is stopped by a potentially dangerous call with no score. Lavallee wants to go upper body and Nolf gladly obliges. They both wrestle out of the tie ups and Lavallee gets dinged with stalling after Nolf goes in on an attack. The fans disagree with the call. Nolf finishes a low double leg and that's how the period ends, Nolf winning 6-2.
3rd period
We start in neutral and Nolf quickly secures a takedown. Nolf goes into catch and release mode. Does it again. It's 12-4, and I'm having trouble keeping up with the takedowns. It's 14-6, this is Nolf in prototypical soul-stealing mode. Lavallee grabs a leg and they hit the mat in a scramble. That's how it'll end. Nolf is a national champion. Penn State gets back to back undefeated champs! Nolf is actually the fifth finalist this year to win and remain undefeated on the year. Cox, Snyder, Heil and Zain were the other four. Gabe Dean and Isaiah Martinez are the only other undefeated wrestlers left in the finals.
Nolf is a two time finalists, one time champ, so far. He has two more years of eligibility left. Lavallee has one more year of eligibility, he is making the podium for the first time in three tries.
The Penn State fight song plays as Retherford smiles and waves from atop the medal stand. We'll hear that song at least one more time tonight.
165
1st Period
Imar walks out to a the refrain of "The Champ Is Here." Subtle! Jospeh walks out to Eminem, naturally. The arena plays Metallica's excellent new song, Hardwired to Self Destruct, to get everyone pumped up. It works on me, anyway. Imar has beaten Cenzo twice this year, 5-2 in a dual and 8-5 in the Big Ten Tournament. Imar is behind Cenzo and has a body lock. Cenzo touches the mat and a flash takedown is awarded. It's reviewed and unsurprisingly confirmed. It's 2-1 in favor of Martinez with a minute left in the first. Joseph looking upper body, and Imar seems comfortable with that decision. They're at the edge of the mat and Cenzo now just barely getting behind Martinez as Imar's hand it's the mat and two is awarded. Imar escapes and the score is tied 3-3, RT not a factor.
2nd period
Martinez starts on bottom and escapes without much trouble. Joseph with a lightening quick shrug and is behind Martinez. He pulls the champ down and is leading 5-3! Martinez escapes and they go out of bounds. The crowd applauds the restart, as we have ourselves a match! They end with no changes to the score, but Cenzo has 1:05 of RT.
3rd period
Jospeh escapes with exactly 1:00 on the RT clock. They go back into upper body ties. Martinez is caught off balance. Jospeh trips him to his back! He's getting swipes! And the pin! WE HAVE A MAJOR, MAJOR, MASSIVE, RIDICULOUS UPSET IN THE FINALS. The Scottrade Center crowd is stunned! Martinez's quest for four championships is over. Joseph runs off the mat, ducks under the barrier and runs up the steps to his family, waiting in the seats. What a moment!
Back to back to back champs for Penn State. They still have two more finalists. Martinez's NCAA finishes are now 1st, 1st and 2nd, with one more year of eligibility. Joseph is just a freshman. My goodness. He will be back three more times. I have it on good authority from twitter that Cael Sanderson is indeed, an actual wizard.
Nolf gets his trophy and we hear the Penn State fight song. We will hear it at least one more time. Ridiculous.
174
1st period
Zombie Nation tries to keep the enthusiasm level up as BoJo and Hall lock horns. Duck under attempt by Hall is stymied. Dueling "We Are" and "Let's Go Bo" chants. One guy trying to respond with a "Let's Go Mark". Super heavy hands from Jordan but no scores. He's in on a leg but Hall gets his hips back under him and scrambles out of it. This should be a close one, Jordan just barely beat Hall in the finals of the Big Ten Tournament. No score and the period ends.
2nd period
Hall escapes after BoJo accumulates a mere nine seconds of RT. Hall sweeps up a single but BoJo smothers him and should have two. But Hall houdinis out of it and now has Jordan's ankles at the edge of the mat. Two for Hall! It's a 3-0 lead for the Nittany Lion. Ohio State coaches want a challenge. Long review here. We could use some tunes on the house speakers. Crowd getting restless. All that just to confirm the call. Hall restarts on top. Jordan escapes, RT not a factor. 3-1 Hall leads. The period ends with no additional changes to the score.
3rd period
Jordan start on bottom and escapes before riding time can become a factor. One minute left in the match. Jordan trailing by one. Hall gets dinged with a stall warning. 30 seconds. The crowd wants another stall call. They don't get it. Jordan pushing, Hall, like he was setting a trap, dives under and gets a double leg with 5 seconds left. He'll win 5-2! This is getting silly! Back to back to back to back national champions for the Lions!
Jordan adds a 2nd place finish to his two other 3rd place finishes. He'll be back next year for his senior campaign. Mark Hall is a freshman. The second PSU freshman champ. Yeesh.
Joseph receives his improbable national champion trophy. We here the PSU fight song again, and we will hear at least one more time.
ATTENDANCE UPDATES
Finals session attendance: 19,657
Six session total attendance: 111,454
The three highest total attendance numbers for the NCAA Championships are all from St. Louis.
1st 2015: 113,013
2nd 2012: 112,393
3rd 2017: 111,454
Main event coming up! This is the final match of the 2016-2017 season. No more college wrestling until November!
184
1st period
It's Dean and Nickal, and I'll be honest, I kind of want to stop typing so I can watch. But I will persevere! Dean ducks down and grabs a leg. He is a monster and finishes, Nickal unable to magic his way out of Dean's clutches. Nickal is out in a hurry. Nickal gets in deep on a leg and is persistent, improving his position inch by inch. He's only got one of Dean's leg but then throws one of his legs in over Dean's other leg. No points are awarded as they go out of bounds but Penn State coaches want a challenge. The call is reversed! That's a rare occurrence! Dean now in an unfamiliar spot, with less points than his opponent. He is ridden out to end the first. RT not a factor.
2nd period
Nickal starts down and escapes quickly. It's 4-2 Nickal with 18 seconds on the riding time clock for the Nittany Lion. They're in collar ties. Dean with double leg shot from space, but Nickal jump floats out of it. That's the wizardry we have come to expect from Nickal. Back to collar ties and that's how the period will end.
3rd period
Dean starts on bottom. He escapes. Riding time at 32 seconds for Nickal. Dean trails by one. Dean with an outside shot but Nickal anticipates and almost spins behind. Dean with a leg half nelson, I think?!? No call, no points. Back on their feet with 30 seconds to go. Nickal leading 4-3. Dean in a shot. Nickal scrambles. They get stuck in a scramble. No stalemate coming. 10 seconds left. Nickal is going to do it. He does! This is completely absurd! I do not know how Penn State did it but they did. They go a perfect five for five in the finals!
Just absurd. I mean come on. How did that all happen?
Well, folks, Penn State has five champs. Nickal with a flip of the leg for a takedown and then crazy scrambling. Dean is stopped on his quest for three championships. It's going to be a while to process all this but Dean finishes his crazy good career going 3rd, 1st, 1st and 2nd. Nickal has gone 2nd and 1st in his first two years.
Oh yeah and Penn State won the team trophy by, hmm, let me see. Yes, lots. They also return all of their All-Americans for next year.
YOU GUYS THAT WAS FUN. I hope you had fun too! Two more sets of trophies to hand out but otherwise that puts a bow on our 2017 season of NCAA wrestling. Thanks as always for reading along. We've got plenty more wrestling coverage going all year long, though, so stay tuned. Apologies for the typos and we'll see you around!