2016 Olympic Games
The Four Corners in Rio - 53kg Preview
The Four Corners in Rio - 53kg Preview
The 53kg preview for women's wrestling at the 2016 Rio Olympics.
Aug 2, 2016
by Wrestling Nomad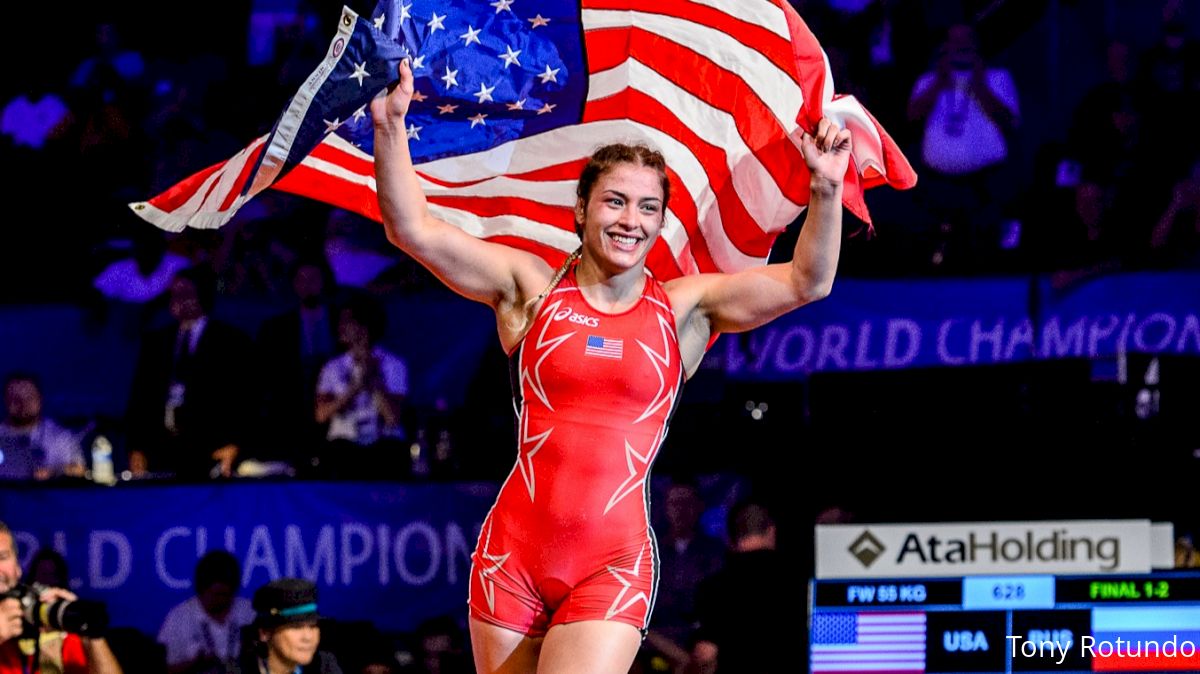 Unlock this article, live events, and more with a subscription!
Get Started
Already a subscriber? Log In
We're kicking off our Olympic women's previews with a weight class that features four contenders from four different regions of the world.
The Contenders
No. 1 Saori Yoshida (JPN) - The most credentialed wrestler--man or woman--in the field in Rio.
No. 1 at 55kg Helen Maroulis (USA) - Defending 55kg world champ dropping down a weight for the Olympics.
No. 2 Sofia Mattsson (SWE) - The six-time world medalist has earned silver for three years running.
No. 3 Odunayo Adekuoroye (NGR) - The tallest athlete in the field has only been wrestling for four years.
This is the weight to watch in Rio--it has storylines bursting at the seams. With all due respect to excellent competitors like Zhong Xuechun (CHN), Nina Hemmer (GER) and Betzabeth Arguello (VEN), this is a four horse race. And they're all thoroughbreds.
Saori Yoshida
Consider the stats: 3x Olympic gold medalist, 13x senior world champ, 2x university world champ, 2x junior world champ and 2x cadet world champ. That means Yoshida has won 22 out of 22 world championships, six in her age level starting in 1998 and 16 as senior, starting in 2002. Every time she's entered a tournament with world champ or Olympic gold on the line, she's won. Call her the Michael Jordan of women's wrestling as she goes for her 23rd career world title.
The thing that separates her from the rest is purpose of movement. Everything she does has a specific meaning to it, so she never breaks position. From her head taps, to the lefty lead on her leg attacks, and from the heavy hips to her quick sprawl, Yoshida wastes no energy in her matches.
Her opponents become trapped, because they can't attack her and don't score when they do. Meanwhile, Yoshida continues to attack with her left leg and build the lead in her matches. Opponents are rarely able to score off a clean leg attack or throw.
Yoshida wins her first gold medal:
She generates so much power behind her double leg that she'll often get four points out of it, or at least a step-out point if she runs out of room. It is also virtually impossible to get to her legs, which allows opponents to go takedown-for-takedown with her.
If Yoshida wants to make history and win her fourth Olympic gold, she'll only have to continue doing what she does best: being efficient and economical with her leg attacks.
Helen Maroulis
Maroulis is America's hope for its first-ever gold medal in women's wrestling.
She is the only one of the four corners to have not competed at 53kg last year--she opted instead to win her first world title at the non-Olympic weight of 55kg. This means she did not qualify the weight until after Olympic Team Trials, even though she did win a special wrestle-off for the right to compete in the Pan-Am qualifier.
Maroulis has not lost since the 2014 world semifinals, and is looking to continue her 58-match winning streak. While she has a long way to go to match Yoshida's incredible 184-match streak, Maroulis is only 24, and competes multiple times a year.
Maroulis in her most recent match from Beat the Streets:
Being Team USA's first Olympic gold medalist would only increase her marketing appeal, and she is already one of the biggest stars in American wrestling. She has three junior-level medals and three senior-level medals to her name from world championships, and her trusted foot sweep has only continued to get better. She has also started to transition into a devastating leg lace she has been developing.
Sofia Mattsson
With Yoshida representing the East and Maroulis the West, Mattsson falls under the North among the four corners. The 26-year-old Swede is in her prime, and has been Yoshida's chief competition this quad.
Mattsson is quite possibly the most marketable star in women's wrestling and is already sponsored by Nike. Although she has already competed in two Olympics, Rio could be her made-for-TV coming-out party.
Each of her three world championships this quad have ended the same way: Mattsson losing to Yoshida in the finals. Those matches went 5-0 in 2013 and 6-0 in 2014, but the score narrowed to 2-1 last year in Las Vegas.
But Yoshida is essentially her only obstacle. Mattsson has a killer instinct, as evidenced by pinning her way through the European championships earlier this year.
Mattsson walks over world No. 6 Hemmer at Euros:
Given their familiarity with each other, Mattsson may have the best shot at knocking off Yoshida. She will need to be on her game, set up shots and not dive at legs to become the first Olympic medalist in Swedish female wrestling history.
Odunayo Adekuoroye
We finish with the South corner to preview the tallest and most inexperienced wrestler in the field. Her length creates issues for anyone she wrestles, just like Nick Simmons.
Mattsson and Adekuoroye scrap in Vegas:
The reigning African champ burst onto the scene last year in Vegas, where she danced after every win. She quickly became a fan favorite as they could tell she genuinely enjoyed the sport and her life.
Although she has just one world medal to her name and even lost a match to someone other than Yoshida, Maroulis or Mattsson, the Nigerian is a star in the making. Her snag single is an incredibly difficult shot to stop, and even the matches she loses are not easily won for her opponents.
Adekuoroye nearly knocks off Maroulis at Golden Grand Prix:
Her greatest strength may be her inexperience. Adekuoroye may not know she's "supposed" to lose in the Olympics to these legends and established stars. Every move she's learned has been as an adult. Don't be surprised if you see a dance party in Brazil on the night of August 18 when she wrestles.
Predictions
GOLD: Saori Yoshida, Japan
SILVER: Helen Maroulis, USA
BRONZE: Sofia Mattsson, Sweden
BRONZE: Odunayo Adekuoroye, Nigeria
FIFTH: Nina Hemmer, Germany
FIFTH: Betzabeth Arguello, Venezuela


Olympic Wrestling Previews:
Men's Freestyle: 57KG | 65KG | 74KG | 86KG | 97KG | 125KG
Women's Freestyle: 48KG | 53KG | 63KG | 75KG
Greco Roman: 59KG | 75KG | 85KG (Coming 8/14) | 130KG
Top Matches Of Olympians:
Men's Frestyle:Daniel Dennis | Frank Molinaro | Jordan Burroughs
J'den Cox | Kyle Snyder | Tervel Dlagnev
Greco Roman: Jesse Thielke | Andy Bisek | Robby Smith | Ben Provisor (Coming 8/14)
Women's Freestyle:Haley Augello | Helen Maroulis | Elena Pirozhkova | Adeline Gray

Know A Foreign Hammer:
Toghrul Asgarov | Roman Vlasov | Taha Akgul
Saori Yoshida | Anzor Boltakaev | Abdulrashid Sadulaev
Anuiar Gedeuv | Erica Wiebe | Soronzonbold Battsetsegg
Hamid Soryan | Vladimir Khinchegashvili