Championship dual season is here! The NWCA National Duals are set to kick off with regional duals this upcoming weekend. There are four regional duals that will be wrestled on Sunday, February 17th, and Flowrestling will be LIVE streaming ALL OF THEM!

You can view each regional live with a Tech Wave subscription.

Winning teams from each regional site will move on to the National Duals finals at the University of Minnesota one week later. Those teams will then square off in an 8-team bracket format tournament against Iowa, Illinois, Ohio State and Minnesota, who received automatic bids to the National Duals finals.
Regional Sites Live Streams: Cornell, Mizzou, Oregon State, Kent State

East Regional - Cornell
Ithaca, New York
February 17th, 2013

Rounds: 1pm and 3pm ET
Live Stream: http://live.flowrestling.org/eastregional-250454/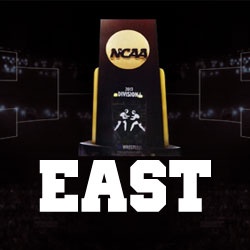 Cornell will play host to the Virginia, Nebraska, and Hofstra. This regional looks to be one of the most competitive ones and will see some good dual meets that could come down to bonus points. Cornell will come into the event as the favorite as they are ranked 8th in the country but Nebraska enters with a tough team ranked 13th. Virginia is a program that we have seen on the rise and will bring a solid lineup with several strong individuals among them.

There will be many good individual match ups anticipated here including at rematch at 157 of an upset that took place earlier in the season. Virginia's #9 Jedd Moore upset #4 James Green of Nebraska at the Cliff Keen Las Vegas invite earlier this season and it looks as though they may very well meet up in the first round. On the other side of the bracket we could see a good one right out of the gate with Cornell's freshman phenom #6 Nahshon Garret looking to square off against returning All-American Steve Bonnano of Hofstra in the first round.


---

Midwest Regional -
Mizzou

Columbia, Missouri
February 17th, 2013
Rounds:
10am and 12pm CT
Live Stream:
http://live.flowrestling.org/midwestregional-250457/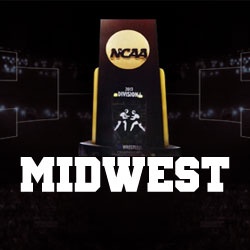 The Mizzou regional contains Wyoming, Maryland and Purdue as well as the Tigers. The odds-on favorite, #5 Mizzou is the only team that is ranked in the top 20. They boast a roster showing 9 out of 10 wrestlers as being ranked in the top 20. Maryland and Purdue each boast four ranked wrestlers, and Wyoming brings in three ranked wrestlers.
On the individual side, we will get to see five wrestlers ranked in the top five (#3 Waters, #4 McCormick and #1 Dom Bradley are all from Mizzou, #4 Hernandez is from Wyoming, #5 Josh Asper is from Maryland). The meet also hosts three wrestlers ranked in the top 10: #8 Ivan Loupachnski of Purdue, #6 Jimmy Sheptock of Maryland and #9 Mike Larson of Mizzou. The most competitive weight class, however, is 197 lbs. where four wrestlers are ranked. Each match up at this weight class will be highly competitive.
---
West Regional - Oregon State
Corvallis, Oregon
February 17th, 2013
Rounds:
1pm and 3pm PT
Live Stream: http://live.flowrestling.org/westregional-250456/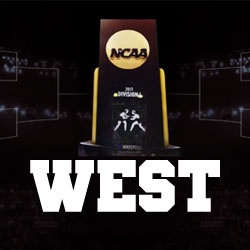 The Oregson State regional will be one of the most entertaining. #10 Oregon St. plays host to #7 Virginia Tech, #11 Oklahoma and Michigan. It's hard to pick a favorite out of the bunch as each team brings in enough firepower to win the region. If Oklahoma and Virginia Tech end up facing off, anticipate some heated match ups in the lower weights -each team boasts five out six ranked wrestlers in the first six weight classes.
There are just under 20 ranked wrestlers competing in Corvallis, OR. Kendrick Maple is the obvious standout in these duals as he is ranked #1, but he will tested by fellow 141 lbers. #5 Michael Mangrum and #8 Zack Neibert. It is at 149 lbs., however, where you may see the best action. The weight features a ranked wrestler from each team with #5 Nick Brascetta of Virginia Tech being the highest ranked. Another potential match up to keep an eye on is that between #4 Bubba Graham of Oklahoma vs true-freshman sensation, #9 Taylor Massa of Michigan.
---
North Regional - Kent State

Kent, Ohio
February 17th, 2013
Rounds:
1pm and 3pm ET
Live Stream:
http://live.flowrestling.org/northregional-250455/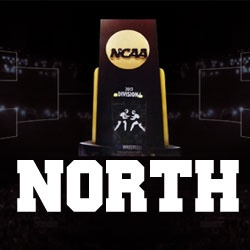 Kent State will play host to Oklahoma State, Northern Iowa and Wisconsin. Oklahoma St. is the heavy heavy favorite in this region, and they might be the favorite to win the NWCA National Duals title as they are the only team to knock of Iowa this year. Oklahoma State has seven wrestlers ranked in the top 20, with five of those seven being ranked in the top five. Penn St. might be the NCAA tournament favorite, but for the time being, I'd have to side with Oklahoma State as being the best dual team in the country. They'll look to take care of business in Kent, Ohio.
If you look at individual match ups, however, you will see plenty of intriguing bouts. 184 lbs., for example, boasts three ranked wrestlers in: #8 Ryan Loder of UNI, # 10 Chris Chionum of Ok. St. and #14 Casey Newburg of Kent St. And of course, all who tune in will get to see nationally ranked #1's Jordan Oliver (149 lbs.) and Dustin Kilgore (197 lbs.) put on a show like they always do.
---
For More Tech Wave, Click Here
or
Sign Up For a Free Trial Today!