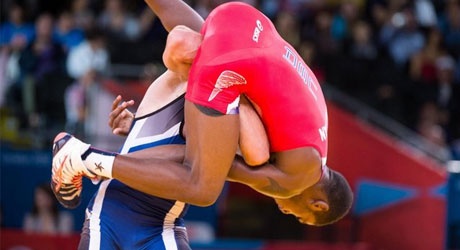 It was a cold day for the U.S. Greco Roman Team on Monday.
The American delegates in the three weight classes wrestled today are all eliminated. They posted a collective, and paltry, record of just 2-3.
Ellis Coleman (60kg) lost his first round bout to Bulgaria's Ivo Angelov, who was beat in his next match, ending Coleman's tournament.
After winning his opening round bout against Micronesia's Keitani Graham, 6-0, 1-0, Parker Betts (84kg) lost in two straight periods to 2010 World Silver medalist Pablo Shorey, who is also now out of the tournament.
Our most legitimate medal contender, Heavyweight Dremiel Byers, opened with a win against Muminjon Abullaev of Uzbekistan. But Byers' top half bracket was brutal.
His quarterfinal bout was a match-up with reigning World Champion Riza Kaayalp of Turkey. Byers had top position in the first period par terre, but could get a score. In the second period, with Byers trying for a pushout, Kaayalp turned the tables and scored one of his own, pacing him to a 1-0, 1-0 win.
In a rematch of last year's World Finals, Kaayalap lost to Cuba's Majian Lopez in the Olympic semi's, ending Byers medal bid.
The disappointing U.S. Monday comes a day after Spenser Mango (1-2 at 55kg) and Ben Provisor (1-1 at 74kg) also came up empty.
With the U.S. not earning a qualifier at 96kg, our lone hope for a medal rests on veteran Justin Lester (66kg) who will go on Tuesday.
Monday GR Finals:
60kg: Revas Lashkhi (GEO) vs. Omid Noroozi (IRI)
84kg: Alan Khugaev (RUS) vs. Karem Ebrahim (EGY)
120kg: Majian Lopez (CUB) vs. Heiki Nabi (EST)
Sunday Medalists:
55kg: G: Soryan (IRI) S: Barymov (AZE)
B: Modos (HUN) B: Semenov (RUS)
74kg: G: Vlasov (RUS) S: Julfalakyan (ARM)
B: Kazakevic (LTU) B: Ahmedov (AZE)