2023 NCAA Championships Watch Party
2023 NCAA Wrestling Championships Match Notes: Second Round
2023 NCAA Wrestling Championships Match Notes: Second Round
A live blog of the 2023 NCAA D1 Wrestling Championships updated in real time live from Tulsa, Oklahoma.
Mar 16, 2023
by Andrew Spey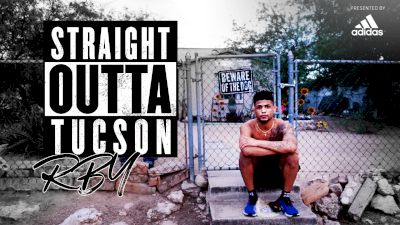 We're moving right along here in Tulsa. After a brief respite from the action we're back on the mats for the Round of 16 and round of consolation matches. And we're here to blog it all for you LIVE in real time from the BOK Center in Tulsa, Oklahoma.
It's raining here in Tulsa but it's still a splendid evening for some NCAA wrestling in my opinion!
A second stunning rendition of the national anthem and we're minutes away.
2023 NCAA Live Blogs: First Round |.Quarterfinals | Semis & Bloodround | Medal Round | Finals
What's that you say? You don't care for blogs, you just want the results? Okay super, here is a link to just the results, no blog. Go check them out and ignore this blog. It's fine, I'll get over it.
Round of 16
125 Pounds
One minute into the round is Spencer Lee is up 10-0 on Michigan's Jack Medley. And it's a 16-0 techfall for Spencer Lee. He's pretty good.
Jore Volk of Wyoming and Killian Cardinale in a battle of the 21 and 28 seeds respectively, though Cardinale is ranked 14th. Cardinale showing no signs of injury that slowed him down this season and 5-1 after 2 periods. Cardinale will take it by the decision and is one match away from his second AA medal.
Lock Haven's Noto is technically the higher seed vs Wisconcin's Barnett, the Badger All-American is ranked higher, #6 to #10. It's 3-3 in the third. Barnett escapes to make it 4-3 in his favor late in the third but Noto gets the takedown in the closing seconds to advance to the quarterfinals.
Jarrett Trombley and Matt Ramos in overtime, 4-4. A couple of scrambles come close to scoring for each wrestler but the score stays knotted and its off to tiebreakers. Trombley made the Boilermakers fans sweat but #4 seed Matt Ramos surives to the quarters.
Nebraska's Liam Cronin, the #3 seed who has never AA'd, advances to the quarters over UMD's Braxton Brown.
Glory leads Ungar 4-0 and is pouring it on his EIWA rival. The Princeton Tiger smoothers the Cornellian to win by major.
Brandon Courtney ends Jack Wagner's Cinderella bid. The Sun Devil beats the Tar Heel by regular decision.
Notable Consolation Results
4th ranked and 12th seeded Mike DeAugustino of Northwestern wins to eliminate 5th seeded and 11th ranked Caleb Smith of App State.
Ryan Miller of Penn wins by injury default over Reece Witcraft of Oklahoma State after a lenghthy concussion protocol. Injuries continue to tbe the absolute worst.
133 Pounds
#1 Roman Bravo-Young continues his march to number three. UTC's Brayden Palmer makes him work but RBY collects the win without too much trouble.
NC State's Kai Orine taking on CSU-Bakersfield's only rep, Chance Rich. Orine takes it by major and does the iguana tongue celebration (I'm assuming) to the sizable Wolfpack contingent in attendance.
UPSET ALERT: #19 Eddie Ventresca knocks off #7 and two-time All-AMerican Pat McKee. This is where McKee thrives though, in the consolation bracket. He was eliminated early in the last two NCAAs in which he placed 3rd and 5th.
One of the more anticipated bouts of the tournament, at least after the 133-pound bracket got updated once Lehigh's McGonagle scratched, gets going, as Michael McGee of ASU takes on Ohio State's Jesse Mendez. McGee never lets Mendez get to his offense and downs the freshman 6-2.
Red hot Aaron Nagao has Pitt's Mickey Phillippi, a three-time bloodrounder looking for his first trip to the medal round in his final year of eligibility. And Nagao goes beast mode, powering through a scramble and getting two sets of nearfall before securing the pinfall.
Vito Arujau runs up the score on Zach Redding, at least through two periods.
Three-time NCAA runner-up Daton Fix, who very much wants to add a title to that list of accolades, races to an early lead inside the Arena closest to his hometown of Sand Springs, Oklahoma. And it's an 8-4 win for Fix, his 100th win of his collegiate career, stat courtesy of Arena Announcer Bryan Hazard. That's a lot of wins!
Sam Latona, Virginia Tech All-American by way of Alabama, gets another near-run victory, this time 2-1 thanks to riding time, over Cody Phippen of Air Force.
Lucas Byrd of Illinois defeats Michael Colaiocco of Penn in a mild upset, 10th seed 11th rank over 7th seed, 6th rank.
Notable Consolation Results
Dylan Ragusin defeats Taylor LaMont of Wisconsin, ending LaMont's excellent career that started at Utah Valley and included a fifth-place All-American finish in 2021.
141 Pounds
Cole Matthews of Pitt (and sponsored by Primanti Brothers) gets the first win of the weight class with a 1-0 victory over Cael Happel.
Ryan Jack of NC State by way of Connecticut leads Parker Filius of Purdue by way of Montana in a battle of two wrestlers from states that don't often get a lot of representation at NCAAs. And Filius gets the comes from behind win - belated UPSET ALERT - and Purdue advances their second wrestler to the quarterfinals. Filius will see Nebraska's Brock Hardy who defeated Big Ten foe Jakob Bergeland of Minnesota.
Real Woods was nearly upset by Ohio State's Dylan D'Emilio but Iowan escaped by the skin of his teeth, much to the approval of the Hawkeye fans and the disapproval of just about everyone else in the arena.
Canadian 2021 U20 eighth placer Lachlan McNeil of UNC defeats 2022 U20 fifth-placer for team USA, Vince Cornella of Cornell.
Penn State's Brau Bartlett advances 3-2 over SDSU's All-American Clay Carlson to win a date with Cole Matthews in the quarters.
Notable Consolation Results
In a rare battle of Central Floridians, Malyke Hines of Lehigh defeated Shannon Hanna of Campbell, 5-4.
149 Pounds
Yianni Diakomihalis gets a first period pin and two extra bonus points for Cornell over NC State's Jackson Arrington. Yiann is looking to join fellow Cornellian Kyle Dake in the exclusive four-timer NCAA Champion club.
Austin Gomez of Wisconsin and Kyle Parco of ASU delight the crowd with some acrobatic scrambles. What a treat it is to watch such fearless wrestlers. Parco wins 6-3, but the real winners are the fans who got to enjoy such an excellent bout.
Frankie Tal Shahar of Northwestern by way of South Florida had the upset antennae up but #1 ranked Andrew Alirez would not be denied.
PSU's Shayne Van Ness put Paniro Johnson of ISU on his back early and then survived a furious comeback attempt to give the Nittany Lions another quarterfinalist.
#8 Brock Mauller advances over Michigan's Chance Lamer to give Missouri back to back quarterfinalist after Hart moved on at 141.
UPSET ALERT: Graham Rooks built an early lead and then held on for dear life over VT's #4 seeded and ranked Caleb Henson. The 21st seeded and 18th ranked Rooks gives the Indiana Hoosiers a quarterfinalist. Smart move by head coach Angel Escobedo to bring a multiple-time All-American like Chad Red back to his home state and add him to the coaching staff.
Yahya Thomas gutted out a victoy in sudden victory to give the Wildcats of Northwestern a much needed boost. The #7 seed Thomas bests a familiar foe in the #11 seed Michael Blockhus of Minnesota.
tOSU's Sammy Sasso concludes a workmanlike 9-2 victory over UNI's Colin Realbuto, and Sasso is in his third quarterfinal of his career.
Notable Consolation Results
Former All-American Dom Demas kept alive his hopes of repeating the feat as he won his first match of the consolation round, 8-2 over Rider's Quinn Kinner. Four doesn't sound like a big number until you consider the level of talent represented here at the NCAAs.
157 Pounds
Josh Humphreys and Kendall Coleman are locked in a battle of two wrestlers who have yet to All-American but really feel like they both have already. Humphreys wins a crucial scramble in the third and then throws in the boots to get the ride out and win 3-0. Humphreys stays undefeated and Coleman will have to try and reach the medal round from the consolations.
Another undefeated wrestler on the season is UNC's Austin O'Connor. The #1 seed stays undefeated and beats Jarrett Jacques of Missouri, who will have to try and find the podium for the first time in his career from the backside starting day 2. O'Connor will wrestle Will Lewan of Michigan, who defeated Ed Scott with an avalanche of points, 7-5.
Fargo's own Jared Franek of NDSU will move on to the quarters with a 5-3 win over Northwestern's Trevor Chumbley.
Levi Haines gives the Penn State fans a familiar site as he advances to the quarterfinals over Wyoming's Jacob Wright. He's got a marquee matchup with Bryce Andonian over Virginia Tech, who beat Oklahoma State's Kaden Gfeller.
Nebraska's Peyton Robb went ham on Garrett Model, winning 16-1. He'll see Daniel Cardenas of Stanford by way of Colorado in the quarters.
Notable Consolation Results
Northern Colorado's 32 seed Vinny Zerban defeats Anthony Artalona, ending the Quakers quest to make the podium, at least as a UPenn wrestler. At least I think. Artalona's wrestled four seasons for Penn but may get a medical redshirt. Or might transfer and wrestle for another school. He made the bloodround in 2019 and 2022.
165 Pounds
David Carr takes the mat as the first 165-pounder this session on the championship side. He blitzed past UNI's Austin Yant 15-4.
2021 NCAA Champ Chane Griffith jumps out to a 7-0 lead over Bubba Wilson of Nebraska, who knocked off the #4 seed Julian Ramirez of Cornell in the previous round.
Holden Heller of Pitt and Caleb Fish of Michigan state in a battle of 20-something seeds. And it's a 7-2 win by Caleb Fish, the #29 seed as Sparty gets a quarterfinalist.
DJ Hamiti gets a fall and a much needed win for the Wisconsin fans as he wraps up Danny Braunagel in a cradle and advances to the quarters for the second time in his second NCAA tournament.
Princeton gets a second quarterfinalist as their larger of two 2022 finalist Quincy Monday gets a 4-1 win over Izzak Olejnik of NIU.
Two-time All-American Cam Amine of Michigan is looking for revenge over Iowa's Pat Kennedy, as the latter beat the former at Big Tens 3-2. And Amine gets the only takedown as the Michigan Man advances over the Hawkeye.
Ohio State's 2022 7th placer denies North Dakota State's freshman phenom Michael Caliendo 8-3. For that accomplishment he'll be rewarded with a match against 2022's NCAA champ, Keegan O'Toole of Missouri by way of Wisconsin, who beat Justin McCoy of UVA.
Notable Consolation Results
Alex Facundo becomes the first Nittany Lion eliminated from the tournament as he drew the unfortunate luck of third ranked Julian Ramirez of Cornell dropping into his consolation bout.
174 Pounds
Carter Starocci's quest for a third straight title goes their DJ Washington of Indiana, who beat Starocci during the Nittany Lion's freshman season. Starocci with a dominant 4-0 victory. Carter will see Minnesota's Bailee O'Reilly in the quarters, by dint of Bailee's win over Edmond Ruth of Illinois.
Hokie fans were swearing it out for Mekhi Lewis' quarterfinal bout with Northwestern's Troy Fisher. Lewis needed riding time but it was enough for one more point, and the New Jersey native and 2019 NCAA champ Mekhi Lewis survives and advanced.
Dustin Plott was in a battle wth Mateo Olmos of Oregon State, but the Cowboy delighted the Oklahoma State partisans in Tulsa with a 10-6 win. He'll have a tall order next round, against Cornell's Chris Foca, who sailed past Cade DeVos of SDSU.
Minor upset but creating a major stir amongst Hawkeye fans, of which the arena contains many, as #11 seed and #8 ranked Nelson Brands defeats the #6 seed and #5 ranked Ethan Smith of Ohio State.
Mikey Labriola of Nebraska by way of the Lehigh Valley in Pennsylvania defeats Demetrius Romero of Utah Valley by way of Boise State. And now the dearly departed Bronco program has perhaps just one more match (but hopefully more) before the last wrestler that was every part of that program is out of eligibility. I wish nothing good for Bob Kustra, who is a bad person.
Labriola will face Mizzou's Peyton Mocco in the quarters, who dispatches Drexel's Mickey O'Malley 8-2.
184 Pounds
Tate Samuelson kept the score close but UNI's #1 seed Parker Keckeisen won as coomfortably as you can by the score of 4-2, as he advances to the quarters and keeps UNI's 184lb U's reputation alive and strong. He'll face Isaiah Salazar of Minnesota who beat Drexel's #25 seed Brian Bonino.
Marcus Coleman of Iowa State and Abe Assad of Iowa are locked in a classic Cy-Hawk brawl that goes to overtime. Coleman ultimately prevailed in tiebreakers and will have Trey Munoz of Oregon State in the qyarters, who beat UVA's Antrassian 6-2.
Aaron Brooks meanwhile locks Will Feldkamp of Clarion into a headlock and picks up a pin and two more bonus for the team score-leading Nittany Lions. Brook advances to his third straight quarterfinals in a tournament in which he has never taken a loss.
Kaleb Romero of Ohio State wins a hard fought bout over Mizzou's Cohlton Hawks, giving the Buckeye fans some much needed cheer.
Hunter Bolen of Virginia Tech meanwhile dampens the mood of the many Cowboy fans in the BOK Center, when he defeated Travis Wittlake, although the Hokie fans are quite pleased. Bolen will wrestle #2 seed Trent Hidlay who majored wildman Brian Soldano of Rutgers.
197 Pounds
Last year's 197-pound NCAA champ Max Dean has to go through Silas Allred of Nebraska in the second round if he wants to repeat in his final year of eligibility. Allred beat Dean at Big Tens less than two weeks ago. And once again it's Allred who defeats Dean as the Husker advances to the quarters in the first NCAA tournament of his career.
For Allred's efforts, he will receive the #1 seed, Nino Bonaccorsi in the quarters, who defeated Owen Pentz 8-2.
Two-time All-American Rocky Elam of Missouri takes on three-time All-American of Iowa in an absolutely stupid round of 16 matchup. Elam won 6-2, giving Warner a couple of extra bouts to win if he wants to become a four-time All-American.
UPSET ALERT: Zac Braunagel (no H on the Zac) completes the gutsy come-from-behind victory over Lehigh's Michael Beard, giving the Illini quarterfinalist at light-heavyweight. That was a 12 seed over a 5 seed.
Braunagel will wrestle Ethan "Franchise" Laird of Rider, the #4 seed, who beat Yonger Bastida of Iowa State 3-1 thanks to a takedown in short time of the third period.
It's a battle of 2022 U23 silver medalists, as 97kg runnerup Tanner Sloan of SDSU takes on 92kg runnerup Jacob Cardenas of Cornell. Both were integral members of Team USA's silver medal-winning men's freestyle team in Pontevedra, Spain last October. Tanner Sloan prevails with a convincing 4-0 win that including a riding time point.
Cal Poly is the final piece of the 197-pound quarterfinal puzzle, as the two-time All-American advances to the quarters over Oklahoma State's Luke Surber and will face Sloan tomorrow morning.
Shockingly, Braunagel over Beard was the only upset on the championship side of 197. After a completely unpredictable year, the seeds are holding up surprisingly well after two rounds.
Notable Consolation Results
Cam Caffey, a Spartan stalwart starter for five seasons, sees his long and storied career ended by fellow senior Andrew Davison of Northwestern, 3-2. Caffey reached the round of 12 in 2021, the round of 16 in 2022, and was the #6 seed in 2020.
285 Pounds
Colton McKiernan of SIUE was in a tight match in the third period with Cohlton Schultz of Arizona State when McKiernan decided to go upper body with a multiple time age level Greco-Roman world medalist. It did not go well for McKiernan, and now all Cohltons must be spelled with an H. Also Schultz advances to the semis with a bin after a lat drop.
The Sun Devil heavyweight will wrestle Tony Cassioppi of Iowa, who majored Gordon of UNI.
The third heavyweight from the 3 D1 programs in Iowa, Schuyler of ISU, lost to Lucas Davison in a 2-1 nailbiter. He'll wrestle the #1 seed who is undefeated on the season, Mason Parris, who smushed Campbell's Ghadiali.
Parris' Big Ten Rival Greg Kerkvliet defeated AJ Nevills of SDSU by major. He'll have Trent Hillger, who squeaked by Harvard's Slavikouski by a slight more narrow margin, winning 1-0.
#2 seed Wyatt Hendrickson of Air Force majored Navy's Grady Greiss to advance to the quarters and get Air Force one match away from their first All-American since 2003.
The last result we needed to blog about this round is Zach Elam of Mizzou matching his younger brother's win record this tournament so far, and beat NC State's Trephan to earn himself a match wth Hendrickson in the quarters.
That's it for round two. This day is an absolute beast so pat yourself on the back and give yourself a handshake if you've been following every match. And if you've read both blogs today, that's exactly what you did. Good job! Proud of you.
If you want the context free version of the tournament's results, we also have that here.
We'll see you back here tomorrow for maybe the best day of wrestling all year. Quarterfinals in the morning session, and then semis and the bloodround in the evening session (and hopefully the celebrated dog bone configuration). Apologies for the typos, let me know if I messed anything up and see you tomorrow my brave and intrepid wrestling friends!