The EIWA Dual Of The Week 2022-23
NCAA Week 10 Roundup: The Return Of Dual SZN
NCAA Week 10 Roundup: The Return Of Dual SZN
Recapping all the biggest stories from the tenth week of the 2022-23 NCAA D1 college wrestling season.
Jan 9, 2023
by Andrew Spey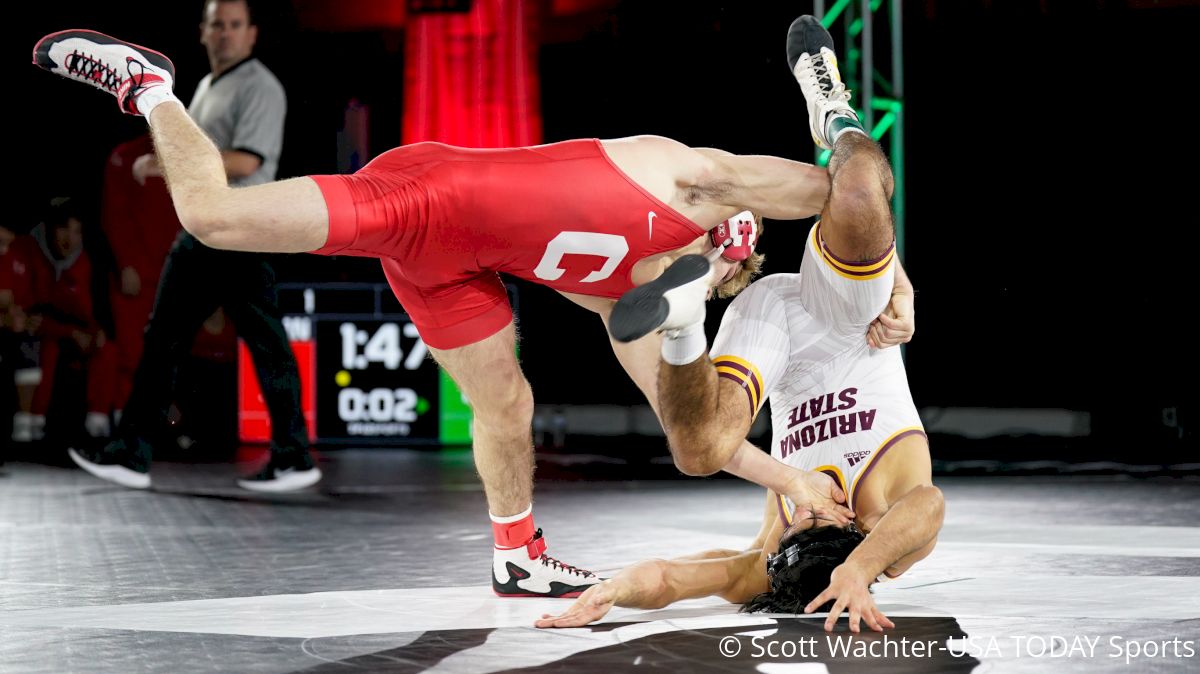 The dual meet season is nigh upon us. Some would go as far as to say that it is in full swing. So let's go round up the biggest, most relevant results of Week 10 of the 2022-23 NCAA season before I medically forfeit out of my blogging duties.
Last week's roundup | Box Scores
The Literal Dual of the Century, of the Week
Cornell vs Arizona State in Austin, Texas
Part of the FloWrestling D1 Dual Series, which consists of just two duals this year (the next, and last one, is this Friday: Oregon State vs Princeton!) Hopefully more next season!
Now maybe this is a little self-serving and maybe I'm a little biased but I thought this dual kicked ass. Both teams had their dials turned up to 11. The product on the mat was superb and the marquee matches of Yianni Diakomihalis vs Kyle Parco and Vito Arujau vs Michael McGee delivered.
Weekday duals in prime time, hell yeah.
You can rewatch the entire match here: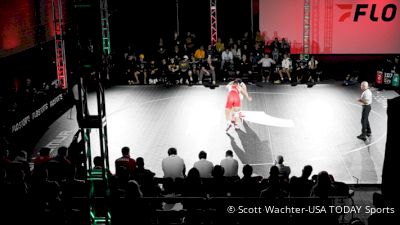 Unlock this video, live events, and more with a subscription!
Get Started
Already a subscriber? Log In
You find the individual matches, interviews with coaches and wrestlers, and some behind-the-scenes videos here.
A Backyard Imbrologio: Mountaineers Topple Panthers In Pittsburgh
Rivalry duals are the best kind of duals, and the Backyard Brawl, in which West Virginia and Pittsburgh butt heads, rendered up another memorable edition of the storied series.
It was especially memorable for Mountaineer fans, as WVU beat the Panthers 24-11 on Sunday. This is two days after West Virginia dispatched another regional rival in Ohio University, 28-9 on Friday, earning them the title of King of the Ohio River Valley (a title I just made up).
The 'Neers powered past the Panthers thanks to a major upset by Jordan Titus over #2 Cole Matthews at 141. Anthony Carmen also scored a slightly less major upset over #17 Reece Heller at 184.
And it was Coach Flynn's 250th win of his career. That's quite an achievement!
History.

With today's win over Pitt, Coach Flynn picked up the 250th dual win of his career! #HailWV pic.twitter.com/k06Qu5Cnsc

— WVU Wrestling (@WVUWrestling) January 8, 2023
Now let's all enjoy the wise words of Coach Flynn: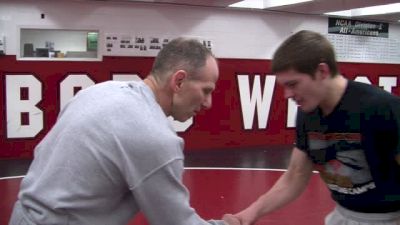 Around The Horn of Plenty
It's a veritable cornucopia of notable wrestling results!
Pac-12
Oregon State hosted Oklahoma State, which saw Beaver head coach Chris Pendleton take on his former coach and team.
Coach John Smith of Oklahoma State, the aforementioned former coach and team of Chris Pendleton, had to contend with a five-point deficit on the team score with four bouts left in the dual after Oregon State scored a big upset at 174. Aaron Olmos beat #4 Dustin Plott at 174 to send the Beaver faithful into a frenzy. But John W. Smith rallied the troops and the Cowboys will mosey back to Stillwater after a 20-12 victory.
Oregon State made this event a priority and the community responded by packing the gym.
6️⃣,7️⃣6️⃣4️⃣

Thank you to all 6,764 attendees who made it a special atmosphere in Gill today. #GoBeavs pic.twitter.com/jIm5VdMIoZ

— Oregon State Wrestling (@BeaverWrestling) January 9, 2023
ACC
The Tar Heels were all over the Lehman F&M Open. 2021 national champ Austin O'Connor was back for just the third time this season, but he made the most of his time in Lancaster, PA, winning a title with five bonus point wins.
Here's O'Connor's 1st place match against Eyler of Lock Haven: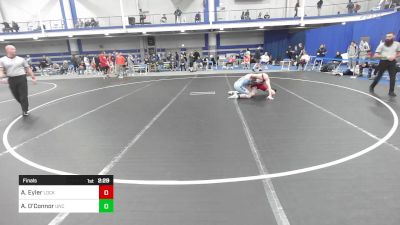 Unlock this video, live events, and more with a subscription!
Get Started
Already a subscriber? Log In
UNC also got Lehman Open titles from Lachlan McNeil at 141 and Gavin Kane at 184.
Tobacco Road was also represented in Lancaster by NC State. Matthew Singleton won a title for the Wolfpack while 10 of his teammates were wrestling Binghamton in dual. Current NC State head coach Pat Popolizio was at the helm of the Bearcats before taking the reigns in Raleigh. Pat Pop's current team prevailed, as the Wolfpack won 36-3.
EIWA
Philly wrestling was flexing its muscles in Lancaster, with dozens of wrestlers from both UPenn and Drexel at the Lehman Open. Then, on Saturday, the Quakers defeated the Tar Heels of North Carolina 19-17. Doug Zapf earned a key victory over UNC's All-American Zach Sherman. Sherman was wrestling in his dual meet competition of the season.
Franklin & Marshall, an exurb Philadelphia (or maybe not an exurb, southeast Pennsylvanians can correct me here), was unsurprisingly well represented in the Lehman Open as well. I mean, they did host it. Anyway, the Diplomats notched three placers, including runner-up John Crawford at 197. The day before the tournament, F&M registered two dual meet wins over SoCon teams Davidson and Presbyterian.
And Cornell followed up their Dual of the Century of the Week with another big win over a Power 5 conference team. The Big Red beat the Hokies of Virginia Tech 22-12 on Friday night. Sam Latona was the bright spot for the Hokies, as he defeated #3 Vito Arujau in the very snazzy Moss Arts Center.
SAM LATONA = RELENTLESS!!!#Team100 #Hokies 🦃 pic.twitter.com/h5BKZGFUU8

— Virginia Tech Wrestling (@HokiesWrestling) January 7, 2023
MAC
Buffalo vs SIUE ended in prototypical MACtion. Buffalo was trailing by four going into the final bout. The Bulls would need bonus points from their heavyweight Greg Hodulick in his match with Dan McKiernan of the Cougars. Hodulick was winning 8-3 late in the third, but a regular decision would still give the dual to SIUE. But then, with less than 3 seconds left on the match clock, Hodulick scrambled his way to a pinfall that clinched the dual for the Bulls.
It was indeed an epic comeback for Buffalo.
Bulls Mount Epic Comeback to Defeat SIU-Edwardsville, 18-16#UBhornsUP https://t.co/b78oOApBHl

— UB BULLS Wrestling (@UB_Wrestling) January 8, 2023
In other MACtion, Clarion showed out against Central Michigan, winning six of 10 bouts including two pinfalls to take the intra-conference dual 25-12.
MAC history digression: Central Michigan was the dominant team in the MAC from 1998 to 2012, when they won 14 of 15 team championships. Then Missouri joined the conference in 2013 and won nine straight titles, only relinquishing the crown when they rejoined the Big 12 following the 2021 season.
In 2019, toward the end of the Mizzou MAC-Dynasty, the conference expended when all the teams of the EWL joined. The Eastern Wrestling League was a wrestling-only conference that existed from 1975 to 2019. Penn State was a founding member by the way. Former EWL member Lock Haven won the MAC title in 2022. Will Lock Haven or another EWL refugee take the title in 2023? We'll find out in March!
Big 12
Missouri hosted the Panthers of UNI in an all-Big 12 battle that saw 11 ranked wrestlers take the mat, though the Tigers were without the services of #1 Keegan O'Toole and the Panthers had to do without #7 Cael Happel.
The Tigers took care of business to the tune of 24-12. You can watch all the individual matches here.
Iowa State had 2 big duals this week. They beat the Sun Devils on Sunday thanks to bonus point wins from David Carr, Yonger Bastida and Julien Broderson, though the true frosh dynamic duo of Casey Swiderski and Paniro Johnson both took losses to Jesse Vasquez and Kyle Parco, at 141 and 149 respectively.
Before that Sunday dual with Arizona State, the Clones beat the Cowboys of Wyoming 37-7 on Saturday.
SoCon
App State impressively defeated Binghamton 29-10, winning eight bouts in the process. Additionally, Campbell beat Gardner-Webb in an intraconference battle.
Big Ten
Iowa's Spencer Lee had an entertaining bout with Matt Ramos of Purdue. Perhaps you heard? Here is a clip of the lat drop from Ramos that had Lee fighting off his back in the first period.
Our website's ability to embed IG posts in blogs isn't perfect so you might have to watch on the IG page. I'd fix it but I don't know anything about computer programming.
Anyhow, here's a clip of Lee regaining his composure and pinning Ramos with an armbar, also in the first period.
That was from Iowa's second win of the week. The Hawkeyes defeated Illinois on Friday and Purdue on Sunday. Spencer Lee recorded falls in both duals.
Speaking of Illinois, they wrestled Iowa tough, losing only by six points. That match saw Michael Carr make a triumphant return to the Illini lineup up at 157. Carr wrestled in just seven matches in the 2020-21 season, missing the postseason that year. He also wrestled zero matches in 2019-20 and zero in 2021-22. Carr also never wrestled above 149 before in his collegiate career.
Illinois ended their weekend on a high note, defeating Wisconsin 18-17. Zac Braunagel went 2-0, beating Jacob Warner and Braxton Amos in consecutive matches.
Wisconsin also took a loss this week to Penn State in a dual that saw Nittany Lion true freshman Levi Haines defeat #19 Garrett Model of the Badgers in his first match after being named the starter by head coach Cael Sanderson. The Penn State lineup was already scary, and now Haines adds another All-American threat, and perhaps even a title contender.
Cam Amine is also back in the lineup for Michigan. Amine won two matches in his first action since the Cleveland State Open on December 11.
Finally, the Wildcats of Northwestern defeated the Golden Gophers of Minnesota, powered by Frankie Tal-Shahar and Trevor Chumbley's wins over two All-Americans in #10 Jakob Bergeland and #8 Brayton Lee at 141 and 157 respectively. Unfortunately, the dual also featured the thankfully rare double forfeit at 125-pounds.
That's all for this week. Did I miss anything? Let me know. And if something happens next week that you want to see in the Week 11 Roundup, let me know before next Sunday so I can include it! Okay, that's it, thank you, you are the best blog readers on planet Earth, believe that!