Fargo JR Greco Preview

Willie Saylor, Editor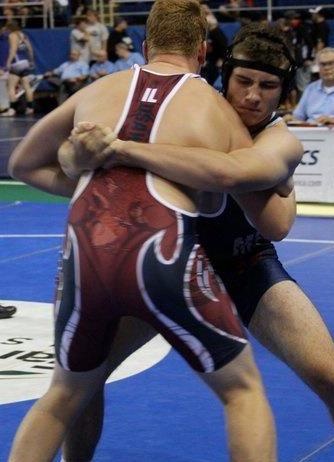 Moody is your favorite here. He was a Runner-Up last year as a Cadet.
George won both styles at Westerns.
Diallo was 2nd at NE Regionals, Roberts 2nd at Central.
FLO Picks:
1. Moody, IL 2. Schilling, OR 3. George, UT 4. Diallo (NY)
With three individuals that have won national titles, it will be interesting to see the brackets. Moody (Junior 98) and Volk (Cadet 91) won Fargo last year. Nachreiner won Fila Juniors this spring, beating Moreno in the finals.
Kelly and Aloi are returning AA's.
FLO Picks:
1. Volk, MN 2. Moody, IL 3. Kelly, NY 4. Nachreiner
This weight has two wrestles ranked #1 in Flo Rankings, Bresser at 113, and Mascarenas at 106. Bresser won Cadet GR at 98 last year. Mascarenas won Southern Plains at 106 this spring.
Burchett was 3rd in Bresser's bracket last year. Oftedahl was 3rd in JR's. Wigger was 4th at 112 JR's.
Meredith didn't place last year but was 7th as a Cadet in 2010.
Pawelski hasn't wrestled GR in Fargo in the past, but is a Runner-Up in Freestyle.
Rutz had a great Junior Duals.
FLO Picks:
1. Bresser, OR 2. Wigger, SC 3. Mascarenas, NM 4. Oftedahl, MN
A dozen former All Americans are registered in this bracket.
This year's Junior World Team Member, Isaiah Varona is a Greco specialist. But he did take some losses at JR Duals.
Laux was a Runner-up both here and at Fila Junior World Team Trials last year. Manderfield was a Runner-Up at Fila's.
Bedard was a SE Runner-Up in May. Borrego was 3rd at both Western and Southern Plains Regionals.
Matt Findlay was 13-2 in both styles at Junior Duals. Calas won Northeast's.
FLO Picks:
1. Varona, FL 2. Sether, OR 3. Powell, IL 4. Laux, IA
Lucas won Fila Cadets down at 101. Hood was a Runner-Up as a Cadet back in 2010. Schilling a Runner-Up last year in Cadets. I really like him. He could upset the apple cart.
Kraisser was a Runner-Up in 2010.
Fuenfinger won Central Regionals.
Weber and Palmer are former Fargo FS finalists.
FLO Picks:
1. Kraisser, MD 2. Clark, IA 3. Weber, WI 4. Palmer, WA
*Sam Brancale, MN
*Chase Call, ID
*Renaldo Rodriguez-Spencer, NY
Invernon was your Runner-Up at Fila's Cadets. Williams was a Runner-Up at Fila JR's.
In 2010, Richards was your champ, Brancale was 3rd. Richards was also a Runner-Up last year.
Abdurshakur had a great JR Duals performance, beating Retherford.
Ramos won Northeast's at 132, Retherford at 138.
FLO Picks:
1. Richards, IL 2. Williams, NY 3. Kraisser, MD 4. Brancale, MN
Both of the Cadet 130lb finalists are back. Davis beat Tuma a year ago. Tuma also won this year's Fila's.
Velarde was a runner-up last year in JR's. Moita won a title way back in 2009 at 98lbs.
Bengston was 3rd at Fila's. Cotton won NE Regional.
FLO Picks:
1. Tuma, ID 2. Bengston, MN 3. Davis, CA 4. O'Mara, IL
Seven All Americans highlight this weight. And there are several more that are real contenders.
Breitenbach just won Gold at the Pan Am Games. LaMont was 3rd in JR's last year and a Cadet finalist in 2010.
Johnshoy placed the last two years in FS.
FLO Picks:
1. LaMont, UT 2. Breitenbach, MD 3. Shepherd, NC 4. Johnshoy, ID
If all the entries currently in the system hold (fingers crossed) we're looking at the best GR weight class of the tournament.
Pierce's title came back in 2009, but he's always knocking on the door. He was a Runner-Up last year. Marcicki was a Runner-Up too, but in Cadets.
Palacio is a heck of a wrestler, but this is the first I've seen him entered in a GR event.
Alexander is a GR specialist. He was a Runner-Up at Fila Cadets last year.
Fox, Brydon and Coles are former FS AA's.
FLO Picks:
1. Pierce, TX 2. Alexander, IL 3. Marcicki, MI 4. Fox, OH
Speiller is among the elite GR wrestlers in the country at any age level. He won Fargo last year and Fila's and WTT's this year.
Martinez won a Cadet GR title in 2010.
Bateman placed at both Fargo and Fila's. Dewey was a Fila Runner-Up in 2011.
Fuller beat Bateman in FS last year for the right to go to the finals. Hall is also a FS AA.
FLO Picks:
1. Speiller, FL 2. Llopez, MD 3. Martinez, CA 4. Engelkes, IL
Meyer is your favorite. He was a Runner-Up last year to Speiller. Robertson should also be in contention for the raised platform. He was second both here last year and at Fila's in May.
I really like the Grimes kid. He was a Fila Runner-Up to Jordan Rogers in 2011.
Berridge and Morrissey were AA's in 2010.
FLO Picks:
1. Meyer, IA 2. Robertson, IL 3. Reed, KS 4. Mappes, IN
*Vaughn Monreal-Berner, IL
Nine former All Americans highlight this weight.
Climmons won Cadets two years ago and has also been a Fila Runner-Up.
Brooks was 3rd here last year.
Boyd went 6-1 at Duals at 195.
Richards won NE Regionals.
FLO Picks:
1. Brooks, IL 2. Climmons, GA 3. Beazely, MI 4. Hembury, PA
Winning Fargo last year and Fila Cadets this spring, Ray O'Donnell has emerged as a Greco stud.
Solomon AA'd here the last two years. McClure and Kumashiro had really strong duals performances.
FLO Picks:
1. O'Donnell, PA 2. Solomon, PA 3. McClure, GA 4. Lehner, OH
Perhaps the most anticipated bout of the entire tournament is Cox v Snyder III. Cox won in last year's final. Snyder later beat Cox in a close FS bout.
Ryan won Fila's where Story was 3rd.
FLO Picks:
1. Cox, MO 2. Snyder, MD 3. Ryan, AZ 4. Chaid, CA
There are ten returning All American's here.
Sam Stoll won Cadets last year. Coon won Fila Cadets at 220 and Fargo JR's at 215.
Butler was Runner-Up at Fila's.
Brazil won both styles at Northern Plains.
Marchok was a GR AA two years ago.
Updated on May 11, 2013, 10:36am