Event Hub
NCAA Seeds vs. Reality: Michigan Perseveres
Wrestling fans have high expectations for their teams heading into the NCAA tournament each year. How each team's wrestlers are seeded plays a major role in setting those lofty hopes. 

For this series, we're analyzing the team performances of all the top contenders at the 2017 tournament to see who stepped up last month in St. Louis and who came up short.


Now Up: The Michigan Wolverines

We tried to keep things as simple as possible. We ignored bonus points (but if an analysis of bonus points is what you're after, have no fear, we got you covered!). We also simplified the advancement points for ease of calculation. The actual advancement points may vary ever so slightly from the number we used depending on the round in which the wrestler entered the consolation bracket. We also ignored any projected advancement points for unseeded wrestlers, and, in order to balance that out, we also ignored any actual points form wrestlers that didn't advance passed the round of 24.

Also, if analysis isn't you're thing and you just want to stare at the team results, you can do that too!

But for those interested in the stats, here is a chart showing all of Michigan's qualifiers, where they were seeded, and what their results were at the 2017 NCAA tournament.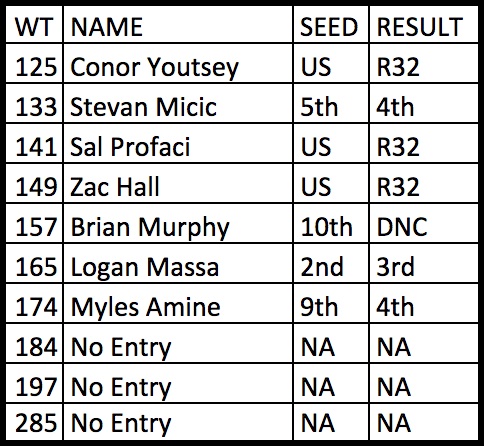 The Wolverines are the last team to be featured in our series. Michigan was in a rebuilding/reloading year, with three former All-Americans taking redshirt seasons.

The blue and gold were not projected to crack the top 10 in the NCAA tournament team race, and that was before taking into account senior All-American Brian Murphy's last-minute scratch.

That Michigan qualified seven wrestlers and finished 10th is a testament to the perseverance of head coach Joe McFarland, his staff, and the Wolverine competitors. 

So just how well did Michigan do? We calculated the difference between the Wolverines' actual (simplified) scores to their projected scores to find out.


Michigan's Seed vs. Reality Score: +8.5

A very positive score, however, as mentioned earlier, Murphy was a late scratch from competition due to injury. Murphy, the No. 10 seed at 157 pounds, was pulled in time to add in a replacement wrestler and redraw the brackets. And since we recalculated Penn State's score due to Nick Suriano's scratch (which was done after the deadline for new brackets), we will extend the same courtesy to the Wolverines. 


Michigan's New Seed vs. Reality Score: +11

Which makes for an even nicer, higher, positive score. 

When Murphy is removed from the equation, only one Wolverine failed to wrestle up to his seed, while two others finished ahead of their projected results. The three unseeded wrestlers all finished as expected. 


So How'd They Do It?

The one miss for the Wolverines was Logan Massa, and it was a near one at that. Massa dropped a close 5-4 decision to eventual champ Vincenzo Joseph of Penn State in the semifinals. By winning his next two bouts in the consolation rounds, Massa ensured he only cost the Wolverines two placement points. 

Hall, Profaci, and Youtsey all entered the tournament unseeded, and all three of them exited the tournament after back-to-back losses. However, these results did not cost the Wolverines any expected team points. 

Sophomore Stevan Micic had a quality tournament, falling only to the eventual champ, No. 4 seed Cory Clark of Iowa, and the No. 1 seed, Nathan Tomasello of Ohio State. Micic won a convincing match over the No. 3 seed Kaid Brock of Oklahoma State in the consolation semifinals. That win ensured a fourth-place finish for Micic, one place ahead of his seed, and 2 1/2 extra points scored for the Wolverines. 

Myles Amine had perhaps the most impressive weekend in St. Louis for Michigan. The redshirt freshman entered the tournament as the No. 9 seed but upset the No. 6 and No. 2 seeds in his weight class, Ryan Preisch of Lehigh and Brian Realbuto of Cornell, respectively, to place fourth. Amine's only losses were to the No. 1 seed, Zahid Valencia, both in the championship and consolation brackets. Amine's standout performance was worth 10 1/2 more team points than the Wolverines were expecting. 


Conclusions

Keeping three 2016 All-Americans at home on redshirt was going to make life difficult for the Michigan faithful in 2017. The late scratch of Murphy only added to the potential woes. But life looked sweeter in hindsight after the remaining starters performed as well as they did. 

Michigan fans will be eagerly anticipating the start of the 2017-18 NCAA season, as Alec Pantaleo, Dominic Abounader, and Adam Coon all return to action. Joining them are three freshly minted All-Americans in Micic, Massa, and Amine. It's no guarantee they all find the podium again in 2018, but six All-Americans are usually good for a top four team finish, so expectations will be justifiably high for the Wolverines next year. 

Some of those high expectations will on Massa, who earned them in part by his dominance of Arizona State's Anthony Valencia in the NCAA quarterfinals, seen in the video below.


Those are two pretty talented freshmen right there.