Event Hub
Why Nick Suriano Won't Get The 2 Seed
There are always myriad seeding questions entering the NCAA Championships, with the latest FRL in particular focusing heavily on 184 pounds.

I wanted to examine 125lbs after I saw this tweet giving the criteria. The question for the No. 2 seed at NCAAs on March 16-18 in St. Louis comes down to three guys: Penn State's Nick Suriano, Virginia Tech's Joey Dance, and Lehigh's Darian Cruz.

Prior to the Oklahoma State match, it seemed pretty clear that Suriano was the heavy favorite to be seeded second behind Iowa's Thomas Gilman. Then Suriano suffered what we believe to be a high ankle sprain (not confirmed but it was clearly an ankle injury of some kind) and injury defaulted out of Big Tens. This gave Suriano the biggest hit in seeding criteria, as he would receive a "0" for conference placement, while Cruz and Dance won EIWAs and ACCs, respectively. Theoretically, having to receive an at-large bid would put him behind 28 other wrestlers in the matrix in the conference-finish department.

Rough comparison of how all three stack up based on the seeding criteria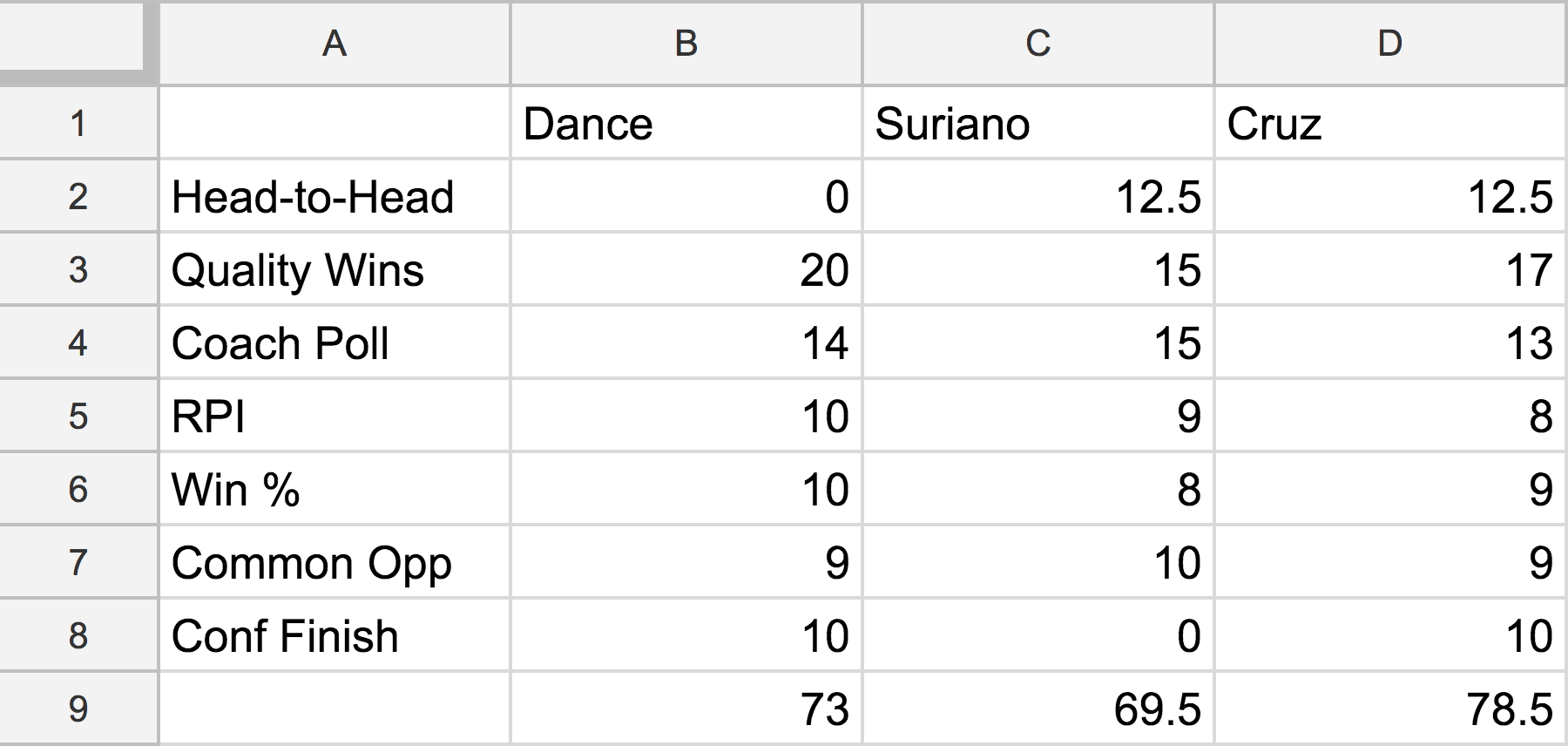 Now, conference placement is only 10 percent of the seven criteria. Another 10 percent of the criteria is RPI, which favors Dance (2), ahead of Suriano (3) and Cruz (5). As for coaches rank, which is 15 percent, Suriano (2) leads here, followed by Dance (3) and Cruz (4). Coaches rank is one of Suriano's strongest allies in his bid for the two seed and is done by the group found here.

Winning percentage is another criteria which counts for 10%, and we once again have Dance coming out on top. His record is 25-1, followed by Cruz at 26-2, and Suriano at 16-3 (as listed by the NCAA). Whether you agree with Suriano's last two counting or not, they are deemed as official Division I losses. Dance only trails Gilman at this weight, with Cruz in third, and then Josh Rodriguez in fourth. Suriano is tied for fifth among qualifiers with Sean Russell.

Per Jason Borrelli on FRL 18 (see below), a quality win is defined as one in which you beat an opponent who earned an auto-qualifier allocation prior to his conference tournament (gold/silver standard) AND then qualified by placing at that conference tournament. By that criteria, Suriano has four quality wins this year. Dance has 10 such wins (over eight opponents), and Cruz has eight quality wins against six opponents. To put Suriano in perspective, he has fewer quality wins than Ethan Lizak (though Suriano has a H2H over Lizak) and the same number as Josh Rodriguez and Tim Lambert.

Now we're really getting into the weeds: head-to-head matchups and common opponents. Suriano's strongest case for the two seed comes from his 7-0 win over Cruz, who in turn owns a 4-2 victory over Dance. But Suriano did not wrestle Dance, and the common-opponent win must also be factored in with matches against guys like Jose Rodriguez, Russell, and Lizak (who beat Cruz but lost to Suriano).

If this were, say, a high school conference tournament, it would seem rather straightforward how Suriano, Cruz, and Dance would be seeded. The seeding committee is comprised of:

​Brian Smith, Missouri head coach

Tom Ryan, Ohio St head coach

Valerie Richardson, Virginia associate AD 

Brian Hill, Air Force vice director of athletics

Bob Patnesky, Davidson head coach

William Walker, American AD

Had Suriano wrestled to second at Big Tens, there wouldn't be a question here. But given that he had to receive an at-large bid, had just four quality wins and is below Josh Rodriguez in win percentage, it appears both Dance and Cruz have arguments to be seeded ahead of Suriano.

Hopefully this will shed some light on the seeding process and perhaps force the NCAA to publicly release the seeding info to the community, beyond what can be found here on pages 12 and 13.