Event Hub
James Green Anxious to Get Back to Action
James Green's road to his first World Team was unlike any other, but he has learned plenty from the entire experience that took place both on and off the mat.

Now for Green the main objective is coming down to the completely stacked 65kg weight class and learning from his first experience at the World Tournament. Since coming away with a bronze medal finish, he's taken a hard look at what he needs to do to be better.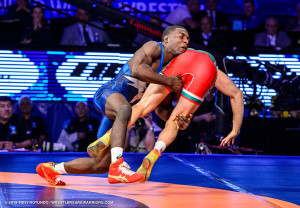 "Coach Manning and Snyder are very technical," Green said. "They breakdown everything. Right now I've been focusing on clearing ties and wrestling my match. In the match I lost at World's I didn't do a good job of that, so that's been one of my main focuses. Besides that, it's just been about my diet. When I was at 154lbs/70kg I could get in the sauna or run it off and make it. Now I have a lot more discipline with my weight and diet."

Green has been away from competition since World's and is really looking forward to getting back in the mix. However, he still has to balance his training schedule with his class schedule as well.

"It's tough for teachers to understand that I'm on the wrestling team still but not the through the school so when I go on trips it's not just for a weekend it's for an entire week," he said. "When I was at World's I missed an entire week of classes so balancing that with training is hard. There will be days that coach Manning will want to schedule a session, but I have a lab so we have to figure it out."

Nonetheless, he will be getting back to competition soon and we will get to see exactly how he stacks up against the 65kg competition. green"

Even though I haven't been competing I've being doing as if I was. When the other guys were wrestling at the Open this year, coach Snyder and Manning had me get my weight down," Green said. "I've been watching guys and seeing what they do too, but it's mostly comes down to me doing what I do best."

But when it comes to training and getting ready for the Olympic Trials, there's no doubt that James Green has the best training partner in the world in Jordan Burroughs.

"Being able to train with Jordan is great because I learn so much from him everyday," Green said. "I ask him questions about everything and we both simulate how different guys wrestle. Plus, if we want to go drill we can just go drill because we both just want to get better everyday."

When the time comes for the Olympic Trials, there will be plenty of eyes all over Green and the very loaded 65kg class.

"I'm excited to get back to competing, he admitted. "I'll be going to Turkey then wrestling at Pan Ams after that and then I'll have the Trials. I'm anxious to get back out there and put everything together."