Event Hub
Stevan Micic Announces College Decision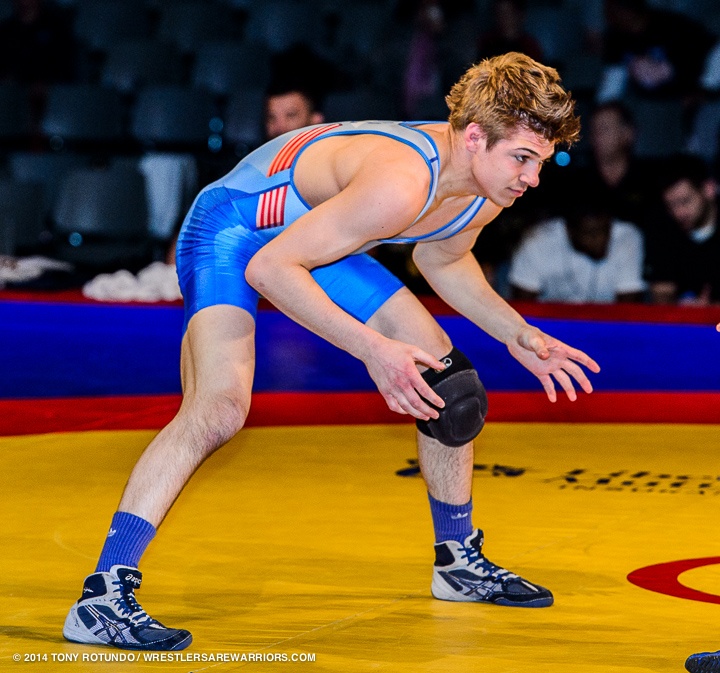 A few weeks ago we heard the announcement that Stevan Micic was to transfer out of Northwestern. It was a decision that puzzled the wrestling community. He had a successful Freshman year, made a Junior World Team, and was attending a World Class institution.

Stevan shared a little on his thought process for leaving NU in an earlier piece here. Now Stevan's decision is in. After having numerous schools beat down Stevan's door, he has decided to become a Michigan Wolverine.

"For me it's the ideal package." said Micic, the 55KG Junior World Team member. "I thought overall it has everything I am looking for. I loved it when I went on my visit there. I did some RTC practices so I got to see the wrestling side of it too. I think it's going to help me a lot for what I'm trying to accomplish."

Stevan chose Michigan over a number of potential schools including Illinois, Oklahoma and Penn State. Micic cited Michigan's strong RTC with the Cliff Keen Wrestling Club as a deciding factor as well as the proximity to his home in Indiana.

"I know Andy was in Russia for 11 months." Micic said. "He picked up a lot of stuff on how they trained. I could definitely relate to that, I was in Dagestan for 3 weeks my Senior year, so I got to see how they train. For me the way he runs Freestyle practice fits well for me."

It's not just Freestyle that is pulling Micic to Michigan. Stevan is excited to work with the entire College staff at Michigan as well.

"I've known Bormet him for awhile." Micic said of the Michigan Associate Head Coach. "We get along really well. He's great to talk to. I love the whole coaching staff: McFarland, Churella and Kellen are great. As a team I think we're going to do well. They had 5 All Americans this year. For what they had it was pretty awesome."

This decision says a lot about Stevan's Freestyle goals considering he will lose a year of d1 competition by transferring to another Big 10 School.  Micic is an interesting fit at Michigan. 125 pound All American Connor Youtsey will just be a Junior this coming season. 2x Fargo Champ Austin Assad will be heading to Ann Arbor this Fall. At 133 Rossi Bruno will graduate after this coming season. Regardless, the light weights will be a bit crowded for the Wolverines.

"I'm happy we have each other to push ourselves. Micic said of his future Michigan teammates. "They can help me, and I can help them."

Between Youtsey, Assad and Micic Michigan will likely see a blue chipper spend a year on the bench at some point. Micic is unsure of what weight he would like to wrestle at in the coming years.

"I want see if I can get a little bit more strength and put more size on for 57kg." Said Micic, who competed at 125 pounds for his redshirt season. "I know for 57's the guys I face are more mature. I have to step the bar up with my strength. I'm only walking around at 132 or 133. I think I could go 33, I don't know how big I can get. I've never tried to get my size and strength up like that. People always ask me if I'll be a career 25. I don't think I will be. I don't know if next year I will or not. I've never been big into lifting."

Stevan compared his commitment time to both Northwestern and Michigan and the confidence he feels in those decisions.

"This past week I just felt Michigan was right for me." Said Micic, who was a part of a loaded haul for Northwestern two years ago anchored by himself, Bryce Brill and Johny Sebastian. "I feel like I forced Northwestern last time and it was a really hard choice. But this time I know it's right and I know Michigan is the place for me. I just really bonded well with everyone. It's so close to home also."

With the decision out of the way for Micic he discussed his preparations for Junior Worlds including film study as well as training.

"I have been preparing hard for this. For the last 3 weeks to a month I've been going hard. Now the next 10 days at Camp will be to peak conditionally then get my weight under control." Said Micic, who has international experience as a member of the Cadet World Team. "The guy from Turkey that I should have beaten ended up getting 3rd at Europeans. He has just crazy matches in general. The guy who the Turk beat solidly is a 2 time Cadet World Champ. He won when I was there and he won last year too. The guy isn't anything crazy. I don't think he's really improved the last two years and I know that I have. 2 years ago I didn't know anything about anyone."

While Stevan does his homework on the his competition, he said he's not going to dwell on their skills to the point of distraction. He left us with some final words on his mindset heading into Junior Worlds.

"The other big thing for me is giving up groups of points. Said Micic, who is scheduled to compete August 14th. "That's what loses matches overseas. I can give up a takedown, that's not a big deal, but I can't give up a 2 and 2 or a 4. I got the idea at World Team camp, I'm not going to try to change the way I wrestle. I think that's important. Wrestle how you do, and it'll work out."