Mark Hall will beat Anthony Valencia at this year's Who's #1.

God it feels good to be the first to go on record with that prediction.  I seriously feel like I'm the only one who's giving Mark Hall a shot.  Everyone I've talked to says Valencia's getting his hand raised this Saturday at the Snake Pit.  Why? Because he took Hall down at Freakshow 12 months ago with 7 seconds left in sudden victory overtime, on the edge of the mat while Hall was collapsing under a seriously banged up ankle? 

So what.  Hall outwrestled Valencia that match.  He got out quicker on bottom, he rode Valencia deep into the 3rd period (:30 seconds away from the win) and he was literally a tenth of a second away from finishing a big takedown in the 2nd that would've put him up 3-0.  He finishes from the crackback (or just wins the ensuing scramble), the match is over.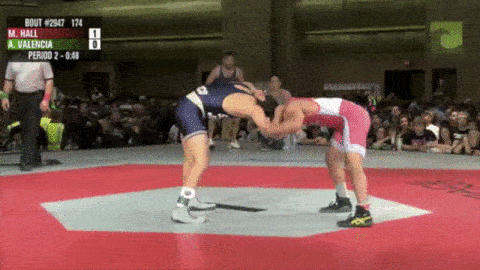 "Yea, well Valencia made the Junior World Team and crushed Isaiah Martinez in the process.  He's battle-tested."

So what.  Mark Hall won the Cadet World Championships last year and beat Isaiah Martinez when he was a high school freshman. 

"Yea, but within the last year alone Valencia has beaten nationally ranked: Fox Baldwin, Myles Martin, Brandon Dallavia, Davonte Mahomes, Kimball Bastian, Bryce Martin as well as college guys like Chad Pyke and Brandon Kingsley. Dude's proven."

Yup, Valencia also lost to Chandler Rogers (someone Mark Hall tech'ed) last year. And about Fox Baldwin, Myles Martin and Kimball Bastian...yea, Hall beat them too.  He's also beaten nationally ranked: Nick Reenan (who tech'ed Valencia in 2013), Beau Breske, Alex Marinelli, Chris Weiler, Keegan Moore, etc., to go along with his tech fall victory in FS over college stud TJ Dudley (ranked #12 in the NCAA at 184lbs). 

"Here's the thing: Anthony Valencia has the best leg attacks in the country.  They're practically unstoppable.  Hall will not be able to fend them off."

Really?  Cuz I'm pretty sure Hall fended off a million of those Valencia doubles in the 1st period of their Freakshow finals last year.  More: Mark Hall has the best defense in the country. DEFENSE WINS CHAMPIONSHIPS, PEOPLE.

Nick's Pick: Babee Marky dec. Anthony Valencia, 4-3

Moving on...Match by Match Picks

106lbs: #1 Cade Olivas (2x World Team Member) vs #3 Gavin Teasdale (World Team Member)
This one should be a dandy for the fans.  The super aggressive Olivas vs the dynamic and highly scrappy Teasdale.  Rumor has it these two squared off at World Team Camp this year...and Olivas had the edge there. 

Nick's Pick: Cade Olivas dec. Gavin Teasdale, 9-5

150lbs: #3 Larry Early (USAW National Champ) vs #4 Jo Jo Smith (Fargo Finalist)
Earlier this summer, I tweeted this:

@PapaBearSLIM @flowrestling @kyledake444 @alliseeisgold if @larry_LE3 beats Jo Jo for a 3rd straight time, I'll never bet against him again

-- Nickolas Velliquette (@NickVelliquette) July 19, 2014
Even though that 3rd match never went down, I'm still ready to pick Early.

Nick's Pick: Larry Early dec. Jo Jo Smith, 6-5

120lbs: #1 Nick Suriano (Super 32 Champ) vs #2 Daton Fix (2x Fargo Champ, World Team Member)
Revenge match.  At last year's FILA Cadet National Championships, we saw Daton Fix beat Nick Suriano 1-1 on criteria.  Neither wrestler could open the other up.  I expect more of the same at Who's #1. If any match breaks last year's "Longest match in high school history" record, it's this one. 

Nick's Pick: Nick Suriano dec. Daton Fix, 3-1 in Unlimited Overtime

195lbs: #1 Bobby Steveson (Fargo Champ) vs #5 Hunter Ritter (Fargo Champ)
These two met before, at FILA Cadet Nationals, and man was that match exciting! Takedowns all over the place.  Steveson won that one, and he'll win again at Who's #1.  Dude's been on too much of a tear over the past 6 months.  No stopping him now. 

Nick's Pick:  Bobby Steveson dec. Hunter Ritter, 6-4

138lbs: #1 Ke-Shawn Hayes (Ironman Champ) vs #2 Matt Kolodzik (Ironman Champ)
This one's going to be total chess match.  Hayes and Kolodzik are a couple of the most cerebral wrestlers in the country.  They're always one step ahead of the competition tactically.  I think Kolodzik's got a little bit more firepower on his feet, but Hayes undoubtedly has the edge on the mat.  He has some of the best tilts in the country. Ahhhh who to pick?!

Nick's Pick: Ke-Shawn Hayes dec Matt Kolodzik, 4-3

152lbs: #1 Isaiah White (2x Fargo Champ) vs #2 David McFadden (Fargo Finalist, NJ State Champ)
This may be my favorite match up of the night.  Two super studs coming off the best wrestling year of their lives.  McFadden has impressed me more than about anything other kid from 2012 on.  Isaiah White has impressed me more. 

Nick's Pick: Isaiah White dec. David McFadden, 5-3 in Unlimited Overtime

132lbs: #1 AC Headlee (Flonationals & Beast of the East 3rd) vs #3 Mitch McKee (4x Fargo Finalist)
Headlee has been the model of consistency over the past year: 3rd place at Flonationals, Beast of the East, Fargo, Powerade and PA States.  He almost wins every tournament he's in.  And then there's Mitch McKee.  No one had a more impressive summer of 2014 than McKee.  This is another tough one to pick.  I'll give AC home field advantage here. 

Nick's Pick: AC Headlee dec. Mitch McKee, 5-3

126lbs: #1 Nick Piccininni (Flonationals Champ) vs #3 Kaid Brock (2x Fargo Finalist)
Boy what a tough summer for Kaid Brock!  And what an awesome spring for Nick Piccininni!  If I were an odds maker, I'd have to pencil in Piccininni as the favorite here.  Everything seems to be on Nick's side.  And yet I'm going Kaid Brock.  #GutFeeling

Nick's Pick: Kaid Brock dec. Nick Piccininni, 8-7

145lbs: #1 Vincenzo Joseph (Fargo Finalist, PA State Champ) vs #2 Fredy Stroker (Who's #1 Champ)
You guys all saw the Joseph vs Stroker match at Fargo last summer, right?  How does Fredy possibly overcome that type of beating?  I've been watching Stroker matches all week, and I really do love his stuff.  And I love how well he performed at last year's Who's #1...but he's not getting it done vs Joseph at the Snake Pit this year. 

Nick's Pick: Vincenzo Joseph dec. Fredy Stroker, 5-1

Joseph vs Stroker 3 months ago...



182lbs: #1 Myles Martin (Fargo Champ) vs #2 Zahid Valencia (3x Fargo Champ)
This one is actually going to be a lot closer than people think.  Myles Martin is going to win of course but not by a lot.  Zahid's defense is stellar, some of the best of any senior in the class of 2015.  He'll make this one interesting, but in the end I think Myles is just a tad too strong and will get the pivotal takedown he needs to win this match and retain his #1 ranking nationally. 

Nick's Pick: Myles Martin dec. Zahid Valencia, 3-1

Main Event: Chris Perry (2x NCAA Champ) vs Robert Hamlin (2x NCAA Finalist)
I couldn't possibly predict a score here as I've no idea how the Flo Premier League rules are going to affect scoring exchanges, but I do think Chris Perry's going to win this one.  

Nick's Pick: Chris Perry > Robert Hamlin at Who's #1 2014