The Facebook crowd has spoken, and they want Technique Wave to focus on tilts this week. Done. Here is your week long training progression focusing specifically on tilts from top. As always, techniques get progressively harder throughout the week: easier/more fundamental techniques will be shown earlier in the week, harder/more difficult techniques will conclude the week. I'd recommend overloading on reps for the more fundamental tilts (shown earlier in the week) and then diminishing number of reps for more difficult techniques. Adapt your workouts to your liking.

BASIC TECHNIQUE

Monday: Hrovat's Set Up to a Cheap Tilt
Andy Hrovat shows a very fundamental cheap tilt; this tilt is as simple as it gets. His set up before showing the tilt, also very simple/fundamental, makes the move very effective. This is a great way to introduce tilt technique to your wrestlers.

MEDIUM LEVEL TECHNIQUE

Tuesday: Technique Wave Tuesday is a surprise every single week! We will be showing a tilt, of some variation, this week.

Wednesday: Nick Simmons' Claw Ride to Roll Through Tilt
Nick Simmons just can't stay out of these week long training progressions -his top work is just SO GOOD! Here he shows how to adjust to a tilt after his opponent defends his claw ride. He starts with a claw and far side wrist and then blocks his opponent's knee with his own (near side) to roll through for the tilt.

Thursday: Spates' Figure Four to Tight Waist Tilt
This tilt is great. Spates shows how to adjust to a tight waste tilt while riding legs. This tilt works well when your opponent hits a hip smash. This is big time technique for any wrestler who likes to transition from move to move with the legs in.

ADVANCED TECHNIQUE

Friday: Hudson Taylor's Experimental Roll Through Tilt
Hudson Taylor comes up with some of the weirder technique I've seen in the Technique Wave library -it's great stuff though. Here he sets up his roll through tilt (he goes with the Navy variation on this one) by first securing his cross wrist and later sliding back on his opponent's hips like he's going for an ankle lace. He then shelves his opponent's ankle on his leg and hits his roll. Wicked stuff!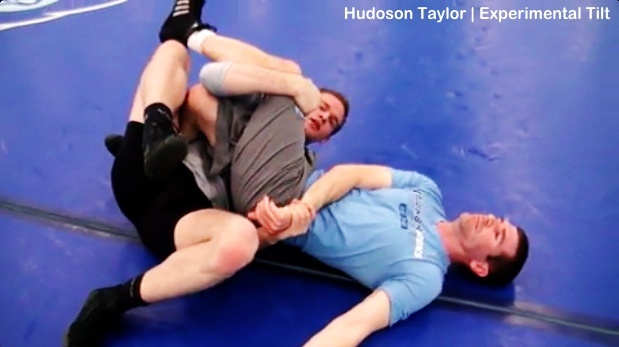 TRY A TECHNIQUE WAVE TRIAL NOW. UNLOCK ALL THE BEST TECHNIQUES!

if you have any questions, comments or recommendations for training progressions and/or partiuclar techniques, please email: technique.wave@flowrestling.org
Updated on May 1, 2013, 1:27pm