The Forgotten Corner: Northwest Prospects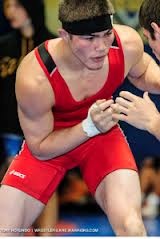 Tuma is among the best NW recruits.
Perhaps the least talked about nook of the country is the Great Northwest. In general, and outside of Fargo, Reno, and a couple other events, kids from Oregon, Idaho, and Washington mostly keep to themselves, competing against one another. The phenomena begets a lot less publicity and exposure than other more populous areas receive.
But there's talent there for sure.
Would it surprise you if I said that Oregon ranks 11th all time in Division I All Americans? It's true: the Beaver State produced 79 individuals that collected 129 medals at the Big Dance. That's just one spot below #10 Minnesota, who is roundly considered a wrestling factory at the high school level. Washington (36 and 53) ranks 16th, and little ol' Idaho are 22nd with 20 individuals winning 34 All American honors.
Although the depth may not be on par with more traditional wrestling hotbeds in the U.S., that is of little concern at the next level. A college coach doesn't need a whole team. He needs to pluck a stud here and a stud there. Howard Harris, Les Gutches, Jared Lawrence, Larry Owings. Yeah. They'll work for ya.
Every year the Northwest's top level potential pokes its head through in the form of coveted college prospects. Jordan Rogers (Mead, WA/Oklahoma State) was among the best graduating seniors last year with Fargo and Fila titles and a dominant performance at the Dapper Dan. Younger brother Chandler will be a highly coveted recruit next fall, as will 3-Style superstar Hayden Tuma (Centennial, ID).
It's a shame that the three states combine for just two Division I programs. Washington doesn't have a single one. And with the dropping of the Oregon Duck program in 2008, and a season removed from crowning a National Champion (Shane Webster, 184), Boise State and Oregon State are the only two Northwest programs remaining.


It leaves fewer options for the high school stars each state produces. They see their talent move out of state. Washingtonians have no choice.
Their best wrestlers the last two years each migrated far from home; Rogers to OK State, and Derek Garcia to Ohio State. They had Fargo Runner-Up, Joey Palmer, go to Oregon State. Four-time WA State Champ, Drew Templeman is now a Wyoming Cowboy. And after a year in Junior College, Washington native, Josh Heinzer, will likely be starting for Michigan State. How a Husky line-up would perform with all that talent we can only speculate.
What that means for college coaches nationwide, is that they can go in to the Northwest corner and poach these guys. Despite the lack of programs (or perhaps, because of it) Oregon State and Boise St. are thriving. But, like everyone else, their scholarship dollars and roster slots are limited. It would behoove the rest of the country's DI coaches to go the Lewis and Clark route and check out the landscape of the Great Northwest.
Here are some of the emerging talent from the Idaho, Oregon, and Washington:
Class of 2013:
#9 - 120lbs: Ronnie Bresser, Henley, OR
120lbs: Josh Newberg, Kelso, WA
126lbs: Colton Schilling, Sweethome, OR
126: Kyle Sether, Oregon City, OR
#17 - 132lbs: Blaine Invernon, Bonners Ferry, ID
138lbs: Chase Call, Shelley, ID
138lbs: Tomaz Gonzalez, Columbia, ID
138lbs: Jake Velarde, North Kitsap, WA
#19 - 152lbs: Abraham Rodriguez, Hermiston, OR
160lbs: Kyle Bateman, Sandy, OR
#7 – 182lbs: Cody Crawford, Cascade, OR
220lbs: David Henry, Oakland, OR
#12 - HWT: Chet Spears, Sheldon, OR
HWT: Brandon Johnson, Lake Stevens, WA
Class of 2014:
#17 - 106lbs: Casey Cobb, Kuna, ID
120lbs: Michael Cook, Kuna, ID
132lbs: Coltan Orrino, Central Valley, WA
#12 - 132lbs: Tyler Berger, Hermiston, OR
#2 – 138lbs: Hayden Tuma, Centennial, ID
#20 – 145lbs: Jon Jay Chavez, Centennial, ID
#16 – 152lbs: Jared Johnshoy, Melba, ID
152lbs: Reed Van Anrooy, Roseburg, OR
160lbs: Bobby Reece, Kingston, WA
#5 - 170lbs: Chandler Rogers, Mead, WA
#15 - 170lbs: Ryan Christensen, Woodinville, WA
HWT – Wyatt Spears, Sheldon, OR
Class of 2015:
#14 - 113lbs: Drake Foster, Post Falls, ID
113lbs: Hans Rockwell, Riverside, OR
120lbs: Matt Iwicki, Eastside, WA
Class of 2016:
106lbs: Van Anrooy, Roseburg, OR
120lbs: Matt Park, Boise, ID
120lbs: Braedon Orrino, Central Valley, WA
160lbs: Gary Jantzer, Grants Pass, OR
#20 - 182lbs: Sammy Colbray, Hermiston, OR



Updated on May 11, 2013, 2:56am