The Minnesota Golden Gophers were the NCAA runner-ups last year finishing behind National Champions Penn State. Minnesota won the National Duals title last year with a win over Oklahoma State and they have released their 2012-2013 schedule. The Gophers will be tested a couple times in the first semester as they will see Nebraska in November and then play host to Oklahoma State in early December.
They will wrestle in a deep Southern Scuffle right at the beginning of January and then head right into the Big 10 dual season. After that all they will have left is Nationals Duals, Big 10's and NCAA's.
The Gophers are bringing back a solid squad this season with 5 returning All-Americans, one of which is a national champ, and one round of 12 wrestler. How do you think Minnesota will fare this season, do they have what it takes to overthrow the two time defending champions Penn State and anyone else in the mix?
Returning All-Americans
133 Chris Dardanes 4th
149 Dylan Ness 2nd
174 Logan Storley 6th
184 Kevin Steinhaus 5th
285 Tony Nelson 1st
141 Nick Dardanes round of 12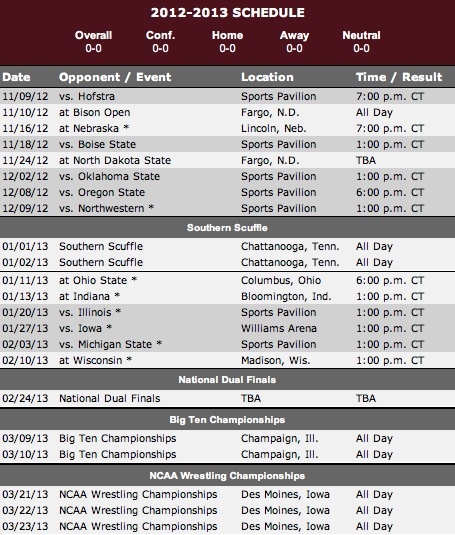 Updated on May 10, 2013, 7:20pm