Top 100 JR Recruits Updated and Reordered

Willie Saylor, Editor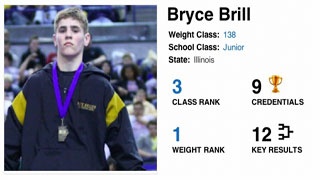 Profiles for the Top 100 talents in America for the Class of 2014 have been completed. Major tournament placings, relevant results, and scouting reports have all been populated into their individual pages. And the order has been updated to reflect their most recent performances.

After the fallout from Fargo, here are a few guys that upped their stock within the JR Class this summer:


#3 Bryce Brill, IL - We all knew he was good. But he put on a show. Brill completely dominated, and is now up to #3. His skill set and non-stop attacking had everyone's mouth agape.

#7 Bo Nickal, TX - In the last 8 months, Nickal has been to the finals of the Cheesehead, USA Folk Nationals, and both styles at Fila's. In Fargo, he torched everyone. His upperbody stuff is as good as their is in this class. And his lanky frame has me thinking he'll make an unreal 184lber at the next level.

#16 Jack Bass, TX - Nickal's Allen, TX teammate, Bass went from talented up-and-comer to superstar this summer with a good Fargo and a Fila Cadet title in which he beat Nickal in the final. Bass is wrestling at Cadet World's in Azerbaijan as we speak.

#23 Cody Lecount, IN - I moved this kid waaay up. He was impressive all weekend in Fargo. Not just in his scores, but in his actual skills. Recruiters, take notice to Lecount!

#31 Cole Weaver, MI - What this kid lacks in athleticism, he makes up for in grit. Double Finalist this summer at Fargo.


View the updated
Junior Class Big Board.
Updated on May 19, 2013, 8:21pm