Destin McCauley to Stay at OTC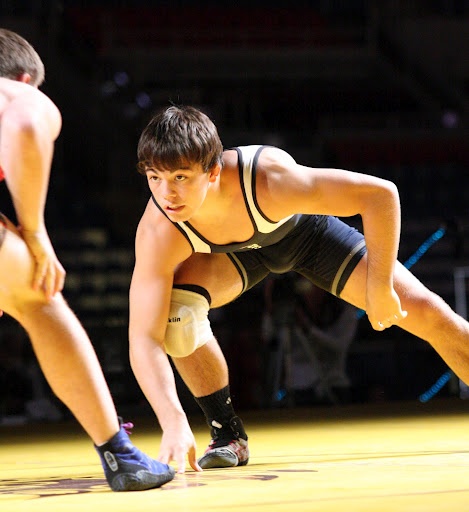 For one of the best young talents in recent memory, everything has always been big. Big moves. Big trophies. Big designs.
Destin McCauley, originally from South Dakota, enjoyed a fabulous prep career at Apple Valley High School in Minnesota marked by five state titles and four straight Top 3 finishes in Fargo.
As such, McCauley was regarded as one of the nation's top overall recruits in his graduating Class of 2011. He originally pledged to, and headlined, a monster recruiting class for the Wisconsin Badgers.
But after opting for a year of preparation at the Olympic Training Center prior to enrolling at Wisconsin, the Badger coaching staff was overhauled prompting several recruits to re-evaluate their college decision. Familiar with Kevin Jackson, McCauley decided to wrestle for Iowa State.
The plan was for McCauley to matriculate to Ames this Fall. But with his freestyle career going so well, he started to reconsider. He won Fila JR's in April, a crown which allowed him to sit in the finals of the JR World Team Trials, which he subsequently won. Up next is a trip to Thailand for the World Championships in September.
The increased success had McCauley postulating his future and lingering on just what the best options were for him. Recently, he made the decision to postpone his college career and stay training at the OTC in Colorado Springs full time for at least another year.
Destin sat down with Flowrestling to discuss his thought process.
WS:
Why have you made the decision to remain at the OTC?
DM:
I made the final decision to stay out here at the OTC because, as a wrestler, I feel like I've grown so much from being here. And I love wrestling freestyle. I enjoy the style and how you train to be the best in the world and not just in the nation.
WS:
When did you first start thinking about staying there?
DM:
Coming out here in the first place, I always had a little thought of possibly staying out here for more than one year, but I think when I really started to put seriously consider it was around spring time this year.
WS:
Whom in particular did you seek out to help you with the decision?
DM:
The main people I went to, of course, were my parents. I had many questions about this decision and they were always there to answer them. Besides them though, I talked with many wrestlers, both ones that stayed out here, and the ones who went to college.
WS:
Are your career goals now exclusively at the International level? Have you ruled out DI wrestling?
DM:
As of now, yes, my goals are set on international wrestling. But college and folkstyle are always an option.
WS:
Is wrestling FS and training at the OTC more fun and enjoyable for you? If so why?
DM:
Yeah. I feel like training freestyle is something I like to do more than folkstyle. It fits my style well cause I love being on my feet and going after takedowns. Another thing that I love about being out here at the OTC is all the opportunities I'm offered. I get to train with all the Olympic athletes and have the best wrestlers in the world come train here. Along with that I get to go on trips overseas and compete in international tournaments.
WS:
How did Coach Jackson take the news?
DM:
Coach Jackson is an amazing guy and an awesome coach, and I feel bad that I am backing out of going there. I told him I was sorry for doing that to him and the team. I would have loved wrestling for him, but my heart was on staying out here in Colorado, and after some time I feel like he knew that. When it was a done deal he said nothing but good words to me and wished me the best of luck in my future.
WS:
How have other people around you reacted about the decision. OTC coaches, wrestlers, your family?
DM:
The coaches here are happy with my decision on staying here. Before I made the decision they said to do what I wanted to do and that they would support whatever I picked. With me staying here I feel like I can keep improving with them as my coaches. Some wrestlers you know thought it would be best for me to go to college and some agreed with my thoughts of staying here. Either way most of them all said they would support me. That was the case as well with my parents. They just wanted what is best for me, and they just want to see me succeed in my goals.
WS:
Anything else you'd like to say.
DM:
I just I hope people will support my decision and hope for the best for me. They may not understand why I did this, but this is something I felt in my heart was the right decision. This is me taking my own path.



Updated on May 19, 2013, 10:03pm