Olympic Freestyle Weight Classes:
55 KG 60 KG 66 KG 74 KG 84 KG 96 KG 120 KG



Taymazov win 3rd Olympic Gold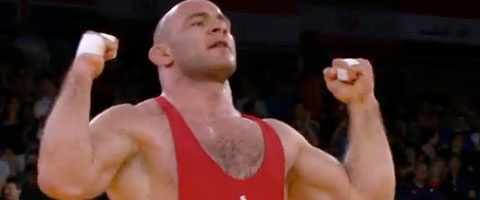 After taking out USA's Tervel Dlagnev in the semi finals. Uzbekistan's Artur Taymazov won in 2 periods in the finals to become a 3 time Olympic Champion. What a freaking beastmaster!!
Tervel 5th Again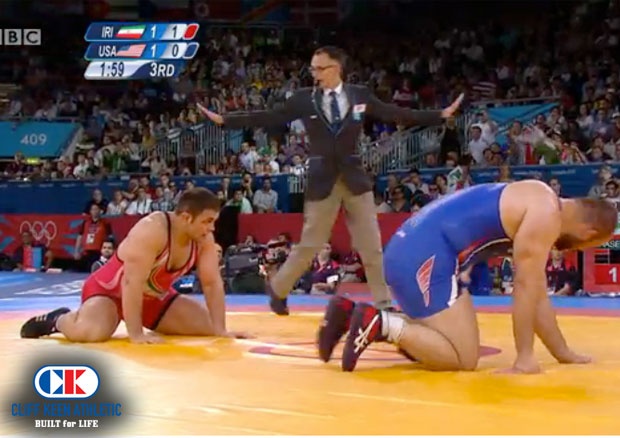 US Heavyweight, Tervel Dlagnev just missed out on a medal again.
Dlagnev lost to Iran's Komeil Ghasemi in the Bronze medal bout, 1-4, 1-0, 0-1.
Dlagnev was among the contenders for the Olympic title after placing 5th at World's last year and posting a win over World medalists at the World Cup. He beat the defending World Champion in round two of the Olympics on Saturday, but lost his next two matches.
Against Ghasemi, Dlagnev was crotch lifted in the opening period to make the difference there. Dlagnev won the second period on the clinch. He had his chances in the third period as he got in on a couple low singles. But Ghasemi countered for the only takedown late in the third.

Dlagnev Falls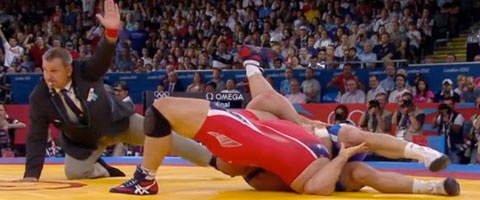 Tervel Dlagnev was on a roll. But that came to an abrupt halt.
Wrestling in the Olympic semi's, Dlagnev was pinned in the first period by 2008 Olympic Champion, Artur Taymazov (UZB). The bout was scoreless and both guys had chances, when Taymazov got a cradle working from front head. The fall came at the 1:50 mark.
Dlagnev had beaten reigning World Champion Alexei Shemerov of Belarus, in the quarterfinals. Dlagnev will wrestle for Bronze later today.
His loss is the first for the US Team today, who have a collective record of 5-1.

A Giant Win!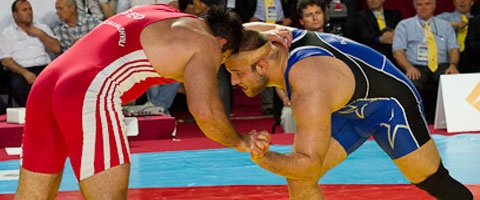 Tervel Dlagnev just knocked off the defending World Champion!
Dlagnev defeated Alexei Shemarov (BLR) in two straight periods 2-0, 1-1.
His win keeps the USA perfect on the day with a 4-0 record.

Dlagnev will face 2008 Olympic Champ, and 2010 World Runner-Up Artur Taymazov (UZB).


Tervel Rolls
American Freestyler Tervel Dlagnev (120kg) cruised through a first round win on Saturday, taking out Ismail Shaban (EGY) in two straight sets.
Tervel put up points on the board in several ways in the first with takedowns and turns from par terre. He won the second with a single takedown for a final score of 5-0, 1-0.
Tervel has a big one coming up next as he'll face Belarussian Alexei Shemarov, last year's World Champion.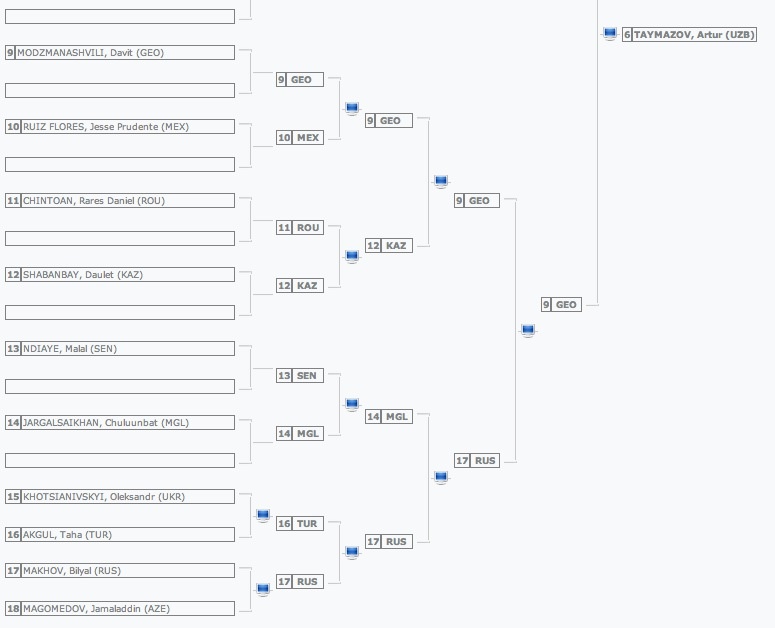 120 KG Freestyle
U.S. Representative: Tervel Dlagnev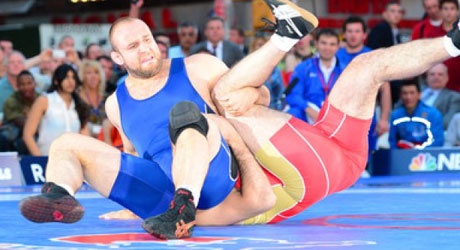 Club: Sunkist Kids/Ohio RTC

2012 Ziolkowski Champion
2012 Pan American Champion
2012 Ivan Yarygin Silver Medalist
2011 5th In World
2011 US Team Trials Champion
2011 US Open Champion
2011 Ivan Yarygin Bronze


2009 World Bronze Medalist

Event Schedule For Men's 120kg. All 120kg matches take place August 11th.

7:00 AM CST-----Qualification
7:30 AM CST-----Round of 16
8:30 AM CST-----Quarterfinals
9:00 AM CST-----Semifinals
11:45 AM CST---Bronze Medal
12:25 PM CST---Finals

Here is a list of the World Finishes dating back to 2008 Olympics in Beijing

2011 Worlds- Istanbul, Turkey

1st- Aleksey Shemarov (BLR)

2nd- Bilyal Makhov (RUS)

3rd- Jamaladdin Magomedov (AZE)

3rd- David Modzmanashvili (GEO)
2010 Worlds- Moscow, Russia

1st- Bilyal Makhov (RUS)

2nd- Artur Taymazov (UZB)

3rd- Levan Berianidze (GEO)

3rd- Ioannis Arzoumanidis (GRE)
2009 Worlds- Herning, Denmark

1st- Bilyal Makhov (RUS)

2nd- Fardin Masoumi (IRI)

3rd- Ioannis Arzoumanidis (GRE)
3rd- Tervel Dlagnev (USA)
2008 Olympics- Beijing, China

1st- Artur Taymazov (UZB)

2nd- Bakhtiyar Akhmedov (RUS)

3rd- David Musul'bes (SVK)

3rd- Marid Mutalimov (KAZ)
Updated on May 17, 2013, 12:53pm