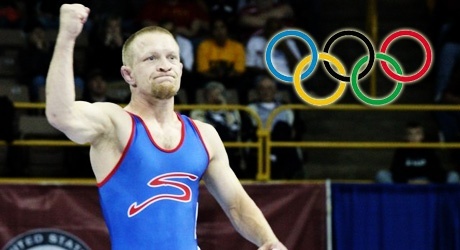 Sam Hazewinkel, USA Olympian, Freestyle, 55kg

I've always rooted for Sam Hazewinkel. A perennial underdog type, Haze has, through the years, proven that he can compete with anyone, in any style, at any level. Collegiately, he never lost more than one match at the NCAA tournament in a given year (finishing 3,3,3,2); on the senior level, he finished 3rd in the 2004 U.S. Olympic Trials and 2nd in the 2008 Trials (Greco both times); since 2005, he's finished 2nd at the World Team Trials 3x (twice in Greco, 1x in Freestyle)…I could go on.

At this year's Olympic Trials, he finally achieved his dream of becoming a national champion as he beat long-time rival and fellow mat rat, Nick Simmons a.k.a. the East Lansing Strangler, on a ball grab in the 3rd period of the 3rd match to secure his spot on the Olympic Team. As a long time wrestling fan, this was something I had wished to see for a while: Sam Hazewinkel with a gold medal around his neck at the National Championships.


That being said, I feel like both myself and the American wrestling community as a whole is still waiting on Hazewinkel to step his game up internationally. After a stellar performance at this year's World Cup where he went 4-1 (including a forfeit) and placed 3rd, he's done…well, he hasn't done much.

At this year's Beat the Streets Gala in NYC, Haze lost in two consecutive periods and went scoreless in a bout against Artas Sanaa –a tough competitor at 55kg but who is -by no means- on the same level as fellow Russians, Dyamal Otarsultanov and Viktor Lebedev. Hazewinkel's recent performance at the Ziolkowski International in Poland was no better. There he DNP, going 0-1, inevitably losing to the same Turkey wrestler fellow American, Obe Blanc, beat in the semifinals.

On top of this, Angel Escobedo finished 2nd in the same bracket –placing him above Ahmet Peker of Turkey as well. For Hazewinkel, it has to sting knowing that two of his peers, two American teammates placed ahead of him at a time when he needs as much international wrestling momentum as possible.

In the wrestling world, pressure is a privilege. Being a U.S. Olympian is not the goal. Gold in London is. As a country, the U.S.A. has a history of dominating the medal count at the Olympic Games: we've more gold, silver and bronze medals overall than any other country ever –check into it. As an American, that is the expectation: to show up and kick ass. We put a lot of pressure on our Olympic athletes to meet national expectations; the wrestling community is no different.

It's easy for me to sit back at FLO Headquarters, in the air conditioning and write a critical article on an Olympian who has not been competing to his potential as of late. But it's not easy for me to lose confidence in a man, Sam Hazewinkel, who has put more blood, sweat and tears into his sport than most people put into anything in life. I'm a big fan and admirer of Haze, and I know he puts his heart and soul into his craft; on top of this, I know that he has a track record showing that he can compete with the best around the world (he's placed high in numerous Grand Prix, the Alexander Medved International, the Sunkist Kids Internationals, etc.).

I simply want more. America simply wants more, and it would be foolish to put an entire country's set of expectations (and inherent pressure) on the back of a giant, like Jordan Burroughs, when a man like Sam Hazewinkel made the same team. I don't think I'm alone when I write that I'm waiting for Hazewinkel to step it up for the Olympic Games in London.
Updated on May 21, 2013, 7:53am